High-quality, professional performing arts series presented by Lanesboro Arts at the historic St. Mane Theatre.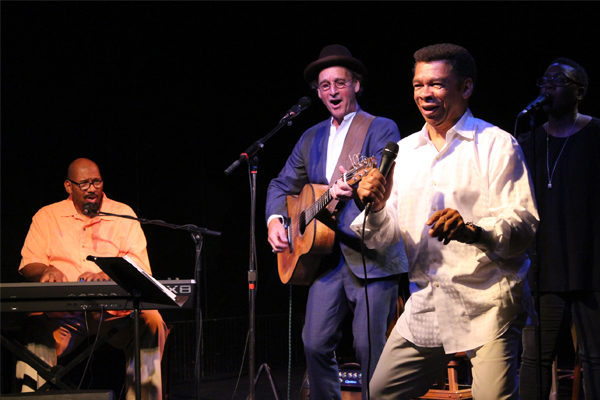 *For information on Rhythms on the Root concert events at Gateway Park, visit the Rhythms on the Root Page
Upcoming Events
February 10th, 2023 at 7:00 p.m. – Local Lovebirds: A Lanesboro Valentine's Variety Show
Stay tuned for more 2023 events!
Recent Events
December 23rd, 2022 – 16th Annual Holiday Singalong with Dan Chouinard CANCELLED due to weather
November 18th, 2022 – Concert: Letho & Wright at the St Mane Theatre
October 8th, 2022 – Concert: LAMB at the St Mane Theatre
October 1 & 2, 2022 – Audacious Raw Theater Year 6 Part 2 Featuring Bebe Keith and Director Catie Glynn
July 16, 2022 – Location Lanesboro: Live!
June 11 & 12, 2022 – Audacious Raw Theater Year 6 Featuring Elizabeth Dunn and Brandt Roberts
May 14, 2022 – Lanesboro Arts Presents "NADIA"
May 25, 2022 – Virtual Performance: "Mother Me" by Mary Prescott
April 8, 2022 – Minneapolis Guitar Quartet with flutist Linda Chatterton
Feb. 26, 2022 – Zorongo Flamenco Dance Theatre presents "Casita"
Jan. 28, 2022 – "Ways of Being Home" Film Screening with Q&A
Dec. 17, 2021 – 15th Annual Holiday Sing Along with Dan Chouinard
Nov. 12, 2021 – Concert: Bob Bovee & Pop Wagner
Dec. 18, 2020 – 14th Annual Holiday Sing Along with Dan Chouinard  on Facebook Live
Sept. 12, 2020 – Concert: The Lost Forty on Facebook Live
March 6, 2020 – "Let the Crows Come" presented by Ashwini Ramaswamy & Ragamala Dance Company
Feb. 14, 2020 – Steven Marking & JoAnn Funk present "The February Show!"
Jan. 25, 2020 – "Silent Movies in the St. Mane with Dosh"
Jan. 24, 2020 – An Evening with Charlie Parr
Dec. 20, 2019 – 13th Annual Holiday Sing Along with Dan Chouinard
Oct. 18, 2019 – Lehto & Wright
July 13, 2019 – Jillian Rae Band