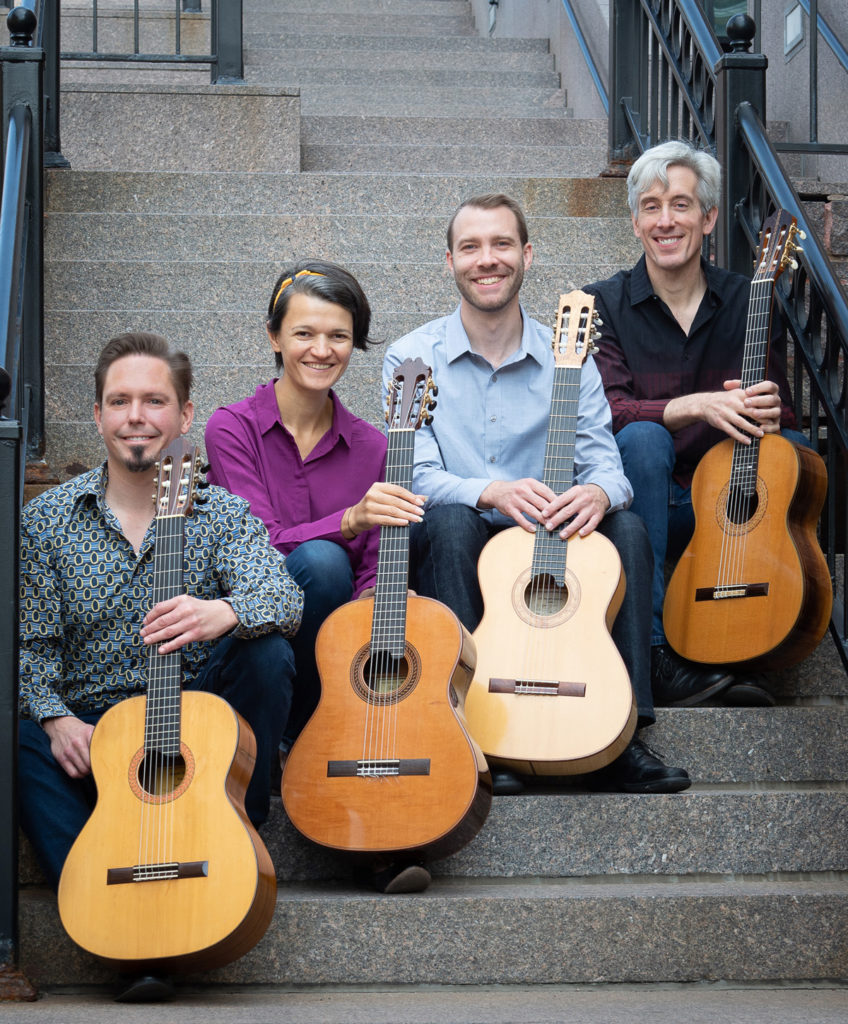 Lanesboro Arts is proud to present the Minneapolis Guitar Quartet with flutist Linda Chatterton at the historic St. Mane Theatre in downtown Lanesboro on Friday, April 8th at 7:30 p.m. The program will largely feature Spanish and Latin American composers, with Linda Chatterton joining MGQ for half of the program. Masks are required for this event. 
Virtuosic yet contemplative, propulsive yet intimate, the Minneapolis Guitar Quartet has captivated audiences throughout the United States, Europe, and Asia. From J.S. Bach to Piazzolla to Prince, MGQ's inventive and eclectic programs are enlivened by a bravado and synchronicity that have been honed through decades of classical training and concert experience. The foursome—Joseph Hagedorn, Maja Radovanlija, Ben Kunkel and Wade Oden—builds an uncommon rapport with its audiences through its engaging stage presence and distinctive humor. "More than a guitar quartet, more than superb musicians, and more than a great chamber group," says composer/performer Daniel Bernard Roumain. "They are ambassadors of sound, style, and substance."
Returning to the St. Mane for the first time since 2014, the Minneapolis Guitar Quartet's highly varied repertoire includes their own acclaimed arrangements of music by Japanese jazz pianist Hiromi, Finnish folk musician Maria Kalaniemi, and classical composers Joaquin Rodrigo, Alberto Ginastera, and Modest Mussorgsky. Their numerous commissions include a new work for guitar quartet and flute by Cuban composer Leo Brouwer and Ian Krouse's StarWaves, an exhilarating fusion of rock and classical music based on a song by British pop/rock musician Nick Drake.
"The kind of performance that sparks wild standing ovations. Definitive" says the American Record Guide of flutist Linda Chatterton. Ms. Chatterton has performed in New York at Carnegie and Alice Tully halls, was a featured recitalist on the prestigious Dame Myra Hess series in Chicago, and has been heard throughout the US many times on National Public Radio's Performance Today.  A Minneapolis-based artist, Ms. Chatterton has performed with numerous groups including the Minnesota Orchestra, and she tours regularly as a duo performer with harp, guitar and piano. As a concerto soloist, highlights include many performances of traditional and contemporary repertoire in the US and Europe. She has served as a US State Department Arts Ambassador overseas.
Ms. Chatterton has commissioned, recorded and premiered dozens of new works, including music by Edie Hill, Lu Pei, Abbie Betinis, Jocelyn Hagen, David Kechley, Wendy Wan-Ki Lee, Aaron Travers, Takuma Itoh, Brian Ciach and Roberto Sierra. She is a two-time recipient and the only flute soloist to win a McKnight Artist Fellowship for Performing Musicians, and she has received many prizes and awards from the Jerome Foundation, the Minnesota State Arts Board and the American Composers Forum.
This activity is made possible by the voters of Minnesota through a grant from the Minnesota State Arts Board, thanks to a legislative appropriation from the arts and cultural heritage fund.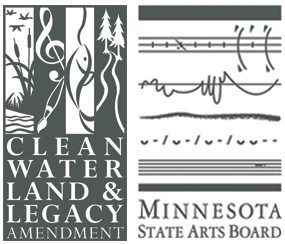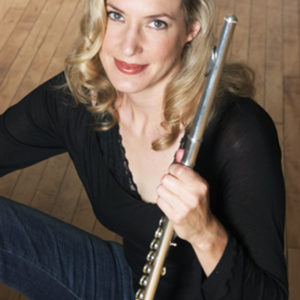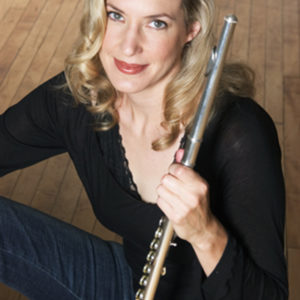 Please note:
Masks will be required for this event.
The St. Mane Theatre box office will open at 6:30 p.m. the day of the concert. Tickets will also be sold in-person beginning at that time.
Each ticket purchased with a bank card will be charged an additional processing fee of $0.99. Patrons can avoid this processing fee by paying via cash or check in the Lanesboro Arts Gallery, or before the show in the St. Mane Theatre lobby.
If you are unable to purchase tickets online or need additional assistance, you may try calling 507-467-2446 to purchase a ticket over the phone during business hours. Tickets are also sold in-person during business hours at Lanesboro Arts Gallery.
We will have a list of the ticket buyer names at the box office beginning at 6:30 p.m. If the buyer and their guests arrive together, no physical receipt or proof of purchase is needed in order to be admitted to the event–we will have a list!
Alternatively, attendees can present a printed copy of the ticket PDF the ticket buyer was e-mailed or simply pull it up and present it on a smart device.
Lanesboro Arts is committed to accessibility for all people. Learn more about our access services.