Lanesboro Arts' Fall Gala featuring fine food, music, dancing, and art. Proceeds benefit nationally-acclaimed year-round arts programming.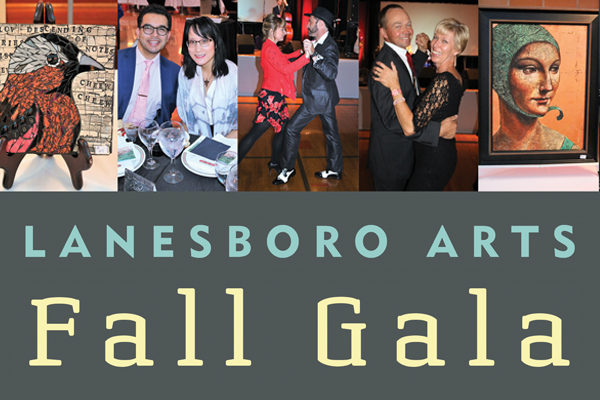 Register today for our Fall Gala on Saturday, November 2, 2019
You are invited to the Lanesboro Arts Fall Gala on Saturday, November 2, a benefit event that supports our nationally-acclaimed year-round arts programming. Join your fellow arts supporters in celebrating creativity & artistic innovation in Lanesboro with an eye to 2020, while recognizing the artists & community members that made an impact in 2019 through gallery exhibitions, performances, place-based artist residencies & educational programs, and more. Enjoy an elegant sit-down dinner, as well as live music, during this energizing evening supporting rural arts and creative placemaking.
Here are details on the 2019 event: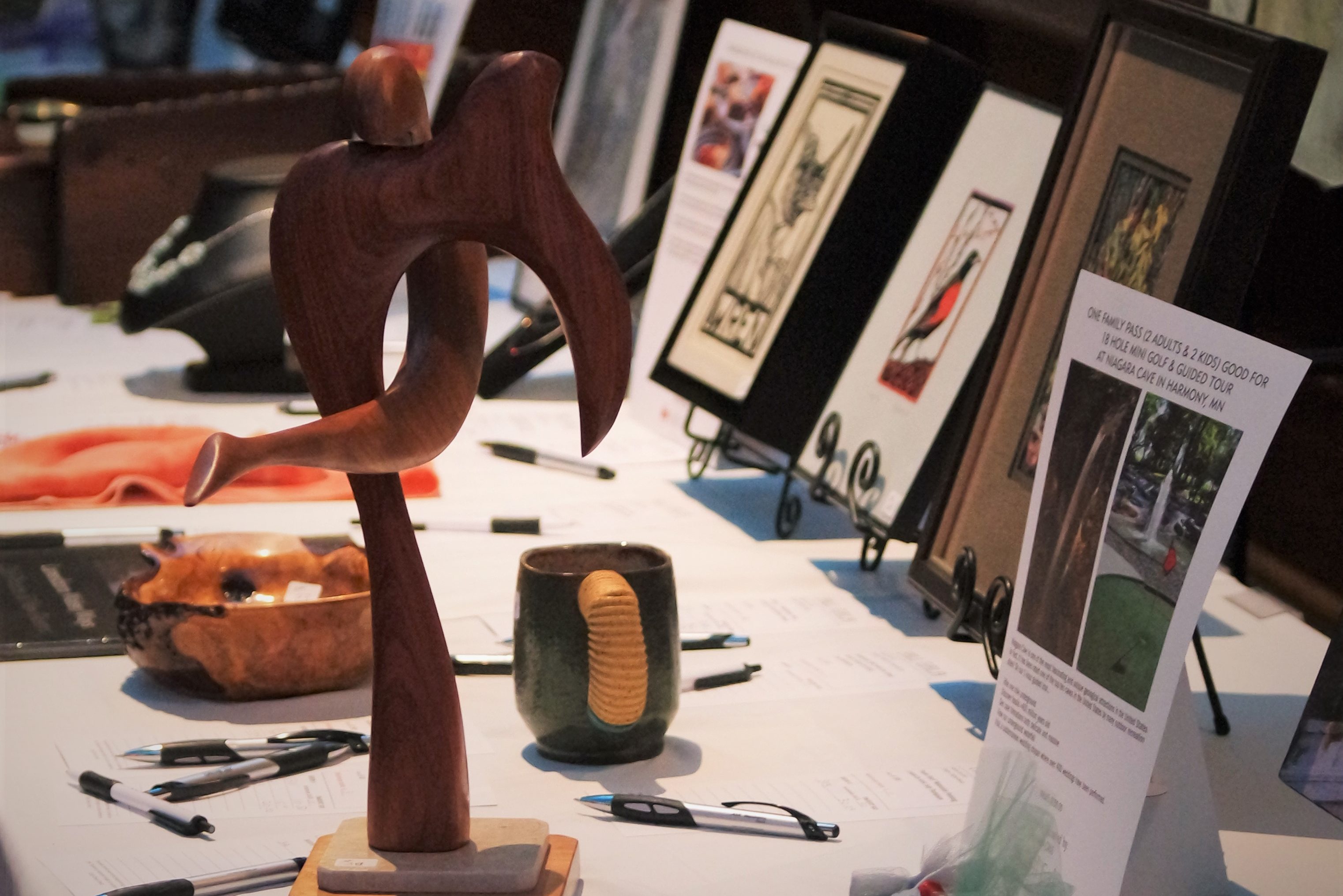 FABULOUS AUCTIONS of fine art and one-of-a-kind experiences
The silent and sealed bid auction items are always a highlight. Last year featured a number of elegant and creative works of art, including steampunk-themed jewelry by Megan Funk; rustic carved tables by Jeff Richards; the dreamlike and emotional photography of Rhea Pappas; jewelry by Ann Madland, winner of the 2019 Award for Excellence at this year's Art in the Park; sculptures by Linda Lewis and Leo Smith; a mosaic piece by Rebecca Campbell; wearable art by Joy Davis Ripley and Ian Baldry; wood block prints by Julia Crozier and Betsy Bowen; pastel pieces by Sara Lubinski and Michael Farrell; paintings by Mary Beth Magyar, Patricia Schu, and Joan Finnegan; and more.
In addition to these beautiful art pieces, the auctions always offer fun and unique experiences. In 2018, guests had the opportunity to bid on an exciting sailing lesson on Lake Minnetonka; scenic wine makers tour of the Four Daughters Vineyard; a hands-on private pottery lesson in the studio of Lanesboro artist Sue Pariseau; tickets to a St. Paul Saints home game; overnight stays at gorgeous lodging establishments like the Habberstad House and the Thompson House; and tickets to high-quality regional performing arts events like Great River Shakespeare Festival and Penumbra Theatre.

Located on Main Street in downtown Harmony, Estelle's Eatery & Bar is a local favorite, and a destination for foodies around the state! Their seasonally rotating menu features creative and versatile from-scratch recipes. Beloved chef Matt Brown focuses on local ingredients and quality cuisine, making Estelle's a stand-out gem for our corner of Minnesota. We're thrilled to have them as our caterers this year, and think you will be, too!

We're excited to announce our versatile and swingin' musical guests, The Gentlemen's Anti-Temperance League! The Gentlemen's Anti-Temperance League is a swing band from Minneapolis, Minnesota. Their style is a melting pot of hot jazz, swing, and latin rhythms, brought to a boil by soaring vocals and endless energy. Their second album, "Masquerade" was released on June 3rd, 2017. GATL's second full-length album is a masterful mix of old-time hot jazz and Latin rhythms, held together by modern songwriting and layered stories.
Drawing their influence from almost a century of music, The Gentlemen's Anti-Temperance League combines elegant composition, raucous enthusiasm, and virtuosic playing to provide the perfect ambiance for any social event, from comfy dive bars and smoky jazz clubs to chic weddings.

KTTC TELEVISION'S Jess Abrahamson & Tom Overlie
The event begins at 6:00 p.m. with a cash bar, appetizers, live music, and the sealed bid and silent auctions. The sit-down dinner and Canvas Clash live painting competition will follow around 7:00 p.m. and the 'Reach for the Arts' presentation will begin at 7:50 p.m., followed by desserts and dancing until the event wraps up at 10:30 p.m.
Proceeds from the event benefit the year-round programming of Lanesboro Arts, serving as a regional catalyst for artistic excellence and educational development in providing meaningful and diverse art experiences for people of all ages. In the heart of historic downtown, Lanesboro Arts hosts literary, music, theater, and film events at the St. Mane Theatre, and houses two galleries featuring work by more than 90 regional artists. Lanesboro Arts programming also includes the annual Art in the Park fine art festival; the Lanesboro Emerging Artist Residency Program; classes and workshops, Surprise Sculpture, and Lanesboro Arts Campus Initiatives.
Call for Auction items: Do you have any original or unique art pieces that you are willing to donate to the Gala? Do you have any experiences you are willing to share (such as classes, adventure trips, dinner opportunities, concerts, tickets, etc.)? Contact Robbie Brokken at 507-467-2446 or visit the Gallery.
Table Seating: We encourage guests to put together a table at the gala. The tables seat eight! Invite your friends, family, neighbors, and fellow arts supporters to the event. *If you have preferences about seating for the dinner, please make sure you make note of specifics when registering (who you want to sit with / where) or call Robbie Brokken.
Photo Gallery Below: Snapshots from annual gala (2014 through 2018)