Lanesboro Arts' Fall Gala featuring fine food, music, dancing, and art. Proceeds benefit nationally-acclaimed year-round arts programming.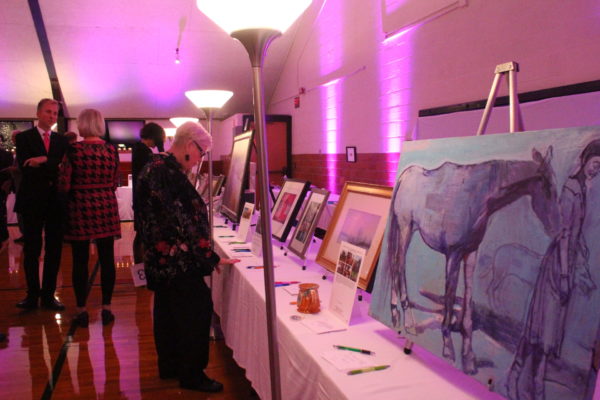 Save the date! Saturday, November 3, 2018
Information on the 2017 event:
You are invited to the Lanesboro Arts Fall Gala on Saturday, November 4, a benefit event that supports our nationally-acclaimed year-round arts programming. Join 150 other arts, business, and community leaders in celebrating creativity & artistic innovation in Lanesboro with an eye to 2018, while recognizing the artists & community members that made an impact in 2017 through gallery exhibitions, community mural, performances, place-based artist residencies & educational programs and the Smithsonian Water/Ways initiative. Enjoy an elegant sit-down dinner prepared & served by Lanesboro's Old Village Hall Restaurant, as well as live jazz & classic rock 'n roll by Winona quartet The Old Fashioneds.
We sincerely hope you can join us for what's sure to be a refreshing evening supporting rural arts.
FABULOUS AUCTIONS of fine art and one-of-a-kind experiences
Silent and sealed bid auction items will include original art like jewelry by Johanna Berge and Jovy Rockey; a mosaic by Bebe Keith; prints by Betsy Bowen; digital photography Deb Lee Carson; paintings by Mark Hanson and Sara Lubinski; ceramics by Anthony Huonder, Linda Lewis and Chad Jerzak; and more. Auctions will also include plenty of unique experiences like a party for 6 at the Scandinavian Inn – complete with an overnight stay and breakfast; a Tour and Overnight on a Sailboat on Lake Minnetonka; a Dinner for 10 at Old Village Hall Restaurant; overnight stays at gorgeous lodging establishments; and tickets to regional performing arts events.
Chef Mike Olson of Lanesboro's Old Village Hall Restaurant will prepare an elegant gourmet sit-down dinner menu anchored by Lacquered beef brisket or Grilled vegetable napoleon entrée choices, in additional to butlered appetizers and desserts. In the summer of 1994, Old Village Hall owners Jon & Sarah Pieper returned to southeastern Minnesota to create a restaurant that would emphasize creative foods using the freshest ingredients and utilizing the regional fare whenever possible.  Chef Olson uses seasonal ingredients, Jon loves to go to the St. Charles Amish farmers market to get local produce and the Piepers also keep an herb garden behind the restaurant for beauty and to incorporate fresh-picked herbs into their menu.
Led by bedazzling vocalist Sarah Johnson and accomplished blues guitarist Mike Munson, Winona band The Old Fashioneds will perform two live music sets, beginning the evening as a duo for a sultry dinner set of old time jazz and torch songs and ending the night belting out toe-tapping, old-school rock and roll with bassist Dave Casey and drummer Zac Barbieur. Specializing in brining old fashioned music to our modern day, the band has performed at countless regional clubs, dance classes, music festivals, and fundraisers. Raucus, raunchy and high energy, they will get you dancing and remind you why rock and roll was considered the devil's music one minute and make you want to grab your sweetheart the next.
KTTC TELEVISION'S Jess Abrahamson & Tom Overlie
The event begins at 6:00 p.m. with a cash bar, butlered appetizers, jazz music, and the sealed bid and silent auctions. The sit-down dinner will follow around 7:00 p.m. and the 'Reach for the Arts' presentation will begin at 7:50 p.m., followed by desserts and dancing until the event wraps up at 10:15 p.m.
Proceeds from the event benefit the year-round programming of Lanesboro Arts, serving as a regional catalyst for artistic excellence and educational development in providing meaningful and diverse art experiences for people of all ages. In the heart of historic downtown, Lanesboro Arts hosts literary, music, theater, and film events at the St. Mane Theatre, and houses two galleries featuring work by more than 90 regional artists. Lanesboro Arts programming also includes the annual Art in the Park fine art festival; the Lanesboro Emerging Artist Residency Program; classes and workshops, Surprise Sculpture, and Lanesboro Arts Campus Initiatives.
Call for Auction items: Do you have any original or unique art pieces that you are willing to donate to the Gala? Do you have any experiences you are willing to share (such as classes, adventure trips, dinner opportunities, concerts, tickets, etc.)? Contact Robbie Brokken at 507-467-2446 or visit the Gallery.
Table Seating: We encourage guests to put together a table at the gala. The tables seat eight! Invite your friends, family, neighbors, and fellow arts supporters to the event. *If you have preferences about seating for the dinner, please make sure you make note of specifics when registering (who you want to sit with / where) or call Robbie Brokken.
Sincere thank you to our 2017 sponsors: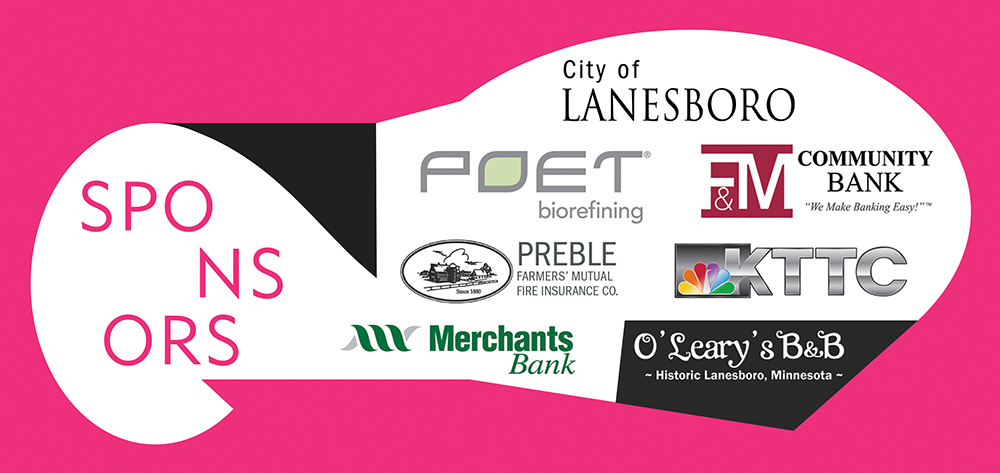 Photo Gallery Below: Snapshots from annual gala in 2014,  2015, 2016, and 2017