Showcasing the filmmakers, screenwriters, and artists that use the medium of film to tell a story.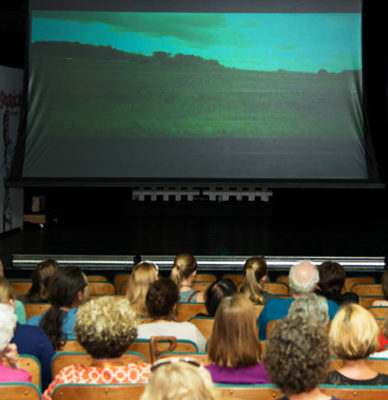 Lanesboro Arts is committed to sharing the art and impact of visual storytelling through its partnerships with regional film festivals and other filmmakers. Since 2012, Lanesboro Arts has collaborated with the Frozen River Film Festival (FRFF) on an annual basis to screen documentary films at the historic St. Mane Theatre. FRFF is a multi-day Festival that takes place the second weekend of February in Winona, MN and offers documentary films and programming that educates and activates our community to become involved in the world.
The St. Mane Theatre features a cash bar, an HD film projector and comfortable new theatre seats recently donated by Mayo Clinic.
For local and regional independent filmmakers, the St. Mane Theatre offers a welcoming and intimate traditional theatre environment for them to debut or present their work.

Friday, Jan. 24 & Saturday, Jan. 25, 2020
Frozen River Film Festival:
Lanesboro Preview Weekend
Kick off the 2020 Frozen River Film Festival with these preview events at the St. Mane Theatre in Lanesboro! Frozen River's 'Donor Premiere' and 'Big Muddy' passes will be honored for all film events in Lanesboro, however advance registration is still encouraged. The Frozen River Film Festival is taking place February 5-9 in Winona, MN.
Minnesota music legend Charlie Parr is the focus of activities on Friday, January 24. A freewill donation screening of the 2013 documentary film "Meeting Charlie Parr," directed by François-xavier Dubois & Charles Dubois, will take place at 5:30 p.m. Advance registration is encouraged. A ticketed concert with Charlie Parr will follow at 8:00 p.m. (FRFF passes are not valid for the Charlie Parr concert).
Three unique and mesmerizing film events will be screened on Saturday, January 25. Acclaimed black and white Hungarian art house period drama 1945 begins the day at 1:00 p.m. Then, preview the five fast-paced short films comprising the 2020 Adventure Film Set at 4:00 p.m. before joining virtuoso musician and one-man band Martin Dosh at 7:30 p.m. for "Silent Movies in the St. Mane with Dosh," a live performance of intriguing and new live cinematic scores set to a dozen silent films produced over the years by area residents as part of Lanesboro Community Theater's beloved "Silent Movies in the Park After Dark" series.
These events are sponsored by the Wisconsin Public Radio, Commonweal Theatre, Inspire(d) Magazine, High Court Pub and Granny's Liquors.


Produced by a French filmmaking team,"Meeting Charlie Parr" is a musical journey through the Midwest to meet one of it's most emblematic folk musicians. From the Minnesota's Great Lakes to the plains, from the stage or at home, viewers get to know Charlie Parr, an endearing and unique artist. Interview after interview, the people in his life tell us about Charlie's authentic music and what it says about America.
With a 60 minute runtime, the film is a compilation of moments spent with Charlie at home, in his daily life, on the road and during concerts in Duluth, Northfield and Minneapolis. Through his music, audiences also get to know the Midwest and its inhabitants. Charlie's work is creative and also emphasizes the social side of music by gathering around common stories from a region and its inhabitants.
As British poet Will Burns says about the documentary, "By slowly bringing out elements in both the human-geographical history of Parr's native Austin, Minnesota and the nature of his own day-to-day existence as a musician, the film reveals the humanity of his work, while reinforcing its correlation with Parr's environment. Through his relationship with fellow musicians, his insistence on recording in garages or churches or communal spaces rather than expensive studios, driving himself to shows, singing on his porch with his wife, we are brought to an understanding of art-as-way-of-life, as an extension of a working-class sensibility. And this is not the working class as mythologized by Springsteen, this is the real thing, someone working day in, day out. A craftsman."


"Certified Fresh" by Rotten Tomatoes and the winner of numerous film festival awards, 1945 is a gripping period drama that sifts through the aftermath of the Holocaust to offer a sober, well-crafted look at a variety of weighty themes. A deliberate pace, subtle acting, black and white cinematography and English subtitles over Hungarian dialog, give 1945 all the hallmarks of a foreign art house film. With a haunting and immersive atmosphere reminiscent of an old western, the film's compelling narrative slow burns into a profound wildfire of a conclusion that has a long lasting impact for viewers.
On a summer day in 1945, an Orthodox Jewish man and his grown son return to a village in Hungary while the villagers prepare for the wedding of the town clerk's son. The townspeople – suspicious, remorseful, fearful, and cunning – expect the worst and behave accordingly. The town clerk fears the men may be heirs of the village's deported Jews and expects them to demand their illegally acquired property back.
Director Ferenc Török paints a complex picture of a society trying to come to terms with the recent horrors they've experienced, perpetrated, or just tolerated for personal gain. A superb ensemble cast, lustrous black and white cinematography, and historically detailed art direction contribute to an eloquent drama that reiterates Thomas Wolfe's famed sentiment: you can't go home again. Released in 2017. Runtime is 91 minutes.


Frozen River Film Festival proudly presents The Adventure Set: five fast-paced, short-length films that will grab your attention and perch you on the edge of your seat! Highlighting extreme sports or other fresh and unfamiliar activities, while also demonstrating a certain level of difficulty and/or danger, these films are sure to motivate and physically activate viewers. The total run time of this film set is 99 minutes.
2020 Adventure Film Set Selections:
Broken (7 minutes)
Directed by: Simon Perkins
After losing his leg to cancer as a young adult, Jon Wilson struggled with feeling broken. Challenging himself in the outdoors presented a possible remedy. Today, crutching up and skiing down mountains at night provides a distinct backdrop for Jon to explore, accept, and embrace the idea of "brokenness," allowing him to find a more sincere, vulnerable and honest connection with life.
Tough: The Roger Volkmann Story (15 minutes)
Directed by: Jeff Ostenson
After suffering a serious stroke at age 55, Dr. Roger Volkman, struggles to pursue his life-long passion for rock climbing. With many supporters and care-givers by his side he attempts to summit an old favorite climb – Devil's Tower.
Ice & Palms (32 minutes)
Directed by Philipp Becker
Bikepacking takes on a whole new meaning when it's the bike you're wearing as a backpack. German freeskiers Jochen Mesle and Max Kroneck set out to cycle 1,800 kilometers from their homes in Durbheim, Germany to Nice, France, and ski big lines along the five-week journey. Although the ski resorts are closed for the season, spring comes late to the Austrian Alps. The friends must wait out storms and get creative about carrying 50 kilos of gear across a still-closed mountain pass to finally dip their ski boot-battered feet in the Mediterranean.
(People) of Water (23 minutes)
Directed by: Forest Woodward
For thousands of years, outrigger canoes have connected diverse cultures and people around the world. People of water follows the story of Rob Prechtl, a member of the US Men's Raft team, as they embark on a journey to learn the craft of outrigger paddling.
Rios Patagonicos (22 minutes)
Directed by Marie Leclère and Bruno Foment
In 2018, the "Rios Patagonicos" expedition took 15 canyoneers to stride the immensity of Chilean Patagonia, in search for rivers and waterfalls. Their goal: explore untouched territories, spot and open over 30 canyons, on a unique territory, where canyoneering discipline is close to non-existent.


For this special commission supported by the Southeastern Minnesota Arts Council as part of the Performing Artist Engagement Program, electronic virtuoso and one-man band Martin Dosh will perform intriguing and new live cinematic scores set to silent films produced over the years by community members as part of Lanesboro Community Theater's beloved "Silent Movies in the Park After Dark" series. This curated set of a dozen or so films runs approximately 45-55 minutes.
Dosh aims to honor and showcase the Lanesboro area's culture and creativity by working with community members to breathe new life into their silent films, some created as early as 2012, with original soundscapes that enhance the unique stories being told by creating an atmosphere of dignity and reverence for the source material. A brief Q&A with Dosh and local movie makers will take place following the performance and screening.
Martin Dosh of Minneapolis, MN is a renowned multi-instrumentalist that loops and combines electronics with analogue instrumentation. He has spent 30 years producing his own distinct sound, as well as collaborating with an international who's who list of rock, jazz, and electronic musicians. His primary record label is the Los Angeles-based indie Anticon, but he has also released much music on his own label, Dosh Family, since 2005. Perhaps most widely known as the percussionist for Andrew Bird, Dosh has record with just about any Twin Cities band with a collective ear for good taste and experimentation. In 2018 he assembled a band to collaborate with the Walker Art Center on similar project called "Sounds for Silents," performing a live score for silent works from the Walker's Ruben/Bentson collection.
Reflecting on his experience live scoring films at the Walker, Dosh said "It's a one-time installation/concert. There's elements of improvisation built into the structure, so if I were to do it again it would be different. And depending on the viewer, either I'm soundtracking the films or the films are 'soundtracking' me, so to speak."
"Silent Movies in the St. Mane with Dosh" will serve as the capstone event of a mini-residency with Martin Dosh, who will be participating in various music and outreach events on January 23 and 24 with Lanesboro area residents as part of the Performing Artist Engagement Program supported by the Southeastern Minnesota Arts Council.