Showcasing the filmmakers, screenwriters, and artists that use the medium of film to tell a story.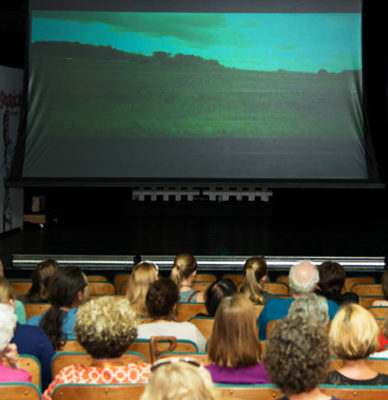 Lanesboro Arts is committed to sharing the art and impact of cinematic storytelling through its partnerships with regional film festivals and other filmmakers. Since 2012, Lanesboro Arts has collaborated with the Frozen River Film Festival (FRFF) on an annual basis to screen documentary films at the historic St. Mane Theatre. FRFF is a multi-day Festival that takes place the second weekend of February in Winona, MN and offers documentary films and programming that educates and activates our community to become involved in the world.
For local and regional independent filmmakers, the St. Mane Theatre offers a welcoming and intimate traditional theatre environment for them to debut or present their work. Please contact adam@lanesboroarts.org about screening your project at the St. Mane. Lanesboro Arts serves as the fiscal agent of Lanesboro Community Theater, who has been producing September silent movie nights in Sylvan Park that star local citizens since 2012.
Save the date: Saturday, February 2, 2019 – Film Festival
Film Events that took place on February 3, 2018
Come away with a deeper understanding of how to make cross-cultural storytelling effective, accurate, and fair by participating in this discussion in the Upper Level Studio Space at the St. Mane Theatre with US documentary filmmaker Nathan Fisher and six Iraqi-Minnesotan filmmakers: Jamal Ali, Jameela Hasoon, Ali Alshammaa, Ghazwan K. Khalid, Randa Khalid, and Nadia Saleem.
Lanesboro Arts and the Iraqi-American Reconciliation Project presents a screening of eight short films from "Iraqi Voices," an ongoing collaborative mentorship program that gives Iraqis in Minnesota support and training to produce high-quality documentaries. The films in this 60 minute set were written and directed by Iraqi refugee and Iraqi-American participants and are photographed and edited by Nathan Fisher. A discussion and Q&A will take place following the film set with Nathan Fisher and six "Iraqi Voices" filmmakers: Jamal Ali, Jameela Hasoon, Ali Alshammaa, Ghazwan K. Khalid, Randa Khalid, and Nadia Saleem.
Frozen River Film Festival presents a screening of Minnesota documentary adventure film "Jeff's World," directed by Brenda Piekarski. A 65 minute story of discovery, vision and grit, this film takes a humorous behind-the-scenes look into the world of rock climbing. Follow Jeff Engel, an accomplished route developer, and his friends as they seek, find, develop and climb Jeff's World, a wild and remote climbing area ten miles beyond the Minnesota border into Canada.
Frozen River Film Festival proudly presents The Adventure Set: seven fast-paced, short-length films that will grab your attention and perch you on the edge of your seat! Highlighting extreme sports or other fresh and unfamiliar activities, while also demonstrating a certain level of difficulty and/or danger, these films are sure to motivate and physically activate viewers. The total run time of this film set is 97 minutes.