Showcasing the filmmakers, screenwriters, and artists that use the medium of film to tell a story.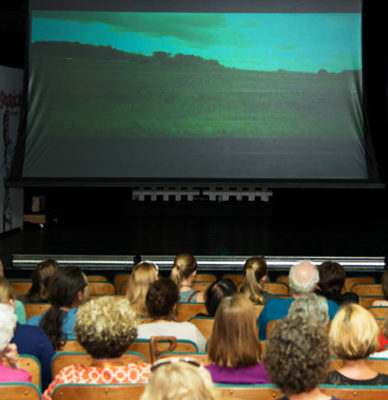 Lanesboro Arts is committed to sharing the art and impact of visual storytelling through its partnerships with regional film festivals and other filmmakers. Since 2012, Lanesboro Arts has collaborated with the Frozen River Film Festival (FRFF) on an annual basis to screen documentary films at the historic St. Mane Theatre. FRFF is a multi-day Festival that takes place the second weekend of February in Winona, MN and offers documentary films and programming that educates and activates our community to become involved in the world.
For local and regional independent filmmakers, the St. Mane Theatre offers a welcoming and intimate traditional theatre environment for them to debut or present their work. Please contact adam@lanesboroarts.org about screening your project at the St. Mane. Lanesboro Arts serves as the fiscal agent of Lanesboro Community Theater, who has been producing September silent movie nights in Sylvan Park that star local citizens since 2012.

One ticket gets you admission to both film screenings at the St. Mane Theatre, previewing a few of the selections that will be showcased at the 2019 Frozen River Film Festival in Winona February 6 – 10. Live music by old-time country duo The Yellow-Bellied Sapsuckers begins at 8:30 p.m. at the High Court Pub in downtown Lanesboro. FRFF 2019 'Donor Premiere' and 'Big Muddy' passes will also be honored for screenings in Lanesboro. Dinner & drink specials/discounts for ticket holders are also being offered by downtown establishments.
4:30 p.m. – "Decoding the Driftless" 
Frozen River Film Festival proudly presents "Decoding the Driftless," a feature-length film on the amazing origins, diversity, and resources of the Driftless Region. Emmy Award-winning filmmakers George Howe and Tim Jacobson of Sustainable Driftless and Rob Nelson of Untamed Science have teamed up again to produce a film and this time the creative team also includes Swedish filmmaker Jonas Stenstrom of Untamed Science, and six-time Emmy-winning wildlife cinematographer Neil Rettig. This team delivers some extremely rare footage of natural phenomena in the Driftless, in a way never seen before!
Join us for a wild ride of adventure from the air, ground, water, and a secret underworld, as leading scientists, local guides, and area enthusiasts reveal their passion for, and knowledge of the Driftless. Travel back in time 500 million years to discover how this unique region formed and has evolved over time. Learn why this one region, in the heart of America, is the only "island driftless region" in the world.
Explore the archaeology, paleontology, geology, and biology of this fascinating region with fun-loving hosts from Untamed Science who will open your eyes, mind, and heart like never before. Your journey will take you to parts of Wisconsin, Minnesota, Iowa, and Illinois to uncover ancient hidden mysteries, endangered Ice-Age throwbacks, and globally rare ecosystems as you experience "Decoding the Driftless." View the trailer here.
Producer George Howe will also be in attendance to introduce the film and lead a Q & A following the film!
7:00 p.m. – The Adventure Film Set

Frozen River Film Festival presents The Adventure Set: six fast-paced, short-length films that will grab your attention and perch you on the edge of your seat! Highlighting extreme sports or other fresh and unfamiliar activities, while also demonstrating a certain level of difficulty and/or danger, these films are sure to motivate and physically activate viewers. The total run time of this film set is 77 minutes.
Adventure Not War (25 minutes)
Directed By: Max Lowe
This spring Stept Studios had the privilege of joining Stacy Bare, Robin Brown, and Matthew Griffin, three U.S. Army Captains on a heartfelt journey back to where they served in Iraq. 'Adventure Not War' takes us into mountains of Iraq revealing a seldom seen, beautiful underbelly in a place scarred with devastation. With this film we take a new approach to war, inviting veterans to rewrite their histories in places where they served and heal wounds deeper than flesh and bone. We hope this film will help promote peace and a universal understanding that beauty can replace hatred if we strive for adventure, not war.
Devoted Limits (15 minutes)
Directed By: Troy Fairbanks
A short documentary exploring the mental and physical abilities of 4 extreme sport athletes who live life in a pursuit of their passions. Following your passion is one of the most important things you can do in your life. A passion can be anything that makes you feel alive and gives you purpose.
Escape (8 minutes)
Directed By Anjali Nayar
There is something gloriously incongruous — and almost incomprehensible — about a risk-averse, non-athletic, native Rwandan DJ finding the real meaning in his life by pedaling across Canada to its frozen Arctic Ocean shore in an attempt to break the record for the longest, continuous, fixed- gear bike ride. Through the course of this unlikely adventure, the protagonist, Jean-Aime Bigirimana, also finds that the truth about escaping is not as black and white as, say, his spandex silhouette against the cold Canadian snowscape.
Ice Park (3 minutes)
Directed By: Barry Stevenson
Experience the largest Ice Park in the work, as it has never been seen before.
North Branch (19 minutes)
Directed By: Nick Nummerdor
Throughout the 1970s, brothers Jerry and Jeff Kellogg of Muskegon, Michigan were a force to be reckoned with in the sport of marathon canoe racing. Growing up along the north branch of the Au Sable River as second generation paddlers, the brothers won their first local race as teenagers and never looked back. The brothers took home consecutive wins in the 120 mile Au Sable Canoe Marathon; all while battling 15 hours of steady paddling through the night. Their contribution to the sport of canoe racing set new standards for racers to come with over a decade worth of top 5 finishes.
On My Terms (7 minutes)
Directed By: Jake Blackburn & Quentin Curzon
A base jumper, grounded by his duty to his family, yearns for the freedom of the sky.
Lanesboro Arts presents "Music for Free on the Great Divide Mountain Bike Route," a film screening and concert event with artist Ben Weaver at the St. Mane Theatre in downtown Lanesboro on Saturday, June 29 at 7:00 p.m. Ben is a Saint Paul-based songwriter, musician, poet, letterpress artist, cyclist and outdoor adventure advocate that is returning to engage with the Lanesboro area community following a pair of outreach events in 2017 and a mini-residency in 2018. His film "Music For Free…" is a beautiful journey down the Great Divide Mountain Bike Route, exploring wilderness, what it means to be wild, and examining the common denominators that unify all humans who share this planet.

Adventure films often position the athletes as the heroes. Ben Weaver has always felt this approach leaves out an important part of the story. The part about the people who helped along the way. "Music for Free…" follows Ben's journey as he pedaled 3,000 miles in June 2018 from Banff, Alberta, Canada to Antelope Wells, New Mexico, U.S.A, with filmmaker Keenan Desplanques in order to tell a different kind of adventure story. Stopping in the communities along the way, Ben gave free performances and offered thanks to the people who continue to support the Great Divide Mountain Bike Route (the longest mapped, off-road bikepacking route in the world) and its riders. Ben believes mountain vistas and overcoming physical challenge are not nearly as inspiring as listening to a stranger tell their story, and in it, hearing your own. If "Music for Free…" had a chorus it would be this: The people are the heroes.