Lanesboro Arts' annual Art in the Park festival is southeast Minnesota's longest running art festival. Renowned for quality, variety, and value, Art in the Park attracts thousands of regional patrons to Sylvan Park in Lanesboro each year.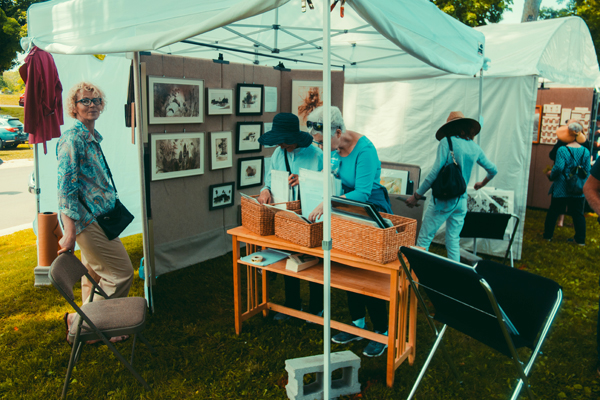 Art in the Park seeks original work in the areas of painting, drawing, photography, ceramics, sculpture, metalwork, glass, fiber, paper, jewelry, wood, textiles and mixed media. All items for sale must be the art or handiwork of the exhibiting artist(s). No food or commercial items permitted.
Important Dates:
December 13, 2019 –  Application available on zapplication.org
March 20, 2020 – Application deadline for full consideration (Applications still being accepted for wait list thru May 28)
March 21 – 30, 2020 – Jury process followed by notification
May 28, 2020 – Wait List application deadline
May 29, 2020 – Artist Accept & Purchase Deadline
May 29, 2020– Application window CLOSED — no additional applications accepted
Saturday, June 20, 2020 — 6:00am artist check in. 10am-5pm Art in the Park festival.
Prizes this year:
$500 Prize for Best in Show
$100 Prize for Award of Excellence
Apply
To sell your work at Art in the Park 2020, submit your application via Zapplication on or after December 13, 2019. You will need to set up a username and password to access the site, but this is FREE and easy to put in place. Click here to apply or visit Zapplication.org and then search for "Lanesboro" and you'll find the listing for our event, Art in the Park, June 20, 2020 in Lanesboro, Minnesota. Fill out your application and pay the $10 entry fee and you're good to go! Any questions regarding this process or this event, please email Artinthepark@lanesboroarts.org.
Booth Information
Booth fee is $95 per 12′ x 12′ space; double spots can be purchased for an additional $95.
Returning artists may request same booth # or close proximity to previous years.
Artists supply their own display materials, including chairs and tables.
Electric hook-ups are not provided and there will be no portable generators during the fair.
A Minnesota sales and use tax number is required for all taxable sales.
Booth spaces will be marked and ready for set-up at 6 a.m. on the day of the festival.
Artist welcome station will include rolls and coffee at 6 a.m. during set up.
Artist booth set-up may only begin on or after 6 a.m. the morning of the event. As per the City, artists may not set-up booths the evening prior to the event.
Rules/Regulations
All items for sale at Art in the Park must be the handiwork of the exhibiting artist(s).
No food or commercial items will be permitted.
Applications are only accepted from fine artists (NO coins, soap, essential oils, flea markets, etc)
No electric hook-ups are available and portable generators will not be permitted.
All exhibitors are required to obtain a Minnesota sales and use tax number and to collect taxes (MN rate is 6.875%). Contact MN Dept of Revenue at 651-282-5225 or www.taxes.state.mn.us to register and receive a sales & use tax number.
Once an artist contract is signed and booth fee has been paid, if for any reason the artist withdraws from Art in the Park, the booth fee will be returned minus a $20 handling fee if notification of this is received prior to May 24. After May 24 there will be no refund of booth fee.
Artists will keep external noise at their booth to a minimum, in respect of neighboring booths, and in order that guests may enjoy the live music at the Art in the Park festival.
Lanesboro has many camping sites with hook-ups and showers, including the Sylvan Park campground adjacent to the festival site. Advance reservations CAN NOT be made for the campgrounds. Please contact the City of Lanesboro with questions regarding the campgrounds.