Join Lanesboro Arts and Professional Artists for youth art classes!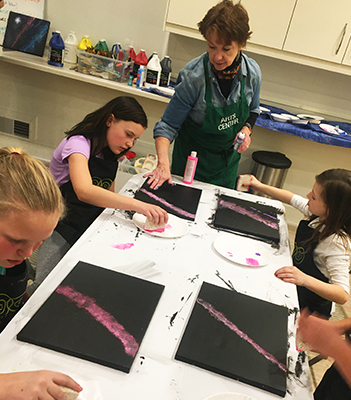 Lanesboro Arts welcomed all experiences levels of youth ages 10 to 14 for "Learn to…" courses on art making. In 2022, participants learnt acrylic painting techniques, explored alcohol inks, and tried their hand at needle felting! This class is an art experience with the opportunity to explore new mediums with a professional artist as the instructor.
Each class will cost $10 at registration, to help fund the necessary supplies.
Register for all Summer 2023  classes Here
Joan Finnegan led two classes in 2021 and is an award winning oil painter inspired by a deep appreciation and love of nature. Her wonderful use of color and light works well painting outdoors with nature & unpredictable conditions as well as in the protected environment of her home studio. Her paintings reflect the softer side of nature, inviting the viewer to step into her art and experience beauty, peace and tranquility. She continues to expand her art through studies and workshops with painting masters as well as teaching classes and giving private lessons. joanfinnegan.com
Stena Lieb led two classes in summer 2022 and is the full-time art teacher at Lanesboro Public Schools (LPS). A native of the Lanesboro area, Lieb graduated from LPS and went on to major in K-12 Visual Arts at Winona State University, graduating with honors in 2002. A mother of five from a creative family, Lieb lives on a farm near Pilot Mound. She currently teaches classes in printmaking, journalism, fiber arts, elementary art, drawing & painting, and 7th & 8th grade art. She also helped organize an Empty Bowls event at LPS in 2019 and 2020.
Marlene Maloney led three classes in summer 2022 and is an established chalk pastel and water color painter. Born and raised in South Minneapolis, Maloney continues to reside there and enjoys the local art and culture scene in the city. Maloney is a recently retired middle school art teacher with twenty years of teaching experience. She has exhibited her art at Lanesboro Arts Exhibition Gallery in group shows and is connected to Lanesboro Arts by being Kara's mom.
If participants have any questions – please contact Kara Maloney – Lanesboro Arts Education Lead at kara@lanesboroarts.org