We love our volunteers!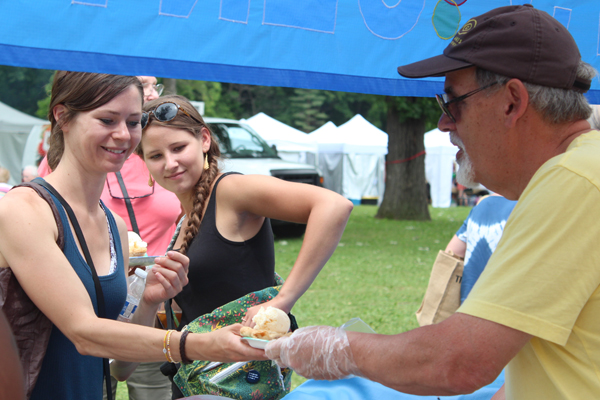 Make a Difference in your Community
Each year, Lanesboro Arts relies on over 180 volunteers to deliver community arts programming to youth and adults in southeastern Minnesota. Serving pies at Art in the Park, teaching children at Surprise Sculpture, ushering at St. Mane performances, assisting with refreshments at Gallery openings, and helping with the auctions at the annual Fall Gala are just a few of the ways our volunteers make a big impact. Come join our team!
Please e-mail Kara at kara@lanesboroarts.org for events you are interested in volunteering at any of the following events.
Art in the Park
Art in the Park is our annual fine arts festival with fine art booths, live music, craft beer, and community food vendors. Renowned for quality, variety and value, Art in the Park attracts thousands of regional patrons to Sylvan Park in Lanesboro each year. We need volunteers to continue to make this event a success! Volunteers help with set up, organization, and clean-up of this event. The next Art in the Park will be held on Saturday, June 17th, 2023 from 10 am – 5 pm.
Lanesboro Arts' annual Art in the Park festival is southeast Minnesota's longest running art festival. Renowned for quality, variety, and value, Art in the Park attracts thousands of regional patrons to Sylvan Park in Lanesboro each year. Last year's event featured 80+ fine art exhibitors, live music, scrumptious food, craft beer, kids & family art activities. We are so excited to have another successful Art in the Park Festival this June and we need you to make that possible! Please join us in support for Lanesboro Arts and this wonderful community event. Sign up to help with the Information, Family Art, Pie, Beer and/or Food Booths!! All ages welcome! Thank you.
Upcoming Dates: June 17th, 2023
Art Exhibition Openings
Our gallery openings involve both community members and visitors viewing new artwork in the Lanesboro Arts Gallery. Volunteers who enjoy visual art and meeting professional artists are encouraged to assist with artist receptions at each gallery opening.
Duties include pouring wine and refreshments and helping facilitate the receptions.
Upcoming Dates: TBD
St. Mane Events
The St. Mane Theater offers a variety of entertainment year-round including live music, plays, and films. Volunteers are needed to help before and after the shows.
Duties include ushering, collecting tickets, and distributing programs. Those with customer service experience will be excellent helpers!
Upcoming Dates: November 18th, 2022 Lehto & Wright Concert; December 23rd, 2022 Holiday Sing Along
Rhythms on the Root
Rhythms on the Root is Lanesboro Art's summer outdoor concert series, which gathers the community together to enjoy live music from acclaimed local artists in the gorgeous natural setting provided by Lanesboro's Gateway Park. Volunteers are needed to help before, during, and after the concert. Duties include selling tickets, checking in pre-purchased tickets, engaging local youth with the kids activities, and setting up and/or tearing down event tents and decorations.
Upcoming Dates: Summer 2023
Education Programs
Surprise Sculpture allows kids ages 9 & under to express their creativity and emphasizes collaboration in groups. Open Studio provides a safe environment for kids ages 10 & up to freely create however and whatever they want!
Duties include assistance with set-up, clean-up, and, most importantly, using creativity and working with the kids to make something truly unique for the community. People who have worked with youth before will be a great fit!
Upcoming Dates for Surprise Sculpture: Summer 2023
Upcoming Dates for Open Studio: Summer 2023
Fall Gala
The Lanesboro Arts Fall Gala helps provide funding for our nationally-acclaimed year-round arts programming. 150 other arts, business, and community leaders come together to celebrate creativity and artistic innovation in Lanesboro and recognize artists & community members that made an impact in the past year. The evening is filled with live music, a live auction, and dinner.
Duties include assistance with set-up, welcoming, and take-down for the Gala. This event has been suspended due to the COVID 19 Pandemic