Local business owners, artists, musicians and collectors who met through Lanesboro Arts.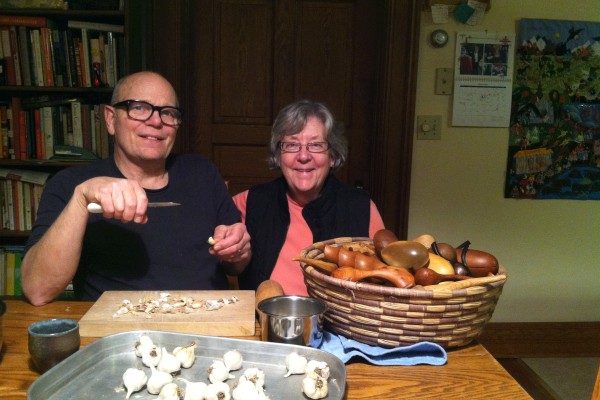 Frank Wright, 66, and Peggy Hanson, 64, are business owners, artists and musicians from Lanesboro, MN.
"If it wasn't for Lanesboro Arts, we probably wouldn't have gotten together," said Peggy of her husband Frank. They both moved to Lanesboro in the early 1990s: Peggy started a bed and breakfast, and Frank sold his hand-crafted wooden spoons at Cornucopia Art Center (which later became Lanesboro Arts). Frank sold his art at the gallery for over eight years, and now owns and operates his own shop in Lanesboro. Peggy and Frank were married in 2004.
They both have supported Lanesboro Arts as volunteers, members, and art collectors. Frank has served on the jury for the sales gallery and planned themed gallery events such as Wolf Howling Moon, The Egg & I, and Better Chemistry Through Wood. Both are rhubarb enthusiasts: Peggy is a Rhubarb Sister, a famous Lanesboro quartet that extols rhubarb through song, and Frank is a self-proclaimed Rhubarb Evangelist whose gardens burst with the crop each spring.