"As a public artist, I want to serve everybody," says Erin. "I don't just want to serve people who already feel like they're invested in the arts."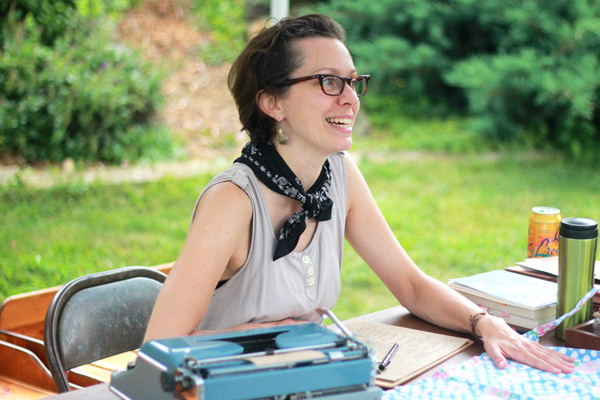 When Minneapolis performance artist Erin Lavelle first came to Lanesboro in spring of 2018, she wasn't sure what to expect. She had previously only worked in urban areas, and coming to a rural community was an exciting change. In Lanesboro, she encountered new opportunities, strong community connections, and important lessons about art and engagement.
Erin led the Lanesboro Area community in Something Good, a public art exchange project that engaged community members in conversations about value, commodities, sustainability, and the power of stories embedded in an object's history. She joined the Lanesboro community for two residencies, one in late April and early May, and the other in August.  During the first residency, she invited people from the community to donate some of their most meaningful possessions, and received over 45 goods. Then, in August, she set up a pop-up stand and redistributed the items and their accompanying stories.
In Erin's opinion, the project was successful because the people of Lanesboro were consistently generous, open-minded, and willing to meaningfully engage.
"People kept coming back to me with new ideas on the topics that I was presenting … they would leave a discussion that I held and then come back and say, 'I've been thinking about generosity,'" she says. "So for me, that was a really wonderful outcome of working with the community and Lanesboro."
While living in Lanesboro, Erin fully immersed herself in the community. Throughout her residency, she participated in yoga classes, meditation groups, and other community events. However, she found that the most important relationships that she built came from everyday interactions and day-to-day living.
"I would walk down the street and, you know, stop in every shop, talk to everybody I encountered," Erin says when recalling the experience. "And those interactions and exchanges were just as important as the official ones."
The Lanesboro Artist Residency Program is unique in that it encourages artists to prioritize community engagement and collaborative art-making. This approach gave Erin a valuable new perspective on her artwork. One particular incident that made an impression on her was when she was faced with a resource constraint: she needed twine to complete her project, but discovered that Lanesboro does not have any hardware stores. Lanesboro Arts connected her with a local farmer who could help her, turning a simple transaction into an opportunity to form a new relationship.
"I learned about his time in the Peace Corps. I learned about his international travel. We talked about what it was like having a multi-generational business of the farm," she said. "And it really inspired me to rethink, how do I form these connections and have these really meaningful exchanges with people in this informal way, as part of my practice."
Erin also appreciated the opportunity to engage with people who wouldn't otherwise have access to the arts. Working in a rural community allowed her to introduce her work to a unique audience with a fresh perspective.
"As a public artist, I want to serve everybody," says Erin. "I don't just want to serve people who already feel like they're invested in the arts.
Living and working in an arts-focused rural community has left a lasting impact on Erin. Perhaps the most important thing she learned was that the simple actions of everyday living—such as eating and visiting shops—could play an important role in her artistic process.
"This was a revelation to me.  I never would  have learned this doing my project at home, amidst the million other tasks, agendas, compartmentalization and distractions of regular life," she says, reflecting on the residency. "It has prompted me to pause and question how my work can/could exist in this way at home.  What would happen if I approached urban life as if I were in Lanesboro? This prompts so many new ideas for my work."
Listen to the podcast interview below conducted in November 2018 that features Lavelle reflecting on her Lanesboro residency experience.