Enhancing public space, encouraging walkability, and strengthening community identity through the arts.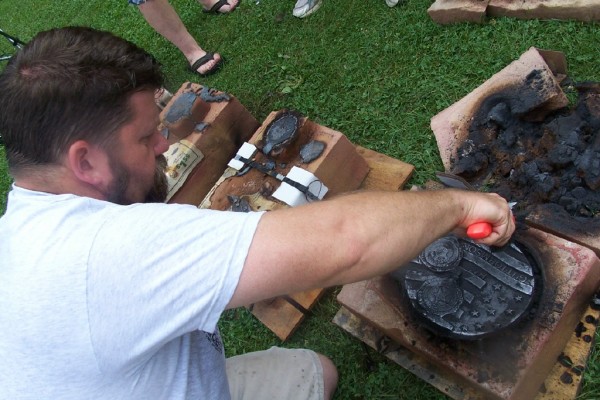 Discover Sculpture Explore Lanesboro began in 2001 as a partnership between Lanesboro Arts, the City of Lanesboro, Forecast Public Art, lead-artist Coral Lambert and her then-apprentice Karl Unnasch. Professional sculptors worked with community members in a public process to create cast iron medallions detailing the history and culture of Lanesboro. Five large anchor medallions, and a majority of the 9″ marker medallions, were created at this iron pour. In 2011, Unnasch assumed the role of lead sculptor for another iron pour to create several new 9″ marker medallions with input and contributions from the community. The finished medallions were installed throughout Lanesboro, inviting residents and visitors to hunt for the various medallions as they walk about town.
The Discover Sculpture Explore Lanesboro Medallion Walking Tour features 20 iron medallions found throughout town, portraying different facets of the rich character of Lanesboro on each medallion. All objects and images in the medallions are from local sources either donated personal objects, impressions of objects or modeled objects made by workshop participants. Additional objects and impressions were also researched and gathered throughout Lanesboro by Coral Lambert and Karl Unnasch. Each of the large anchor medallions are mounted on a cement pedestal, which have designs impressed into them made with local grasses.
Discover sculpture explore Lanesboro was designed to generate community dialogue, enthusiasm, and participation in public art. This self-guided tour begins at the Lanesboro Visitor Center and journeys up Church Hill, through Sylvan Park, to the historic dam and its hidden scenic overlook, across the Root River State Trail bike bridge to the Poetry Parking Lot at Bass Pond, along the historic walking bridge, and back through the rest of downtown. Click HERE for access to more information on the tour and a map.