Supported in 2018 by SEMAC, the Performing Artist Engagement Program provides a platform for visiting performers to deepen relationships beyond a single performance at the St. Mane Theatre through community engagement activities in a variety of accessible spaces, such as artmaking workshops, educational classes, group discussions and informal performances.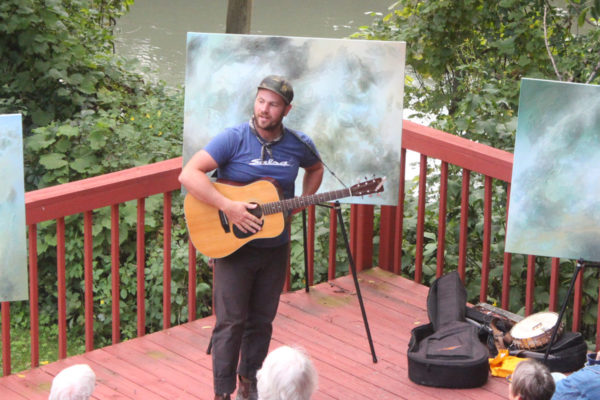 Since 2001, Lanesboro Arts has facilitated an Artist Residency Program for early career artists, which has successfully served dozens of artists and hundreds of community members. The organization is applying the collaborative, place-based approach of its Residency Program to the Performing Artist Engagement Program for established Minnesota performers visiting the St. Mane Theatre, especially musicians, who are under represented in Lanesboro area programming.
The Performing Artist Engagement Program develops knowledge, critical thinking skills, understanding, and appreciation of the arts through artist-driven, interactive community events. By supporting highly-qualified artists in furthering their own artwork while educating and invigorating community members in accessible spaces, the project also increases access for diverse audiences and advances Lanesboro Arts' mission.
The Performing Artist Engagement Program was developed specifically to address the challenges inherent in making conventional performing events in a sit-down theatre more accessible and relevant to area residents and visitors. By bringing performing artists to community spaces and nontraditional venues such as the library, museum, school, and outdoor venues, in addition to designing relevant programs around the natural or cultural environment or everyday challenges, Lanesboro Arts strives to meet audiences where they are at and build relationships with members of groups that have historically been under-served by the arts (such as seniors, low-income families and rural youth).
Communities in the Lanesboro area and throughout Greater Minnesota need opportunities to engage with artists and arts activities on a deeper level. With a dual commitment to serving our community and artists, the Performing Artist Engagement Program provides an opportunity to expose the creative process to the community while engaging them in a meaningful, personal experience.
Please contact Adam Wiltgen, Program Director, at adam@lanesboroarts.org with questions about the program, future project ideas, the community engagement component, etc.
Upcoming Mini-Residencies
Ben Weaver – January 14 – 20, 2018
Ben Weaver is a songwriter, musician, poet, letterpress printer, and adventure advocate whose experiences touring long distances by bicycle make him uniquely qualified to connect residents with natural spaces, find ways to give back through outreach with seniors and students, and build community through storytelling workshops and exchanges that help awaken greater reciprocity between people and the land. His special blend of poetic advocacy and talent as a communicator is sure to inspire and energize the people of Lanesboro. Click here for more information on Ben's residency in Lanesboro and how the community participated.
Chris Koza – July 10 – 14, 2018
Nationally recognized singer/songwriter Chris Koza is a previous recipient of Minnesota State Arts Board Arts Tour, Arts Learning, and Artist Initiative grants that engaged youth audiences. Koza will bring those experiences to Lanesboro by developing inclusive songwriting and musicianship workshops to engage students, trained and untrained musicians, and the broader community at the Library and outdoor public spaces that help mitigate barriers to participation. Check back soon for more details on Chris's residency in Lanesboro. Please contact us with ideas and opportunities!
The Performing Artist Engagement Program is made possible by a grant from the Southeastern Minnesota Arts Council, thanks to a legislative appropriation from the arts and cultural heritage fund.