Supported by SEMAC, the Performing Artist Engagement Program provides a platform for visiting performers to deepen relationships beyond a single performance at the St. Mane Theatre through community engagement activities in a variety of accessible spaces, such as artmaking workshops, educational classes, group discussions and informal performances.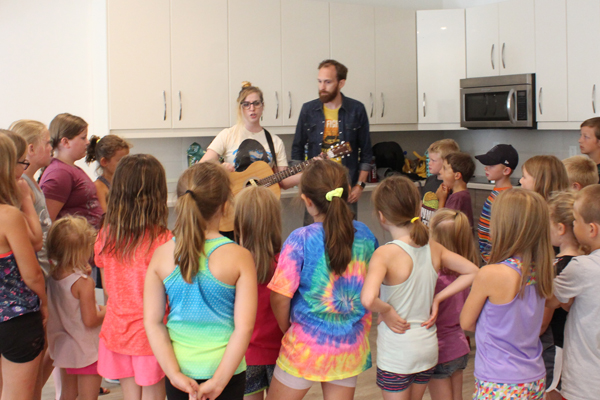 Since 2001, Lanesboro Arts has facilitated an Artist Residency Program for early career artists, which has successfully served dozens of artists and hundreds of community members. The organization is applying the collaborative, place-based approach of its Residency Program to the Performing Artist Engagement Program for established Minnesota performers visiting the St. Mane Theatre, especially musicians, who are under represented in Lanesboro area programming.
The Performing Artist Engagement Program develops knowledge, critical thinking skills, understanding, and appreciation of the arts through artist-driven, interactive community events. By supporting highly-qualified artists in furthering their own artwork while educating and invigorating community members in accessible spaces, the project also increases access for diverse audiences and advances Lanesboro Arts' mission.
The Performing Artist Engagement Program was developed specifically to address the challenges inherent in making conventional performing events in a sit-down theatre more accessible and relevant to area residents and visitors. By bringing performing artists to community spaces and nontraditional venues such as the library, museum, school, and outdoor venues, in addition to designing relevant programs around the natural or cultural environment or everyday challenges, Lanesboro Arts strives to meet audiences where they are at and build relationships with members of groups that have historically been under-served by the arts (such as seniors, low-income families and rural youth).
Communities in the Lanesboro area and throughout Greater Minnesota need opportunities to engage with artists and arts activities on a deeper level. With a dual commitment to serving our community and artists, the Performing Artist Engagement Program provides an opportunity to expose the creative process to the community while engaging them in a meaningful, personal experience.
Please contact Melissa Wray, Program Director at melissa@lanesboroarts.org with questions about the program, future project ideas, the community engagement component, etc.
Upcoming P.A.E. Residencies
We have no Performing Artist Engagement Residencies scheduled for 2022.
Past P.A.E. Residencies
#6 Annie Mack – March 22 – 27, 2021
Annie Mack of Rochester, MN is a prolific performer and celebrated blues and gospel vocalist who performs with soul and conviction. She believes in the importance of inspiring others by sharing her story of perseverance, purpose and ultimately joy through music and outreach. Mack will cultivate opportunities for exchange and mutual understanding through songwriting, music making and storytelling activities that engage a broad range of people at the school and spaces throughout town in order to help mitigate barriers to participation.
#5 Martin Dosh – January 23 – 25, 2020
Martin Dosh of Minneapolis, MN is a renowned multi-instrumentalist that combines electronics with analogue instrumentation and has spent 30 years producing his own distinct sound, as well as collaborating with an international who's who list of rock, jazz, and electronic musicians. He has previously had performed a live score for silent movies at the Walker and did the same with silent movies made by Lanesboro area residents. Click here to learn more about Dosh's residency in Lanesboro and how the community participated.
"I would recommend this experience to any performing artist.  I'm personally a big fan of small towns in the upper midwest, and it was really fun to learn and navigate the surroundings.  The workshops at the school were so fun." – Martin Dosh, 2020
#4 Jillian Rae – July 9 – 13, 2019
Jillian Rae is an established singer-songwriter, vocalist and fiddle player based in the Twin Cities. Rae also co-founded and teaches at Music Lab, a music school offering workshops and private lessons to students of all ages. She is currently an active member of six bands, and often lends her fiddle expertise to other groups. In addition to Jillian Rae's work with students through Music Lab, she has taught several master classes at MN high schools and colleges, led workshops about the business of being an artist and is an advocate for the power of creativity to bring people together and overcome barriers. Rae's flexible and accessible approach to songwriting served as a catalyst for individuals of any ability in the Lanesboro community to create and learn with confidence. Click here to learn more about Jillian's residency in Lanesboro and how the community participated.
"As my first artist residency, it opened my eyes to the possibilities & inner workings of artist residencies / community immersion projects. Because of how much we enjoyed our experience in Lanesboro, we will definitely be pursing more engagement opportunities like this in the future — especially in smaller communities where musical & performing opportunities are not as easily accessible, but have a profound impact." – Jillian Rae, 2019
#3 Larry Long – May 7 – 10 and 17, 2019
Larry Long is an American singer-songwriter who has made his life work the celebration of everyday heroes. Author, historian, actor, and broadcaster Studs Terkel called Larry "a true American Troubadour." Larry has written and performed hundreds of ballads celebrating community and history makers. His work has taken him from rural Alabama to the Lakota communities in South Dakota as he has given musical voice to struggling Midwest farmers, embattled workers, veterans and marginalized communities. He assembled the first hometown tribute to Woody Guthrie in Okemah, Oklahoma, which today has evolved into the annual Woody Guthrie Folk Festival. Leading up to his concert at the St. Mane Theatre with the American Roots Revue on May 17, Larry used his songwriting curriculum to assist Lanesboro community members in sharing their stories and turning that collective narrative into a song.  This song was presented at both "Over the Back Fence" on May 10, with community members participating, and the American Roots Revue concert on May 17.  This project was an art experience, but also more a celebration of the special circumstance of Lanesboro and an educational device to develop empathy across the community from one group to another. This activity was made possible by the voters of Minnesota through an Arts Tour grant from the Minnesota State Arts Board, thanks to a legislative appropriation from the Arts & Cultural Heritage Fund. Click here to learn more about Larry's residency in Lanesboro and how the community participated.
# 2 Chris Koza – July 10 – 14, 2018

Nationally recognized singer/songwriter Chris Koza is a previous recipient of Minnesota State Arts Board Arts Tour, Arts Learning, and Artist Initiative grants that engaged youth audiences. Chris kicked off his mini-residency with the kids at Surprise Sculpture and Open Studio. He got to know them by writing a song about them and helping them with their art projects. He gave a mini-performance at SEMCAC Senior Dining. He led a Poetry and Songwriting Workshop, followed by an open mic performance at the High Court Pub & Loft. He served as musical guest for the 'Over the Back Fence' Community Variety Show, and he collaborated with community cast members through rehearsals to sing one of his songs, The Wolves and The Ravens," alongside him on-stage during the show. Chris's mini-residency culminated in a capstone concert on Saturday, July 14, featuring a backing band.
"While in Lanesboro I learned that a community is only as strong as the people who make it, and that a lifelong commitment to the arts is an exceptional and enriching way to live. Beyond artists who participate in theater, music, and visual art, and directly benefit from their individual interests, even people who never attend an event or express themselves artistically benefit from a greater energy and vitality the community exhibits. Participating in the Performing Artist Engagement Program at Lanesboro Arts also provided me with time and space for reflection on my creative and professional goals and also towards the individual artists and community members I met in Lanesboro. I was able to fortify a fresh perspective with regards to my emotional relationship of being an artist and my professional goals going forward." – Chris Koza, 2018
Click here for more information on Chris' residency in Lanesboro and how the community participated.
#1 Ben Weaver – January 14 – 20, 2018

Ben Weaver is a songwriter, musician, poet, letterpress printer, and adventure advocate whose experiences touring long distances by bicycle provide a unique starting point for connecting Lanesboro area residents with natural spaces. Ben kicked off his mini-residency by visiting the classroom of Lanesboro Public Schools' Art Teacher Stena Lieb. He helped with students' art projects and shared his experience as a full-time working artist. He visited P.L.A.Y.Y., Lanesboro's intergenerational playgroup. He participated in multiple Story Circles around Lanesboro, and he led an Outdoor Trail Walk. Ben's mini-residency culminated in a capstone performance, during a concert with Charlie Parr, at the St. Mane Theatre on Saturday, January 20.
"During my time in Lanesboro I learned that people are more alike than their judgements of others often allow them to see and that art can bring these different groups together to help listen and understand their ways of supporting one another. My experience in Lanesboro as part of the Performing Artist Engagement Program has informed an ongoing conversation I am working on about how to connect people in rural communities with different backgrounds, and how to open up more acceptance concerning the development and imagining of sustainable economies that support healthy ecosystems." – Ben Weaver, 2018
Click here for more information on Ben's residency in Lanesboro and how the community participated.
The Performing Artist Engagement Program is made possible by a grant from the Southeastern Minnesota Arts Council, thanks to a legislative appropriation from the arts and cultural heritage fund.