Lanesboro Arts will host it's third annual Online Fall Auction from November 11th to November 19th, 2022. Join us for the auction closing event at Sylvan Brewing at 4:30 on November 18th!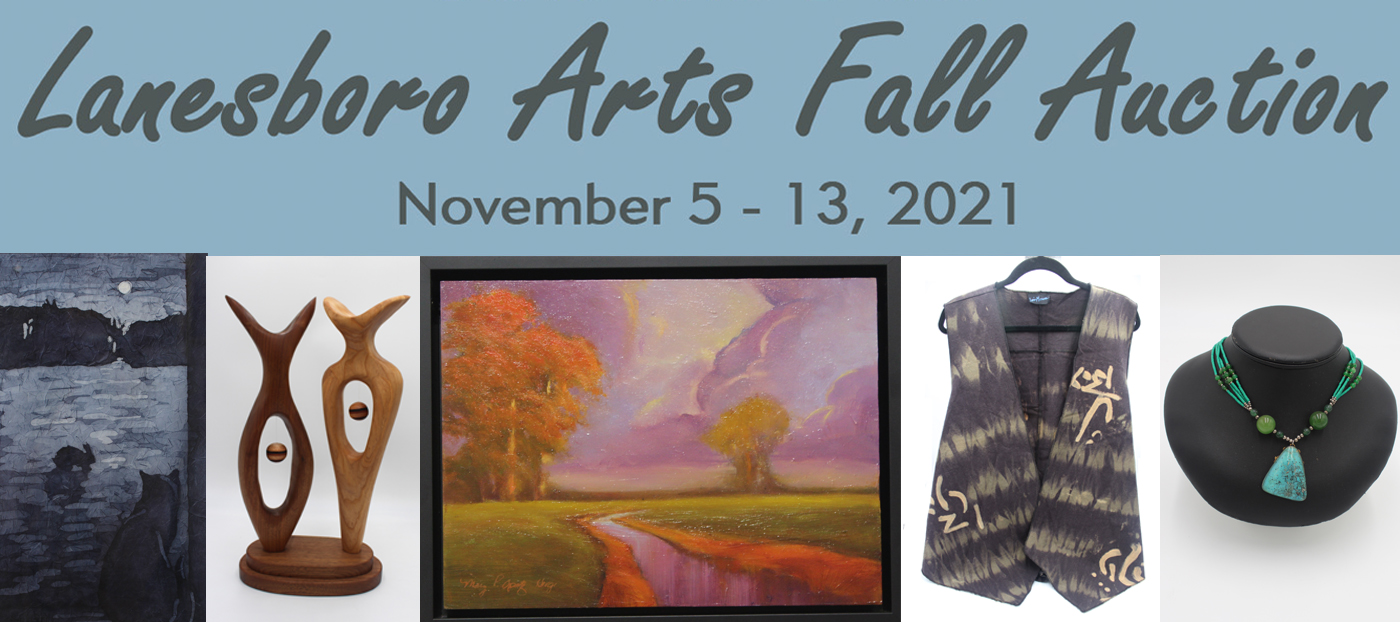 Are you an artist or business who would like to donate a 2022 auction item? Please contact us at info@lanesboroarts.org! 
We couldn't do this without the support of all of the contributing artists, to whom we are so grateful for their generosity in difficult times and their support as we look towards the future.
The third online Lanesboro Arts Fall Auction will run from Friday, November 11th to Saturday November 19th. The online benefit event helps support Lanesboro Arts' nationally-acclaimed year-round arts programming with the ease and safety of participating from home. Participants will be able to view the art and bid on items throughout the entire auction period. The bidding will open at noon on Friday, November 11th, and it will close at noon on Saturday, November 19th.
Bidding opens: Friday, November 11th at 12:00 p.m. CST
Bidding closes: Saturday, November 19th at 12:00 p.m. CST
New this year, Lanesboro Arts will be hosting a Fundraiser social hour at Sylvan Brewing to close out the Auction and usher in our Reach for the Arts fundraising campaign! Join us on November 18th from 4:30 to 6:30 (right before the Lehto & Wright concert at the St Mane!) for an evening in celebration and support for the arts and art making in Lanesboro. There will be food, live music, and, of course, craft beer from Sylvan Brewing.
HOW TO PARTICIPATE:
Visit our auction website to sign up for an Auctria account! Each bidder will need to set up an account with Auctria to bid with a credit card and mailing/billing address. You can register for an account at any time right here.
Once your account is created, you will be able to view items and bid on them during the bidding window
You will be notified via email to arrange shipping or pick up of your auction items. Note: shipping will be an additional cost which Lanesboro Arts will arrange directly with you, depending on the size of item and shipping location. You will also have the option of picking up your art for no additional cost at Lanesboro Arts Gallery during Gallery Hours (Tuesday-Saturday 10 am – 5 pm).
During the 2021 Online Auction, there were one-of-a-kind art pieces from talented regional artists, unique experiences from local businesses, and more. Perfect for the start of the gift-giving season, this collection of art and experience packages had something for everyone! Available pieces included oil paintings from Joni Finnegan and Mary Opatz Herges; wearable art from Lori Monson Kunes; wood sculpture from Paul Olson; jewelry from Bridget Clark and Johanna Berge; and much more.
Lanesboro Arts continues to activate the people and places of Lanesboro through diverse community arts programming. Proceeds from the online auction benefit the year-round programming of Lanesboro Arts, serving as a regional catalyst for artistic excellence and educational development in providing meaningful and diverse art experiences for people of all ages.