Lanesboro's own monthly variety show aired on the radio for 25 years!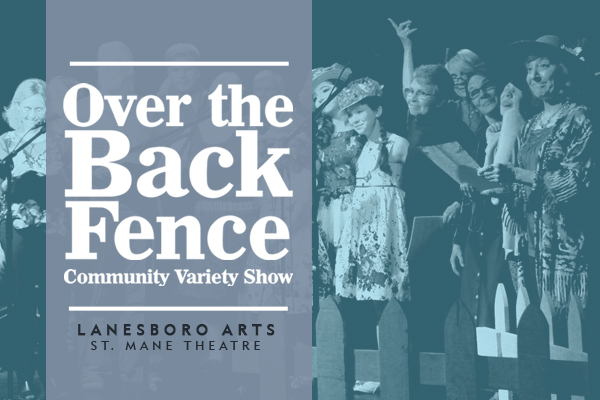 Showcasing a talented local cast, musicians and other guests, Over the Back Fence featured a new theme and material each month with music, skits, jokes, comedy, poems, and more! Over the Back Fence went on a hiatus in 2020, and is in the process of being reimagined.
Audio Archives & Radio Broadcast
Over the Back Fence aired on KQAL 89.5 FM at 6pm on the Wednesday following the 2nd Friday show. Over the Back Fence is also published online as a podcast. Click here to download or stream Over the Back Fence.
Join us on Stage
Participation is encouraged! If you are interested in being a part of the show – either on stage or behind-the-scenes – please contact Kara at kara@lanesboroarts.org. Planning meetings happen at 7:00 p.m. on the Tuesday two weeks prior to the show (i.e. May 28 for the show on June 14, 2019). Rehearsals happen at 7:00 p.m. on the Tuesday prior to that weeks show and at 5:30 p.m. the day of the show. Rehearsals and planning meetings all take place at the St. Mane Theatre. Attend what you can. All are welcome!
2019 schedule
Shows are the second Friday of each month at 7:30 p.m, March through November. Box office opens at 6:30 p.m., and pre-show music begins at 7:10 p.m. Click the date for tickets!
March 8 –  Grand Ole Opry
pre-show Tom Schramm & The LPs | musical guest Medicine Brothers
April 12 – Take Me Out to the Ball Game
pre-show Tom Savre | musical guest Turnip Truck
May 10 – Ca$h
pre-show Grass Run Band | musical guest Larry Long
June 14 – On Broadway
pre-show Maria Klingsheim | musical guest Burke Band
July 12 – Surfin' USA
pre-show Ted Hajnasiewicz | musical guest Jillian Rae
August 9 – Anniversaries
pre-show RavensFire | musical guest Eric Carranza
September 13 – 50 Nifty States
pre-show Joshua Vorvick | musical guest Eggen & Hippen
October 11 – Twins
pre-show CBB Jazz Combo | musical guest Ilika Ward Duo
November 8 – Blue
pre-show Dave Swenson | musical guest The Rutabaga Brothers
2019 Sponsors
Batstone CPA
The Bite Restaurant
Bluff Country Computer Works
Cedar Valley Resort
E2 Boutique
Estelle's Eatery & Bar
F & M Community Bank
Granny's Liquor
Great River Shakespeare Festival
Green Gables Inn
High Court Pub
Lanesboro Area Community Foundation
Lanesboro Arts
Lanesboro Public Library
Manion Law Office
Merchants Bank
Niagara Cave
Nutrien Ag Solutions
Old Barn Resort
Pedal Pushers Cafe
Randy Schultz Drywall
Rushford – Preston – Harmony Foods IGA
SMG Web Design
Thrivent Financial – Walter Bradley
Heartfelt thanks to our community partners who sponsor our broadcasts, and ensure affordable ticket prices.
Archive of Past Shows / Seasons (2012 – present)
Please visit the OtBF Blog for an archive of past songs, guests, themes and more!
Click here to view a 2011 feature on "Over the Back Fence" on KSMQ TV's "Off 90" program
---
Over the Back Fence is made possible by the voters of Minnesota through a Minnesota State Arts Board Operating Support grant, thanks to a legislative appropriation from the arts and cultural heritage fund.