A professional exhibition opportunity for emerging visual artists.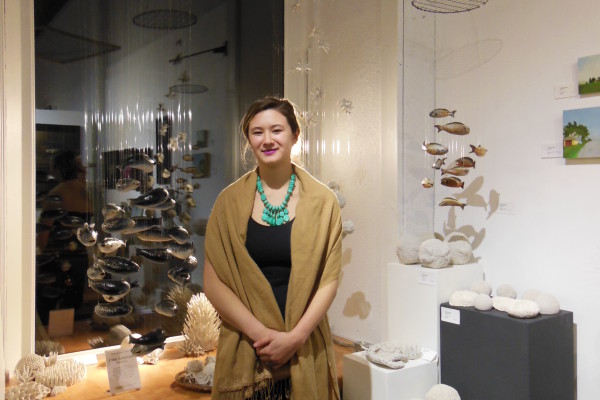 The Emerging Artist Exhibition highlights the work of one or more emerging artists each year. The exhibit takes place roughly every other year in the Exhibition Gallery.
The application deadline for the 2023 exhibition was December 3rd, 2022. Jury selection was finalized in late December, 2023; artists chosen for the show were notified on or before that date.
Lanesboro Arts defines "emerging artist" as an individual who has great potential in their artistic practice but has not yet received major recognition for their work. All visual arts media are eligible. Artists may be any age, but Lanesboro Arts specifically invites those artists with little to no exhibition experience and encourages students and young artists to apply. All visual arts media are eligible.
Applications for 2025 will open in 2024, and will be available on at the Emerging Artist Application page.
The Emerging Artist Exhibition was developed in 2015 to meet the needs of artists with burgeoning new talent; this juried show will give emerging artists an opportunity to display work in a professional gallery setting. Lanesboro Arts is dedicated to supporting the growth of early-career artists as an important function of its mission to serve as a community arts catalyst
The exhibit features pieces in 2D and 3D visual media in a variety of sizes, with a size limit for each piece of 40" wide x 40" high. Pieces chosen for the Emerging Artist Show must be framed and include a hanging wire in the back; all work in the Emerging Artist Exhibition will be for sale as per consignment agreement (40% gallery, 60% artist). Selection by jury will be made by early December, and those artists chosen for the show will be notified on or before that date. The chosen artists will assist with install of their own display to enhance their learning experience. The installation for 2023's Emerging Artist Exhibition took place in late January, 2023. The Emerging Artist Exhibition opened on January 29, 2022 with an artist reception from 6 p.m. to 8 p.m., and ran through March 19, 2022. Contact Kris Viesselman with questions or for more information, 507-467-2446 / info@lanesboroarts.org.
2023 Exhibit:
Gabriel Berg, fiber art
Samantha Bratland, painting
Lindsey Cherek-Waller, painting
Lindsey Jorgensen, fiber art
David Susag, pole lathe wood turning
Jesus Genis Tlaseca, aka RiPTOE, mixed media
Carol Weissenborn, mixed media painting
2020 Exhibit:
Rose Weselmann, painting
Alan Wiltgen, painting
Sally Podein, mosaics
2018 Exhibit:
Jovan Speller, photography
Kristin Maija Peterson, watercolors
Anna Segner, painting
Peyton Woller, photography
Stephanie Frey, found image and gouache
Mary Beth Magyar, sculpture
Emma Knapp, ceramics
2017 Exhibit:
Ryan Koning, painting
Joseph Cowan, painting
2016 Exhibit:
Camille Knutson, jewelry
Jenie Gao, ink and watercolor paintings and woodcut prints
2015 Exhibit:
Ellie Schmidt, ceramics
Michael Cimano, mixed media