A unique initiative that weaves poetry into the social and municipal infrastructure of Lanesboro.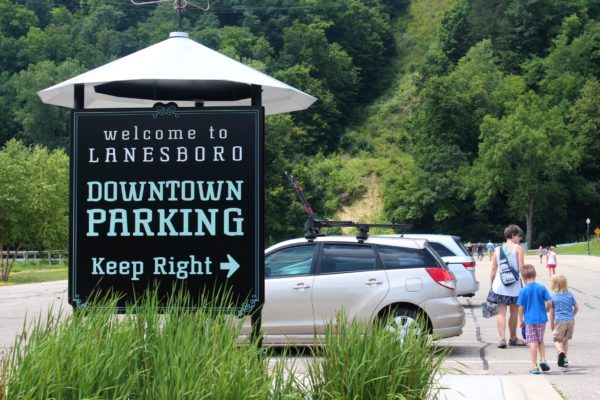 Lanesboro Arts addressed the limited downtown parking by transforming the underused city parking lot into the Poetry Parking Lot, where "park here" signage is replaced by regional poetry. To promote walkability, a short walking trail was added to connect the Poetry Parking Lot to the restored historic walking bridge, which crosses the idyllic Root River into downtown.
In the summer of 2014, Lanesboro Arts held its inaugural Lanesboro Haiku Poetry Contest designed to solicit poetry for display in the Poetry Parking Lot, located just off County Road 8, one block west of downtown. The contest brought in over 180 Haiku submissions, and a local selection committee led by artist Ed Bok Lee chose 15 poems for publication in the Poetry Parking Lot at the Lanesboro Arts Campus Art & Poetry Festival in September 2014.
The winning Haiku below speak to the beauty of southeastern Minnesota, and of the strong community of Lanesboro.
The signs were installed on lamp posts in an underutilized municipal parking lot near downtown and designed to match the lamp posts aesthetic. The "Poetry Parking Lot" project has increased awareness and usage of the lot by visitors and residents alike, reliving downtown congestion during the busy visitor season.
Walking past the stones
He whispers his love for her
She kneels on his grave.
– Marcy Van Fossen, Winona, MN
Marcy Van Fossen is currently a stay-at-home mother of four specializing in diapers, legos, and conflict management.  She was very grateful for the poetry contest, because it provided a direction for her thoughts to wander during an action-packed afternoon of stacking blocks and coloring.  Prior to embracing the domestic life, Marcy worked as a Psychology professor at Saint Mary's University in Winona.
Bluffstone soars above.
Its cracks host dizzy plants and trees
Whose sway moves the stone.
– Jane Peck, Lanesboro, MN
My two main sources of inspiration are nature and the worlds of past eras. Being in bluff country feeds both of those. I am an educator, choreographer, dance historian, and writer. I produce and direct performances with my company , Dance Revels Moving History.
April plum blossoms
Questions I've forgotten
To ask my father.
– Larry Gavin, Faribault, MN
Larry Gavin is the author of four books of poetry: Necessities, Least Resistance, Stone and Sky, and in 2014, The Initiation of Praise all from Red Dragonfly Press. He edits a haiku magazine called Tumbling Crane that is published on a postcard. His prose appears regularly in Minnesota Outdoor News and for many years he was a field editor at Midwest Fly Fishing magazine where he wrote about environmental issues.
Root river recline
Silent cycle side by side
Wild flowers, ice cream
– Cynthia Wold, Minneapolis, MN
Cynthia Wold is a graduate student researching love, a freelance writer, principal of her business, Wold Wide Web, and co-author of "The Art of Convening." She lives in Minneapolis with her husband Tom, dog Polo, and cat Sandy Kisses. She and Tom love to bike the Root River Trail.
Listen to the songs
in the trees melodies raised
on wings and starshine.
– Therese Masters Jacobson, Alvarado, MN
Therese has been painting watercolors and acrylics since studying art in Chicago in the 1960s. She belongs to Riverwalk Artists in East Grand Forks, MN, and her works are in collections coast to coast. Therese has been writing Haikus since high school when she doodled in notebooks instead of taking classnotes.
Autumn maple tree
Her dress undone at her feet
Naked form all praise
– Emilio DeGrazia, Winona, MN
Emilio DeGrazia has authored four books of fiction, including Seventeen Grams of Soul, and Enemy Country, both award winners. He has co-editor of Great River Review, and (with his wife Monica) 26 Minnesota Writers and 33 Minnesota Poets. He also has published a collection of essays, a memoir, and Seasonings, his first collection of poetry. He has just finished a term as Winona's Poet Laureate.
Listening to you
last night with your brown hair still damp:
a lovely word bath.
– Tim J Brennan, Austin, MN
Tim J Brennan's poems can be found at KAXE's The Beat, Talking Stick, Whispering Shade, Green Blade, the sidewalks of Mankato, and now here in Lanesboro. Thank you.
Truth in black and white:
The perfection of shadows
changing with the light.
– Steven Schild, Winona, MN
Steve Schild has published poetry in a number of anthologies and literary magazines, including 33 Minnesota Poets (Nodin Press), Witness (an anthology of anti-war poems) and Growing Season (Minnesota Humanities Commission). A Houston, Minn., native and Winona, Minn., resident, Schild has won awards from Viterbo University and the Minnesota League of Poets.
Corn staring at stars.
Soy beans sitting in the sun.
Wheat in the soil.
– Korby Koch, Preston, MN
In 2014, Korby was a 16-year-old entering his junior year at Fillmore Central this fall where he played football, wrestles, and saxophone in the band.
Before the rail lines
Native Americans walked
Beside this river
– Diane Knight, Whalan, MN
Diane is an artist working out of a studio in the old bank building in Whalan, MN. Her background is art education, however, she spent 20 years at Mayo in the graphic arts department. Masks and puppet-making for youth theatre kept her hands in clay and her creativity alive.
Round and round I spun.
My world unraveled before me.
Up at dawn. New web.
– Catherine Glynn, Lanesboro, MN
Catherine is a professional actress and teacher. She has worked at a variety of Repertoire Theatres, Shakespeare Festivals, and Fringe Festivals across the U.S. She and her husband Jeremy van Meter share the stage and a beautiful home (Casa Verde) here in Lanesboro. She considers her brother Tom, an artist and poet, her greatest inspiration when writing haikus.
Abandoned houses
cover themselves in tall weeds
afraid of next year.
– Jo Anne Agrimson, Utica, MN
Jo Anne's mother and father taught her the joy of words and a love for nature's beauty on their farm in central Minnesota. Now, from her farm, Jo Anne and her husband share breath-taking views of North Prairie in Fillmore County. Jo Anne loves God, family, friends, home, teaching, writing, singing, and laughing.
Town asphalt shows promise
sprouting nouns, verbs, adverbs!
through cracks, full flowered.
– Pam Whitfield, Rochester, MN
Pam is a teacher, poet, journalist, and performance artist. She's also a professional horsewoman who teaches clinics and judges shows across the Midwest. Pam's roots are in the South, but she loves living in Rochester. In 2010 she was named MnSCU Educator of the Year.
Surnames change slowly
Faces rewrite time
Community breathes
– Stephen Pittelko, Rochester, MN
I have been married to my wife Rebecca for 21 years. We have three daughters (Meagan, Chloe, Emma) together.
I work as a speech pathologist in area schools. I enjoy and experiment in arts of all nature, with writing and painting at the top of my list.
A tick-tock cadence
from the Amish horse rewinds
time and stirs dry leaves.
– Cody Kleven, Stoughton, WI
Cody Kleven resides in Stoughton, WI with his wife Kelly and their four children. He is a sales and business development executive specializing in enterprise video technologies. When he isn't busy with work and family he can most likely be found running. He has an appreciation for endurance sports and makes good use of the Root River Trail whenever he's in Lanesboro visiting his in-laws, Vern Riddle and Jennifer Wood.