"There's something very special about Lanesboro," says Steve Harris.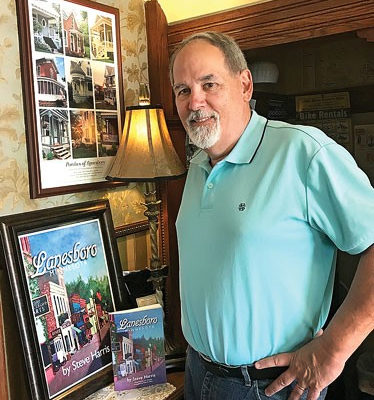 Harris, along with his wife Susie, moved to Lanesboro in 2009, when the two assumed ownership of Anna V's Bed and Breakfast. Since then, Harris has immersed himself in the Lanesboro community. He serves as a board member of Lanesboro Arts; he is involved with the "Over the Back Fence" Community Variety Show and Lanesboro Community Theater; and his book, Lanesboro, Minnesota, can be purchased in shops throughout the town.
"We immediately fell in love with the town," says Harris. The couple previously lived in the Twin Cities, where Harris served as Director of Philanthropic Communications for the YMCA of the Greater Twin Cities. He specifically praises the peace and quiet of Lanesboro, as well as the energy of its arts scene.
"There are so many great artistic opportunities around here," says Harris. As a writer himself, Harris enjoys being a part of the Lanesboro literary scene. He even works with a local writing group. "There is a place for everyone to express themselves in the arts and express their creativity."
Harris first connected with Lanesboro Arts because of his experience in the nonprofit sector. Conversations with the staff about fundraising and development led to further involvement. "I was interested in connecting with the community and serving," says Harris. "When I got asked to be on the board, I said yes."
"It's an amazing nonprofit," says Harris of Lanesboro Arts. "I love the look and feel of the gallery. I like 'Over the Back Fence.' I have gotten involved with Lanesboro Community Theater, an organization supported by Lanesboro Arts. "That's something I thought I would never do."
Harris believes the arts are integral to Lanesboro's distinctive character. "All the art that happens here gives Lanesboro a sense of place and an identity that is hard to beat."