Lanesboro Arts' historic St. Mane Theatre hosts both professional and community-based arts programs & performances.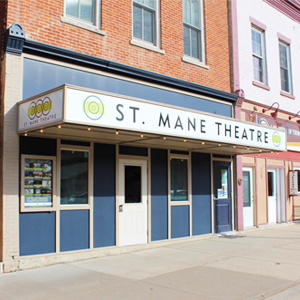 Originally constructed as a furniture store in 1897, the building reopened in 1915 as the Elite Theatre, which showcased silent films and featured a pianist accompanying the films from the balcony. Once the "talkies" arrived it was again remodeled and re-opened as the State Theatre, which closed in the 1960s. The Lanesboro Arts Council (now Lanesboro Arts) re-opened this charming theatre in 1984 as the St. Mane Theatre, named for Lanesboro's first Post Master, Mr. Charles St. Mane. Lanesboro Arts completely renovated the upper level of the building in 2014, establishing a Residency & Community Education Center, in addition to a Green Room, as part of the initial Arts Campus initiatives.
Today, Lanesboro Arts hosts and presents programming at the St. Mane Theatre that celebrates culture and nurtures community. Through documentary film screenings and professional music, theatre, and dance performances to grassroots events by The Rhubarb Sisters and Lanesboro Community Theater, the St. Mane Theatre is a venue where artists and community members can exchange, express or experience a story that, in the process, helps bring people together.
Performing arts at the St. Mane, along with the education, artist residency and outreach programs that also take place in the building, are an essential component of Lanesboro Arts mission to serve as a regional catalyst for artistic excellence and educational development in providing diverse art experiences for people of all ages.