A free arts education program that engages youth in place-based art-making.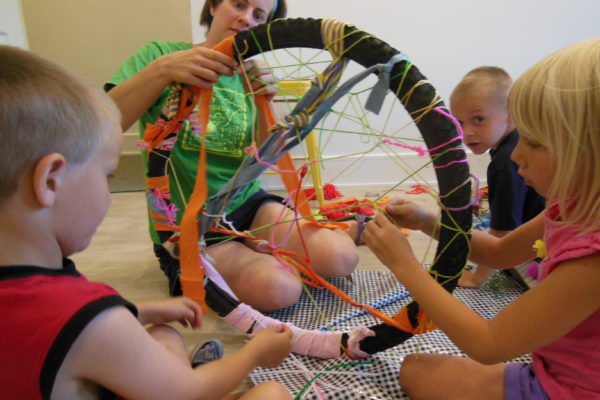 Since 2013, Surprise Sculpture has provided arts education opportunities for local students. For six weeks each summer, Lanesboro Arts staff and volunteers – many of whom are professional artists – lead participants in constructing large-scale, site-specific sculptures for public spaces using a mixture of upcycled, recycled, and fine art materials. The program serves over 150 rural youth and adults from Lanesboro, Harmony, Preston, Rushford, and beyond each year.
Held in 2017 on Tuesdays upstairs in the studio at the St. Mane Theatre. Noon – 2 p.m. Bring a sack lunch! FREE for all ages.
June 13
June 20
June 27
July 11
July 18
July 25
Note: There will be no Surprise Sculpture on Independence Day 2017.
Program Goals
Providing free, high-quality arts education experiences to rural youth;
Encouraging community pride and heightened cultural identity through public art;
Teaching creative problem solving, inter-generational learning, and community service through hands-on art-making;
Bringing awareness to, and celebrating, community assets and traditions;
Increasing the beauty of overlooked places in the community, encouraging walkability, and fostering public interaction.
The hands-on production of these large sculptures takes place mainly in Lanesboro Arts' St. Mane Theatre, which was recently renovated as part of the Lanesboro Arts Campus campaign to include a bright classroom and studio space for education programs.
Media Coverage
"Surprise! Trains return to Lanesboro through summer art activity" by Bretta Grabau, Bluff Country News Group
"Surprise Sculpture students hang out with nature" by Lisa Brainard, Bluff Country News Group