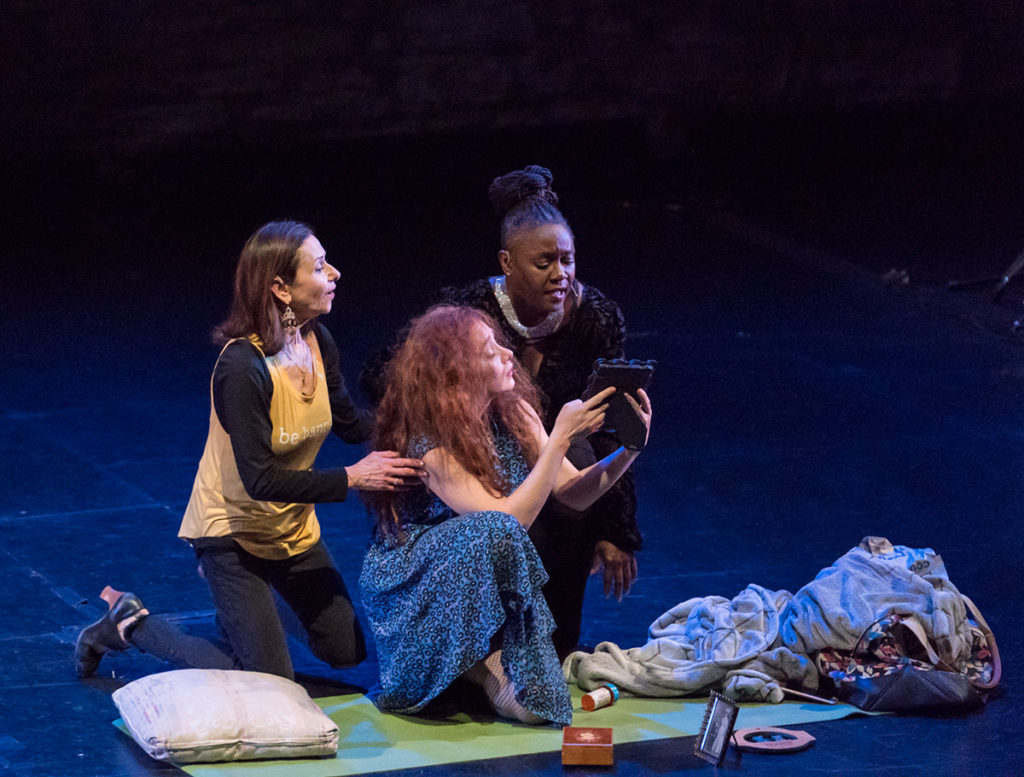 Lanesboro Arts is proud to present Minnesota's award-winning Zorongo Flamenco Dance Theatre at the St. Mane Theatre in Lanesboro on Saturday, February 26th at 7:30 p.m. Returning to the St. Mane following a memorable 2019 performance, Zorongo is performing a poignant new work entitled Casita. Inspired by homeless women's stories, Casita — danced by Susana di Palma and Jeanne d'Arc Casas — will feature original flamenco/blues/jazz music performed by guitarist Ben Abrahamson, Billy Steele on keyboard, and vocalist Tonia Hughes with flamenco percussionist Jose Moreno. Masks and socially distanced seating are required for this performance. 
Casita will be seen and "not seen," just as the homeless are "seen but not seen." The layering of realities – the artistic, creative world and the deprivation of those without homes reflects only what the moon sees. Renowned for bringing the power, passion and virtuosity of the art of flamenco to audiences throughout the country, Zorongo regularly collaborates with internationally recognized guest artists. This evening of traditional Spanish flamenco dance and music illustrates the emotional range of this dynamic art form.
MANCC (pronounced man-see) provided a 2019 development residency for Susana's Casita project in Tallahassee, Florida as part of her 2017 McKnight Fellowship for Choreography. MANCC is the only national center for choreography in the world located in The Florida State University School of Dance and offers unparalleled opportunities for contemporary choreographers to hone their artistic practice and develop new work inside a creative community.
Artistic Director & Choreographer Susana di Palma founded Zorongo Flamenco Dance Theatre in 1982 and it is one of the few American dance companies that present both traditional flamenco programs, as well as original productions. The essence of Zorongo Flamenco's work combines passionate and soul with a lively and innovative spirit that relates to contemporary audiences in a way that few companies do.
This event is presented by Lanesboro Arts and sponsored by the Wisconsin Public Radio, Commonweal Theatre, Inspire(d) Magazine, High Court Pub and Granny's Liquors.
Please note:
The St. Mane Theatre box office will open at 6:30 p.m. the day of the event. Tickets will also be sold in-person beginning at that time.
Each ticket purchased with a bank card will be charged an additional processing fee of $0.99. Patrons can avoid this processing fee by paying via cash or check in the Lanesboro Arts Gallery, or before the show in the St. Mane Theatre lobby.
If you are unable to purchase tickets online or need additional assistance, you may try calling 507-467-2446 to purchase a ticket over the phone during business hours. Tickets are also sold in-person during business hours at Lanesboro Arts Gallery.
We will have a list of the ticket buyer names at the box office beginning at 6:30 p.m. If the buyer and their guests arrive together, no physical receipt or proof of purchase is needed in order to be admitted to the event–we will have a list!
Alternatively, attendees can present a printed copy of the ticket PDF the ticket buyer was e-mailed or simply pull it up and present it on a smart device.
Lanesboro Arts is committed to accessibility for all people. Learn more about our access services.