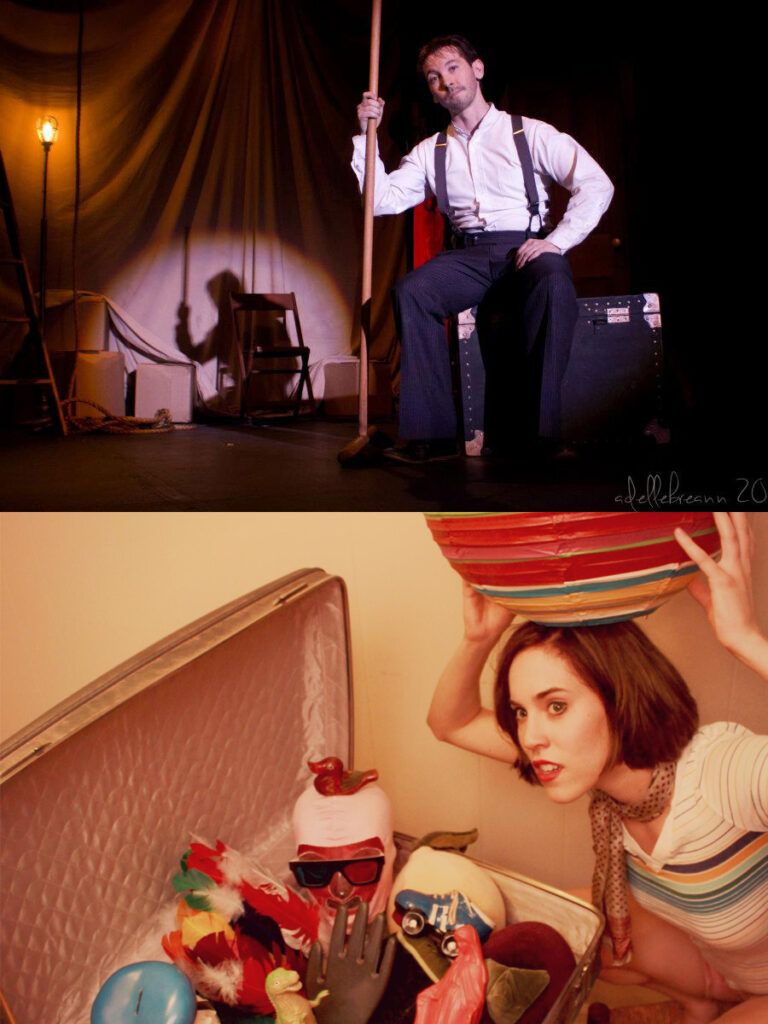 Catherine Glynn's A.R.T. (Audacious Raw Theater) and Lanesboro Arts proudly present Audacious Raw Theatre Year 6: UNleashed &UNbound on Saturday, June 11th at 7:00 pm and Sunday, June 12th at 2:00 pm at the St. Mane Theatre in downtown Lanesboro featuring Elizabeth Dunn & Brandt Roberts.
What is devised work? It means the ARTists build original theatrical performances from the ground up—in a word; they are co-creators. Through a series of conversations, writing exercises, movement exploration, and improvisatory theatre techniques, they tease out the stories and performances they want to share with live audiences.
Over the past four years, the ARTists have generated a style they call "soul-o ensemble," a term coined by ARTist Penelope Walker. Each creation, while featuring one particular ARTist's voice/story, also contains the fingerprints of all the ARTists. That way, the work bears each individual soul and is supported by the collective.
2022 is a whole new approach! After five years of 7 artists creating 7 or more new works in 7 days, we're taking a tip from last year's theme and simplifying things and focusing on smaller casts and solo work.
Year Six's theme is "UNleashed and UNbound, Going Soul-O".
Brandt Roberts is an artist and actor from swampy southeast Missouri. After touring and performing in regional theatres across the country, Roberts has called the Commonweal Theatre and Lanesboro home for eight years. Created as a love letter to clowning and the stage, Brandt's original one-person show, The Art of the Entertainer, has been performed in several states. Roberts holds an M.F.A. in Performing Arts from the Savannah College of Art and Design. He is grateful to be on this adventure with his fiancé Elizabeth for the support of this incredible community and his loving family. Thanks to Catie for UNleashing us!
Elizabeth Dunn is a native of Georgia, in the foothills of the Appalachian Mountains. She made her way to Minnesota in 2011, when she started her career in theatre, touring the upper midwest with Prairie Fire Children's Theatre. She then lived in Chicago for a year, studying improvisation at Improv Olympics (iO). Since 2015, Lanesboro and the Commonweal Theatre have been her home. She has cherished the last seven years of her time with the wonderful group of artists in this town and exploring the driftless region with Brandt, her fiance. They will soon be making their new home in N.E. Minneapolis, where they hope to keep creating, exploring, teaching, and learning. Y'all come visit!
This activity is made possible by the voters of Minnesota through grants from MSAB thanks to a legislative appropriation from the arts & cultural heritage fund.