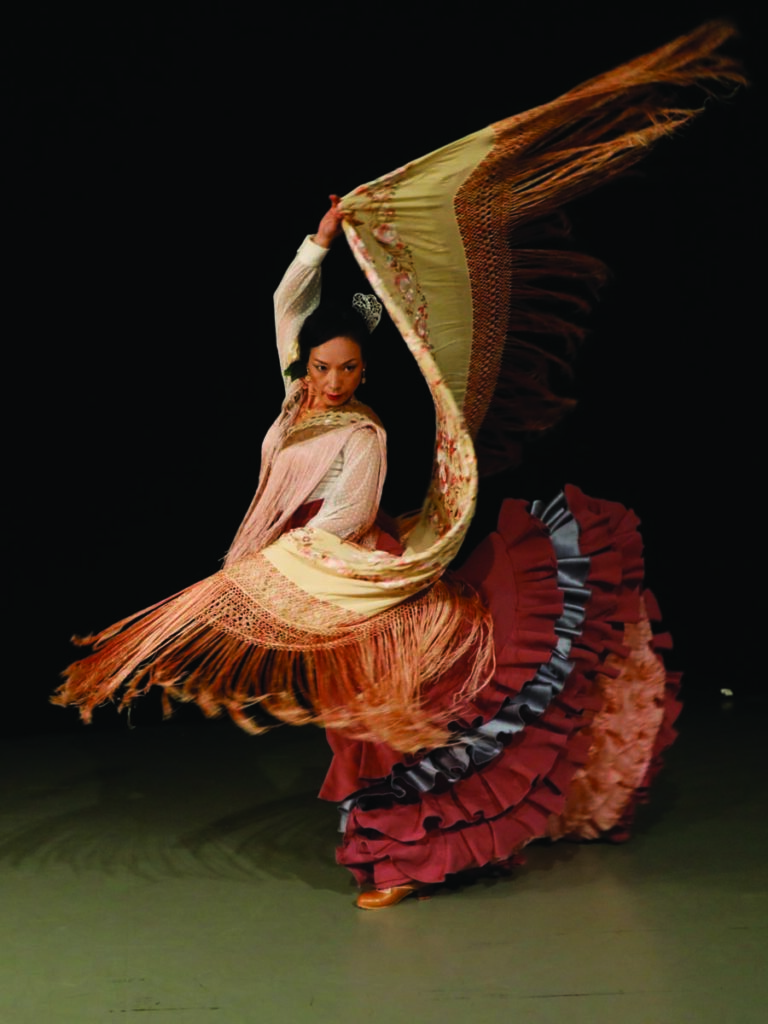 Lanesboro Arts is proud to present award winning dancer Sachiko "La Chayí" and Twin Cities Flamenco Collective in "A Night In Andalusia" on Friday, August 18th, at 7:00 pm at the St. Mane Theatre in downtown Lanesboro.  Described by dance critic Linda Shapiro in Pioneer Press as "Flamenco dynamo Sachiko," McKnight Dancer Fellow Sachiko "La Chayí" and Twin Cities Flamenco Collective invite audiences to join their Southern Spanish tablao-style Flamenco which celebrates the Gitano spirit. The show features internationally renowned artists from Spain and the U.S.
About Sachiko "La Chayí", Dancer & Director
A native of Osaka, Japan, Sachiko "La Chayí" is a Twin Cities-based Flamenco dancer, teacher, choreographer and organizer.  Besides her work as an independent artist, her current projects include leading an informal group, Twin Cities Flamenco Collective.  She has performed in the US, Spain and Japan and at prestigious venues including Lincoln Center, The Walker Art Center, The O'Shaughnessy, and The Cowles Center.  She has received recognition and grants from Minnesota State Arts Board, Metropolitan Regional Arts Council, the Jerome Foundation, the Minnesota SAGE Awards for Dance, and New York State Flamenco Certamen.  She has presented her original dance theater works at the Walker Art Center, the Southern Theater, and the Intermedia Arts.  Sachiko is the recipient of a 2017 McKnight Dancer Fellowship.  She lived and studied the art of Flamenco in Seville, Spain from 2010 to 2015 which became the foundation of her current dance and work.  www.sachikolachayi.com
About Special Guests
Seville-born Javier is a flamenco singer but also a "festero", who specializes in dancing while singing bulerías. Javier has performed for over 20 years, and his career is marked with numerous artistic achievements and recognitions.  In addition to his performances and teaching throughout Spain, Javier has also been invited to perform in several internationally recognized prestigious festivals, such as Flamenco Festival in Berlin, the Mont de Marsan Flamenco Festival in France, and Flamenco Cante Festival in Miami amongst others. He has recordings: ¡Puro y Vivo! (Flamenco de Morón) and Jugando con el Tiempo (Sonios Negros).
La Rhina started her flamenco 25 years ago in Atlanta, GA while she was living there. Since 2013, she bases her home in Seville, Spain and works in peñas, Ferias, private fiestas, festivals and theaters. Over the years, her teaching career and performance opportunities have grown and widened beyond the US and Spain – to Japan, France and Singapore etc. Highlights of her most recent work include: the 45th Festival Flamenco de Caceres (2019); Peñas de Guardia series (2020); Festival de Jerez and XXX Palma de Plata "Ciudad de Algeciras" (2022). Other related work includes dancing for the opera Carmen directed by Seiji Ozawa in 5 major cities in Japan, under the directions of New York based choreographer, Sara Erde and New York Metropolitan Opera Stage director, David Kneuss.
Kristofer "El Cuervo" Hill hails from Maplewood, NJ and is a graduate of Arizona State University.  After having a career as a restaurant owner, High School Teacher, touring jazz & hip hop artist; Kristofer spent 8 years living, intensively studying flamenco guitar, and performing in Seville, Spain working for the major dance schools and companies. Kristofer currently performs and teaches internationally as an independent artist playing guitar for US companies including Flamenco Vivo Carlota Santana (NYC).  He has performed as a principal guitarist with internationally renowned Spanish artists such as Carmen Ledesma, Jose Galvan, and Jose Mendez.  His recordings & compositions for dance have been performed at the Joyce Theater, NYU, Times Square, NYC, & at the Bram Stoker International Film Festival. Live Guitar performance credits also include Lincoln Center, L'Usine in Geneva, Museo del Barrio: NYC, PHX Symphony Hall, Teatro Alameda Sevilla, and Woodstock (NY). His music can also be heard in the Sony Pictures 2010.
About Twin Cities Flamenco Collective
Leading member of Twin Cities Flamenco Collective, Ross "El Vecino" Fellrath is a lifelong musician with a passion and curiosity for music that has taken him around the country and the world.  He plays for dancer Sachiko "La Chayí" and  Zorongo Flamenco Dance School.  He has studied Flamenco in Madrid, Spain with El Entri, Jesus de Rosario and Killino Jimenez. In Sevilla, he has studied with Juan del Gasor, "El Perla," and Luis Peña.  He obtained his artistic name "El Vecino" from his maestro Juan del Gastor.
Eva Makiko began studying flamenco with Susana di Palma at Zorongo Flamenco Dance Theatre in 2008. As a company dancer, she performed in numerous Zorongo productions between 2014 and 2020. In recent years she has immersed herself in the study of flamenco cante with members of the Twin Cities Flamenco Collective. She loves the art form for its ability to bring the community together both locally and internationally.
Bobby "El Eléctrico" has been a real music lover throughout his life.  He started his Flamenco journey under the influence of his wife and dancer Sachiko "La Chayí" and listens to old-time Flamenco masters for hours everyday.  He has studied hand-clapping and singing in Spain and the US. He enjoys supporting other TCFC members through his palmas and jaleo to give good energy and vibes in performances and fiestas.
Sachiko "La Chayí" is a fiscal year 2023 recipient of a Creative Support for Individuals grant from the Minnesota State Arts Board. This activity is made possible by the voters of Minnesota through a grant from the Minnesota State Arts Board, thanks to a legislative appropriation from the arts and cultural heritage fund.
Tickets are available now for $25 General Admission ($22 for LA members).
Please note:
The St. Mane Theatre box office will open at 6:00 p.m. the day of the event. Tickets will also be sold in-person beginning at that time.
Each ticket purchased with a bank card will be charged an additional processing fee of $0.99. Patrons can avoid this processing fee by paying via cash or check in the Lanesboro Arts Gallery, or before the event in the St. Mane Theatre lobby.
If you are unable to purchase tickets online or need additional assistance, you may try calling 507-467-2446 to purchase a ticket over the phone during business hours. Tickets are also sold in-person during business hours at Lanesboro Arts Gallery.
We will have a list of the ticket buyer names at the box office beginning at 6:30 p.m. If the buyer and their guests arrive together, no physical receipt or proof of purchase is needed in order to be admitted to the event–we will have a list!
Alternatively, attendees can present a printed copy of the ticket PDF the ticket buyer was e-mailed or simply pull it up and present it on a smart device.
Lanesboro Arts is committed to accessibility for all people. Learn more about our access services.