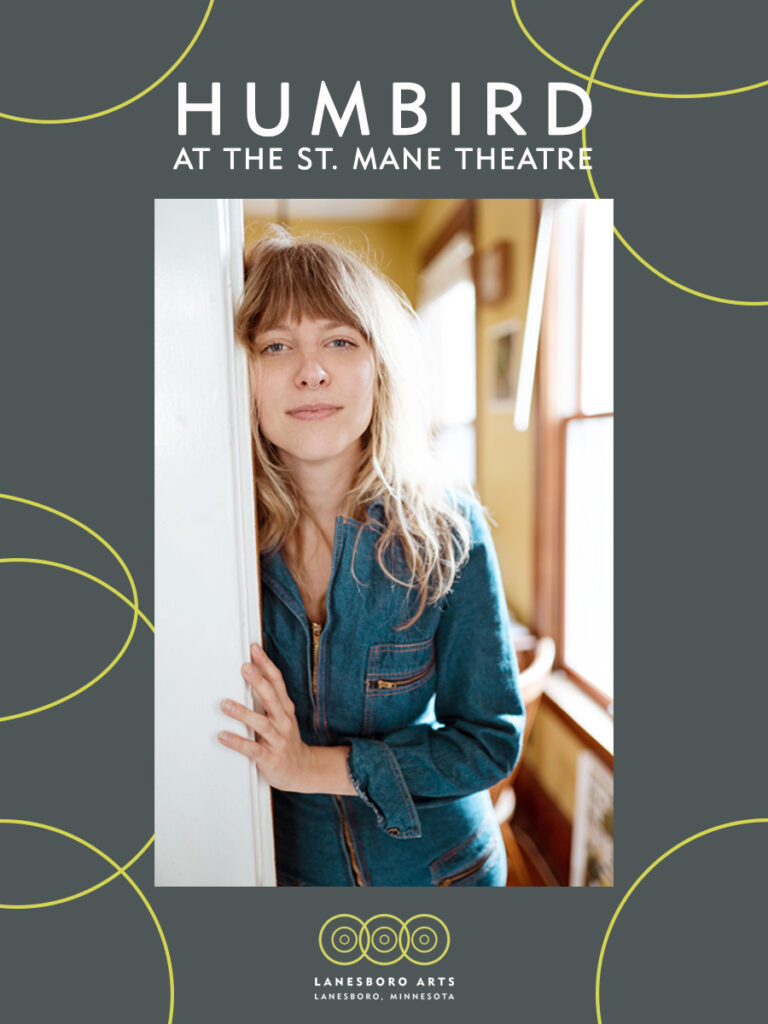 Lanesboro Arts is delighted to present harmonic indie folk trio Humbird on Saturday, September 9th from 7:00 – 8:30 pm at the St. Mane Theatre in historic downtown Lanesboro. With deep roots in the Midwest heartland, Humbird fuses experimental folk and environmental Americana genres.
Humbird has charmed and encapsulated listeners everywhere with unique instrumentals and lyrics, intersecting the powerfully sincere with familiar comfort. Siri Undlin, the songwriter behind the moniker, forges an explorative embodiment of the narrative folk song and balladry tradition for these modern times, inviting a whole host of collaborators and listeners to add and expand the music. The Humbird trio consists of lead singer and songwriter, Siri Undlin, drummer Peter Quirsfeld, and bassist Pat Keen. Folk Alley hails Undlin's unique vocals, saying: "Siri Undlin's crystalline voice is thoroughly enchanting…an absolutely hypnotic listening experience."
Still Life (2021), Humbird's sophomore record, focuses on small domestic moments in the context of global events. It is an album that cultivates soundscapes and intentional lyrics that tell braided stories. It reckons with anger, grief, and white supremacy while carving out reflective, fertile space to process current events.
Humbird's debut full-length album, Pharmakon (2019), is a careful look at that which can both cure and wound: love, ambition, winter, and sea shells, to name a few lyrical topics. The record received critical acclaim from tastemakers such as Folk Alley and 89.3 The Current and amassed significant streams online. Undlin and her bandmates have toured full-time across the U.S., U.K. and Ireland.
The concert will take place from 7:00 – 8:30 p.m., and tickets are $25 General Admission ($22 for Lanesboro Arts members).
This event is made possible by the voters of Minnesota through a Minnesota State Arts Board grant, thanks to a legislative appropriation from the arts and cultural heritage fund.
Please note:
The St. Mane Theatre box office will open at 6:00 p.m. the day of the event. Tickets will also be sold in-person beginning at that time.
Each ticket purchased with a bank card will be charged an additional processing fee of $0.99. Patrons can avoid this processing fee by paying via cash or check in the Lanesboro Arts Gallery, or before the event in the St. Mane Theatre lobby.
If you are unable to purchase tickets online or need additional assistance, you may try calling 507-467-2446 to purchase a ticket over the phone during business hours. Tickets are also sold in-person during business hours at Lanesboro Arts Gallery.
We will have a list of the ticket buyer names at the box office beginning at 6:30 p.m. If the buyer and their guests arrive together, no physical receipt or proof of purchase is needed in order to be admitted to the event–we will have a list!
Alternatively, attendees can present a printed copy of the ticket PDF the ticket buyer was e-mailed or simply pull it up and present it on a smart device.
Lanesboro Arts is committed to accessibility for all people. Learn more about our access services.