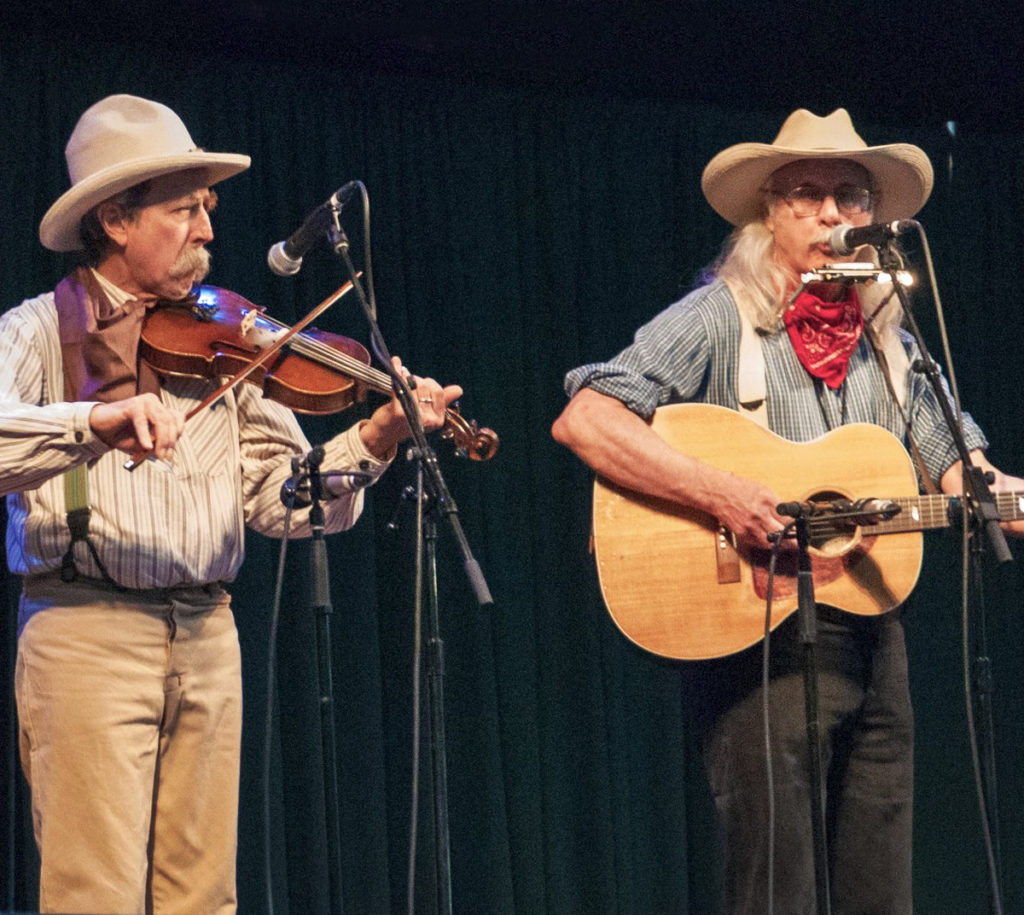 Lanesboro Arts proudly presents Bob Bovee and Pop Wagner at the historic St. Mane Theatre in downtown Lanesboro on Friday, November 12th at 7:30 p.m. Since meeting in 1971 and discovering they liked to play the same old time music, Pop Wagner and Bob Bovee have produced some of the most spirited traditional music around. Together and separately, over the course of musical careers spanning nearly 50 years, they've developed and deepened their craft while serving as stewards of traditional American folk and roots music.
A Wagner-Bovee performance offers a generous dose of authentic cowboy songs, plenty of square dance tunes and other instrumental numbers, country blues, comic and sentimental songs of the south, and perhaps an original or two. The two are likely to also throw in a cowboy poem and some tall tales, along with history, folklore and jokelore.
Pop Wagner, a master finger picking guitarist, fiddler and singer, square dance caller and purveyor of delightfully dry humor, lives in Saint Paul and performs solo and in various other musical combinations. He appeared frequently on Public Radio's A Prairie Home Companion during the show's formative years and for the last four decades he has worked his cowboy magic throughout 44 states and ten countries. His cowboy anthems crackle with the warmth of a prairie campfire and his old time fiddle tunes set toes a-tappin' while he serves up spellbinding rope tricks and tall stories — all with a good dose of friendly humor.
Residing in rural Spring Grove, Minn., Bob Bovee performs solo as well as with Wagner, plays guitar, harmonica, autoharp and banjo, sings and yodels, and is also a humorist and storyteller. He is the Artistic Director for the Bluff Country Gathering and the organizing force for the Lanesboro Barn Dance. Growing up in Nebraska, Bob Bovee first heard cowboy songs and other old time music sung by his grandmother and uncle, such gems as "Little Joe the Wrangler" and "The Zebra Dun". He has spent his life seeking out the songs of the West and making the public aware of our great musical heritage.
On their first "tour" together they traveled by thumb and boxcar through eleven western states covering nearly 5,000 miles, stopping along the way to play in folk clubs and taverns and on street corners. For nearly five decades they have entertained audiences spanning America, Canada and across the pond, including the Winnipeg Folk Festival, the San Diego Folk Festival, the Five College Folk Festival in Massachusetts, and four tours together in Europe.
This event is presented by Lanesboro Arts and sponsored by the Wisconsin Public Radio, Commonweal Theatre, Inspire(d) Magazine, High Court Pub and Granny's Liquors.
Please note:
The St. Mane Theatre box office will open at 6:30 p.m. the day of the concert. Tickets will also be sold in-person beginning at that time.
Each ticket purchased with a bank card will be charged an additional processing fee of $0.99. Patrons can avoid this processing fee by paying via cash or check in the Lanesboro Arts Gallery, or before the show in the St. Mane Theatre lobby.
If you are unable to purchase tickets online or need additional assistance, you may try calling 507-467-2446 to purchase a ticket over the phone during business hours. Tickets are also sold in-person during business hours at Lanesboro Arts Gallery.
We will have a list of the ticket buyer names at the box office beginning at 6:30 p.m. If the buyer and their guests arrive together, no physical receipt or proof of purchase is needed in order to be admitted to the event–we will have a list!
Alternatively, attendees can present a printed copy of the ticket PDF the ticket buyer was e-mailed or simply pull it up and present it on a smart device.
Lanesboro Arts is committed to accessibility for all people. Learn more about our access services.