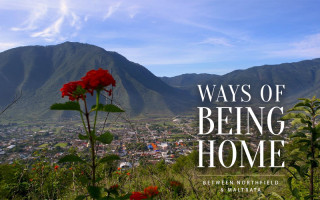 Lanesboro Arts presents Ways of Being Home, a documentary film by Cecilia Cornejo. The film will be screened on Friday, January 28th at 7:30 p.m. at the St. Mane Theatre in downtown Lanesboro. The screening will be followed by a Q&A with the artist, Cecilia Cornejo. Masks and socially distanced seating required. This event is free, but there will be a free-will donation at the door to support the production of this event.
This  intimate cinematic  portrait of two small towns – one in Mexico and one in Minnesota – is  an  evocative  audiovisual meditation on  the  experience of Mexican immigrants living and working  in rural America. Vivid cinematography,  richly layered soundscapes, short animated sequences, and a constellation of testimonies introduce audiences to  Maltrata, an  agricultural town nestled in the mountains of Veracruz, Mexico,  and to Northfield, a college town in southern  Minnesota  where many  Maltratans have immigrated and settled. By  means of a nonlinear narrative and a camera that  thoughtfully  yet viscerally meanders between everyday scenes  in both towns, Chilean-American  director Cecilia Cornejo Sotelo shows  the complexities of, and contrasts between, these places.
Filmed  amidst increasing violence  and political unrest  in Mexico and  the rising  anti-immigrant sentiment that  took hold during and after the 2016 U.S. presidential election,  the voices of fiercely determined and hard-working women coalesce to offer a nuanced portrait of a transnational community.  Ultimately, the  film is a testament  to the resiliency and ingenuity of uprooted people as they craft a life and a home  fostered by ritual, relationship, and community rather than solely by geography.
Ways of Being Home has received support from the Minnesota State Arts Board (Artist Initiative Grant 2016, 2018) and a Jerome Foundation Film, Video, and Digital Media Grant (2016).