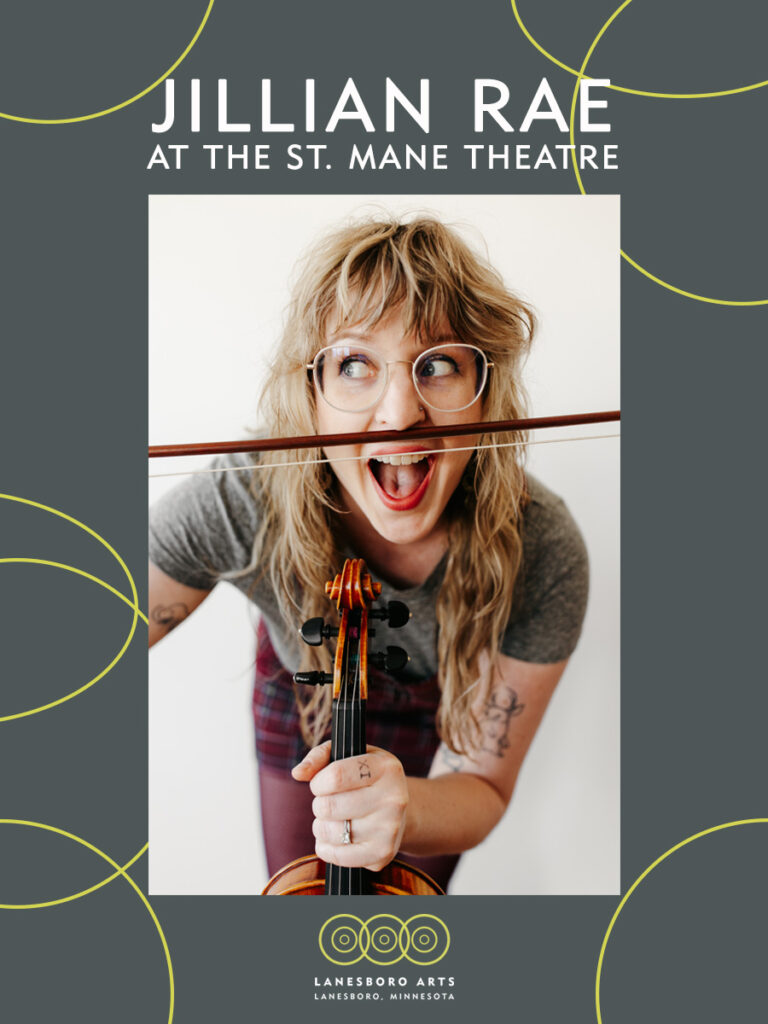 Join Lanesboro Arts at the St. Mane Theatre on Saturday, October 7th at 7:00 to see Jillian Rae perform her variety of music ranging within different genres. As a classically trained violinist, Jillian Rae is known internationally for her pop orchestrations, genre-bending songs, and unique spin on music. Currently based in her home studio in Minneapolis, Rae produces her own music with partner and co-producer Eric Martin.
Jillian Rae has been creating powerful songs since before 2013 when she released her debut album, Heartbeat. She grew up involved in music, and then went on to study it in college, which provided her with the opportunity to tour worldwide. Soon after, people started to take notice, so touring led her around the nation until she was able to produce Wanderlust, an EP, in 2017.
Despite having roots in traditional folk and country bands, Jillian Rae's latest album I Can't Be the One You Want Me to Be was released in 2019 and took a decided turn into pop and rock with unflinching, hard-hitting songs. It also showcased her orchestration abilities with layered violin tracks saturated in heavy grooves and moody arrangements. The album's final track "Wayward One" was featured prominently in the hit Chinese film The White Storm 2 and has catapulted her into near stardom in China.
Alongside her today are guitarist Eric Martin, bassist Jimmy Osterholt, and drummer Christian Wheeler. As a complex and ever-changing artist, Jillian Rae has experience creating works of various genres—from country and pop to rock and Americana. Most recently, as she continues to impress listeners with her moody yet hard-hitting songs, Jillian Rae released the single "Doing My Best." For spins on a wide variety of musical genres, Jillian Rae is someone to tune into!
The concert will take place from 7:00 – 8:30 p.m., and tickets are available now for $25 General Admission ($22 for LA members).
This event is made possible by the voters of Minnesota through a grant from the Minnesota State Arts Board, thanks to a legislative appropriation from the arts and cultural heritage fund.
Please note:
The St. Mane Theatre box office will open at 6:00 p.m. the day of the event. Tickets will also be sold in-person beginning at that time.
Each ticket purchased with a bank card will be charged an additional processing fee of $0.99. Patrons can avoid this processing fee by paying via cash or check in the Lanesboro Arts Gallery, or before the event in the St. Mane Theatre lobby.
If you are unable to purchase tickets online or need additional assistance, you may try calling 507-467-2446 to purchase a ticket over the phone during business hours. Tickets are also sold in-person during business hours at Lanesboro Arts Gallery.
We will have a list of the ticket buyer names at the box office beginning at 6:30 p.m. If the buyer and their guests arrive together, no physical receipt or proof of purchase is needed in order to be admitted to the event–we will have a list!
Alternatively, attendees can present a printed copy of the ticket PDF the ticket buyer was e-mailed or simply pull it up and present it on a smart device.
Lanesboro Arts is committed to accessibility for all people. Learn more about our access services.