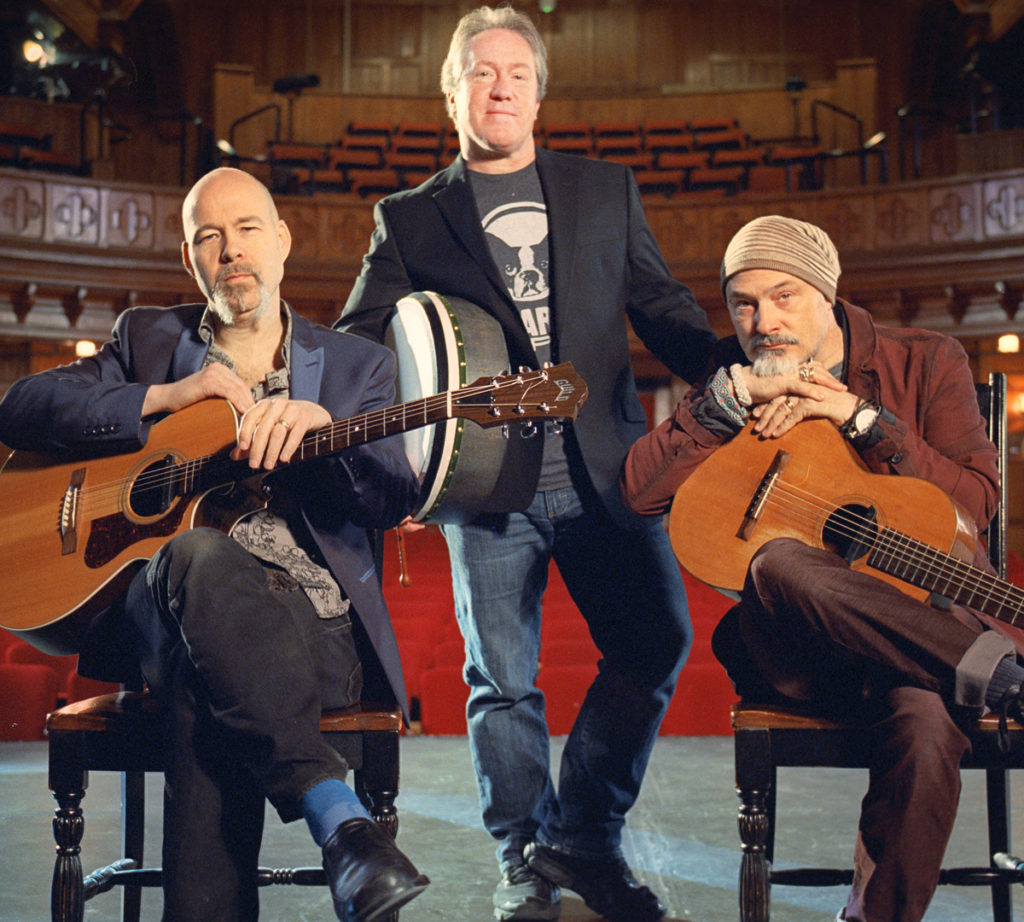 Join Lanesboro Arts at the St. Mane Theatre on Friday, November 18th at 7:00 to see Lehto & Wright perform their unique blend of folk and progressive rock. These talented musicians take a fresh approach to time-honored songs with a sound that's larger than life. Among north America's best practitioners of Anglo-celtic folk-rock, Lehto & Wright's intricate yet powerful guitar-driven music is something to behold.
United by a common admiration for electrified folk music and progressive rock – and performers like Jethro Tull, Fairport Convention, Steeleye Span, King Crimson – John Wright, Steve Lehto, and Matt Jacobs have made music together since 1999. The group's sound takes inspiration from traditional UK and American Folk music and mixes in more contemporary guitar arrangements.
When performing as a duo, Lehto and Wright take on anything from American spirituals to Irish tune sets with an accomplished twin guitar/mandolin approach that has all the intensity and power as the trio with half the volume. As a trio, with the addition of Matt Jacobs' talents as a percussionist, they push the boundaries of Celtic and progressive rock, utilizing all the tools of a rock band to achieve the effect of a six-piece band with three musicians.
Lehto & Wright has performed at many different concert series, festivals, and other notable venues, including the MN State Fair, Syracuse Irish Festival, MN Irish Festival, The Ark, and The Focal Point. After their debute album, Ye Mariners All (2000), the band has produced 6 more studio albums and a live album, each released to rave reviews.
Tickets are available now for $15 General Admission ($12 for LA members), or for $20 General Admission ($15 LA members) at the door day of. Join Lanesboro Arts for a pre-show fundraiser happy hour at Sylvan Brewing from 4:30 to 6:30 p.m. Enjoy food, live music, craft beer, and the company of fellow art supporters, and end the night with the fantastic music of Lehto & Wright!
This activity is made possible by the voters of Minnesota through a grant from the Minnesota State Arts Board, thanks to a legislative appropriation from the arts and cultural heritage fund.
Please note:
The St. Mane Theatre box office will open at 6:00 p.m. the day of the event. Tickets will also be sold in-person beginning at that time.
Each ticket purchased with a bank card will be charged an additional processing fee of $0.99. Patrons can avoid this processing fee by paying via cash or check in the Lanesboro Arts Gallery, or before the event in the St. Mane Theatre lobby.
If you are unable to purchase tickets online or need additional assistance, you may try calling 507-467-2446 to purchase a ticket over the phone during business hours. Tickets are also sold in-person during business hours at Lanesboro Arts Gallery.
We will have a list of the ticket buyer names at the box office beginning at 6:30 p.m. If the buyer and their guests arrive together, no physical receipt or proof of purchase is needed in order to be admitted to the event–we will have a list!
Alternatively, attendees can present a printed copy of the ticket PDF the ticket buyer was e-mailed or simply pull it up and present it on a smart device.
Lanesboro Arts is committed to accessibility for all people. Learn more about our access services.