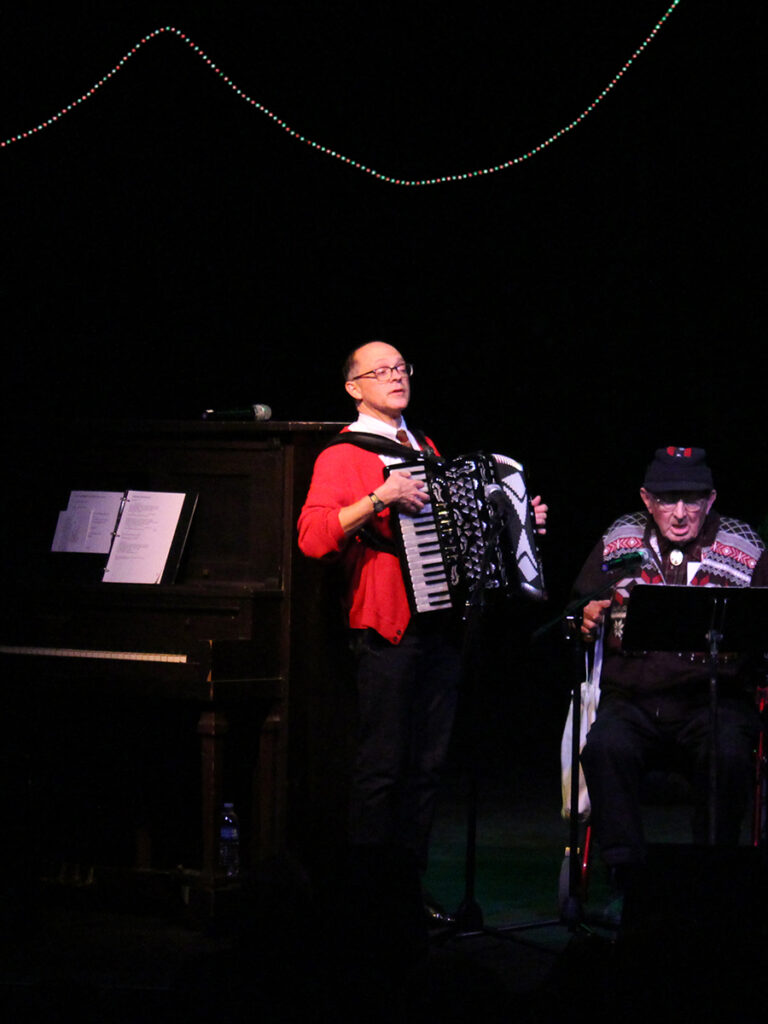 Twin Cities-based accompanist, writer, and vocalist Dan Chouinard hosts the 17th annual Old-Fashioned Holiday Sing Along on Friday, December 22nd at 7:00 pm at the St. Mane Theatre in downtown Lanesboro. The 2023 Holiday show will feature a collection of songs, poems, and stories from familiar faces, as well as the musical talents of Dan and his special guest, Connie Evingson!
Tickets are on sale now for this heart-and-hearth warming evening for $28 ($25 Lanesboro Arts Members). This show is likely to sell out, so don't wait!
Dan Chouinard has been a sought after pianist, accordion player, writer, and community singalong host in the Twin Cities for three decades. He has performed all across the upper Midwest and often makes appearances on theatrical stages and public radio spots, including appearances on Garrison Keillor's A Prairie Home Companion.
Minnesota born-and-raised, Connie Evingson has a catalog of acclaimed albums that run a wide spectrum of genres. From jazz to Broadway standards, to covering Peggy Lee or The Beatles, the Twin Cities-based singer has an adventurous spirit that, like her music, knows no boundaries. Her ten albums released through Minnehaha Music have all charted in the Top 50 in the United States and Canada, and can be heard on radio stations around the globe.  No matter the genre, from bebop to Bossa nova, from big-band swing to ballads, her voice is pitch-perfect; a bit smoky in texture, with articulation as clear as midnight on a starry Minnesota winter night.
This show is made possible by the voters of Minnesota through a Minnesota State Arts Board Operating Support grant, thanks to a legislative appropriation from the arts and cultural heritage fund.
Please note:
The St. Mane Theatre box office will open at 6:00 p.m. the day of the event. Tickets will also be sold in-person beginning at that time.
Each ticket purchased with a bank card will be charged an additional processing fee of $0.99. Patrons can avoid this processing fee by paying via cash or check in the Lanesboro Arts Gallery, or before the event in the St. Mane Theatre lobby.
If you are unable to purchase tickets online or need additional assistance, you may try calling 507-467-2446 to purchase a ticket over the phone during business hours. Tickets are also sold in-person during business hours at Lanesboro Arts Gallery.
We will have a list of the ticket buyer names at the box office beginning at 6:30 p.m. If the buyer and their guests arrive together, no physical receipt or proof of purchase is needed in order to be admitted to the event–we will have a list!
Alternatively, attendees can present a printed copy of the ticket PDF the ticket buyer was e-mailed or simply pull it up and present it on a smart device.
Lanesboro Arts is committed to accessibility for all people. Learn more about our access services.