A collaborative artist residency between two interdisciplinary NYC artists creating NORA, a new documentary musical theatre piece inspired by Ibsen's "A Doll's House" and the true stories of mothers & wives across the country, April 10-24, 2017 at Lanesboro Arts.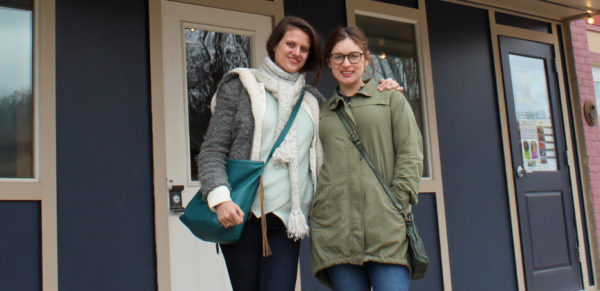 Story is at the center of performance director Tatiana Pandiani's practice, beginning at the personal and traveling towards the political. Tatiana makes large scale interdisciplinary performances that create empathy on the on and off the stage, connect us to the past, and remind us of where we're going by drawing from 19th & 20th century history, especially as seen through the lens of womanhood, gender politics, media, and fashion. She specifically seeks out stories that empower women, represent diverse communities and protect their legacies.
Tatiana was joined in Lanesboro by guitarist, vocalist, composer and arranger Jacinta Clusellas, whose music brings together Argentinian Folklore and Jazz, in the context of songs influenced by landscapes, poems and literature from Latin America. Together the pair of artists, both based in New York City and originally from Buenos Aires, are developing NORA, a documentary musical theatre project that explores gender roles in the contemporary United States by employing Ibsen's "A Doll's House" and American Folk music as a point of departure. The pair is engaging with women who are wives and mothers in various cities and towns in across the country, beginning with Lanesboro.
By generating a space for reflection and collaboration, Tatiana & Jacinta aim to bridge art and everyday experience by developing new work integrating text and music that is inclusive of the local social and cultural tapestry. Through workshops and engagement, NORA empowered Lanesboro area residents to see themselves as creators and storytellers, while also presenting an opportunity to discuss questions regarding women's lives in a specific geographic and historical context and frame a story that recounts a particular heritage and legacy. Their two week residency had three main goals: reading and analyzing A Doll's House with local collaborators, getting to know those collaborators and their stories, and working with music (listening, performing and/or writing).
Public Events
The project's core participants will read the 19th century play "A Doll's House" by Henrik Ibsen as a group, discuss its themes and issues, and bring life experiences into the exchange. An examination of the symbolism of Nora in particular, an icon of female representation, will help drive discussion and sharing. In the source material, Nora is rendered as a doll, a passive character. The "law of man" imposes a variety of limitations of her life, which is a construct of societal norms and others' expectations.
Women have naturally come a long way culturally and politically since "A Doll's House" premiered in 1879. However, society still must address challenges women face, such as underrepresentation in particular career fields like media and government. Gender equality and women's rights in particular have also received prime attention over the past year. In this context, NORA is an investigation project that queries the difference between the fictional character's trials and tribulations and our own.
"There's also a musical element to the project, which has a starting point on Joni Mitchell, one of the most important and influential female recording artist of the late 20th century. We will be listening and analyzing a selection of her songs, while relating them to the different scenes and responses that we develop through Nora's story. We will dive into different songs from her albums Songs To A Seagull (1968), Ladies Of The Canyon (1970), Blue (1971), For The Roses (1972) and Court and Spark (1974) and more! Through lyric interpretation and different listening activities, we will share our thoughts and reflections, adding them to the overall analysis of themes and questions in the play."
NORA is the next step in both Tatiana and Jacinta's individual professional careers, as well as an ongoing partnership that began in 2014. Their residency in Lanesboro provides the space to continue working in communities while bridging text and music in documentary theatre, and later employing the original material as a seed for a full production. Immersed in an unknown environment, and through the act of assimilation and discovery, the pair from New York City hope to find new points of view, stories, characters, and ideas.  They are passionate about demystifying contemporary performance, producing original stories with community members and demonstrating that effective, relevant, and empowering pieces can be made anywhere and through a myriad of processes. They are especially inspired by the possibility of interacting and learning with collaborators who have different backgrounds, lifestyles and histories. They feel that presenting work far away from home is a paramount experience for emerging artists as it forces one to confront ideas outside their comfort zones.
Interested in learning more about participating in Tatiana and Jacinta's residency? Contact Adam at Lanesboro Arts: 507-467-2446 or adam@lanesboroarts.org

About Tatiana Pandiani
Originally from Buenos Aires, she grew up around tango salons, antique stores and dance studios. Diplomatic childhood meant home was always temporary and in cities such as Kingston, Miami, Atlanta, and Boston. She studied Performance and Philosophy at Florida International University (BFA, Summa Cum Laude) and Directing at Columbia University (MFA) where she studied with masters such as Anne Bogart, Brian Kulick, Gregory Mosher, and Michael Lachiusa.
Her work combines live performance, dance, music, and storytelling to challenge and entertain today's audiences; it is inspired by the work of Maria Irene Fornes, Frida Kahlo, Pina Bausch, Bob Fosse, Bertol Brecht, and Astor Piazzola.
Most recently she directed José Rivera's 187 at the Atlantic Theatre Conservatory and East 140th and St. Anne's at Teatro SEA. Other recent: The Co-operatives by Derran Moss-Dalmau at LATEA Theatre as part of the International New York Fringe Festival, Everyday Afroplay at The Bushwick Starr, Assassins at Princeton Summer Theatre. She assisted directed The Glass Menagerie directed by Sam Gold at Toneelgroep Amsterdam, Ivo Van Hove's company. Other work has been seen at The Bridge, La Micro, Truant Arts, Wertheim Performing Arts, MicroTheatre Miami, The Koubek Center, The Rose Theatre (UK), and Hangar Galleries. Tatiana is teaching artist at the Atlantic Theatre Company.
About Jacinta Clusellas
Jacinta Clusellas is a composer, guitarist and arranger based in NYC. Originally from Buenos Aires, Argentina, Jacinta moved to Boston to study at Berklee College of Music where she collaborated with musicians from all around the world, and participated in projects with Grammy award winning artist such as A.R. Rahman and Alejandro Sanz.
Jacinta's music brings together Argentinian folklore, jazz and chamber music, in the context of songs influenced by poems and literature from Latin America. Her debut album "El Pájaro Azul" was released at the Consulate of Argentina in NYC, and is being distributed in Japan under the record label Inpartmaint Inc. Jacinta is passionate about combining music performance with multidisciplinary arts, which has taken her to getting involved with different theater productions in NYC.
She is currently in residence at The Habitat Theatre, as a composer and music director for a new musical based on Rubén Darío's short stories and poems, which is also being developed as part of the 2017 Drama League Artist Residency. While writing the arrangements and orchestrations for I Am, a new play with music, and working as an Assistant Music Director for the The Boy Who Danced On Air, Jacinta is also a Teaching Artist at the New York Philharmonic and participates at the Carnegie Hall Music Educators Workshop.