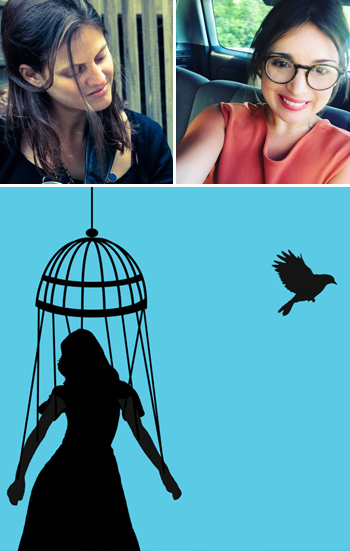 "Is Nora's story still relevant?" Women from the Lanesboro area and resident artists Tatiana Pandiani & Jactina Clusellas will stage a presentation of music and text featuring a reading of selections of "A Doll's House" by Henrik Ibsen and local stories inspired by "A Doll's House" interwoven with musical performances at the St. Mane Theatre on Friday, April 21 at 6pm. The performance is the capstone event of a two week artist residency that had area participants meeting regularly to read "A Doll's House," reflect on the play's theme, and share stories.
Together the pair of artists, both based in New York City and originally from Buenos Aires, are developing NORA, a documentary musical theatre project that explores gender roles in the contemporary United States by employing Ibsen's "A Doll's House" and American Folk music as a point of departure. The pair is engaging with women who are wives and mothers in various cities and towns in across the country, beginning with Lanesboro. Residency participants asked whether the narrative of Ibsen's "A Doll's House," one of the most produced and translated dramatic texts, is as significant today as it was in its time, given global shifts in women's rights and questions about gender. Tatiana and Jacinta's goal was for participants to see themselves as creators and storytellers, while also presenting an opportunity to discuss questions regarding women's lives in a specific geographic and historical context and frame a story that recounts a particular heritage and legacy. Their two week residency has three main components: reading and analyzing A Doll's House with local collaborators, getting to know Lanesboro collaborators and their stories, and working with music (listening, performing and/or writing).
The performance will last one hour. Attendees will also be able to attend Ibsen's "When We Dead Awaken", 7:30 p.m. at Commonweal Theatre. This is a free event. Advance registration is encouraged, but not required.
More on Tatiana & Jacinta and their artist residency can be found here: http://lanesboroarts.org/artist-residency-program/tatiana-jacinta/