Lanesboro Arts' Annual Father's Day Art Festival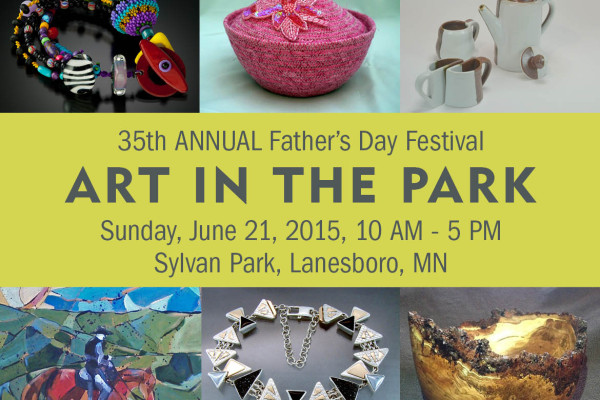 June 21, 2015 from 10am-5pm
in the beautiful Sylvan Park for a day of art, music, food and fun!
Congratulations to the 2015 ARTIST AWARD WINNERS:
BEST IN SHOW: Phillip Echert, ceramics
AWARD OF EXCELLENCE: Carla Brown, painting
Music lineup:
10am-11:55 – Brian Laidlaw and The Family Trade
11:55-noon – Announcement of BEST IN SHOW and AWARD OF EXCELLENCE
noon-12:15 – Preview of Commonweal Theatre Company's "Woody Guthrie's American Song"
12:15-3pm – Reina del Cid & the Cidizens
3-5pm – Bread and Butter String Band
Kids & Family Activities:
Petting zoo
Kids Create! Reinvent a Tie for Dad FREE art project
Surprise Sculpture Art Installation
Playground
Fishing pond
Scrumptious food by local organizations:
Curry & Egg rolls
Pulled pork sandwiches
Brats, hot dogs & pickles
Tacos
Pie & Ice Cream
and more!
New in 2015: Craft beer!
from Kinney Creek Brewery
90+ art and fine craft booths
Participating juried artists will be announced here as they confirm to the show.
This is a partial list and will be updated on an ongoing basis:
AMY ADAMS, fiber
JOE ADAMSON, metalwork
MARY ALLEN, wood
JULIE ARTHUR, fiber
KATHY AUGUSTIN, mixed media
CHRISTOPHER BEEBE, painting
SAVANNAH BELGARDE, painting
CAROL BELL, fiber
MARIE BIALLAS, jewelry
KEVIN BIGBEE, other
JANICE BILLMAN, jewelry
LORI BIWER-STEWART, print
BRUCE BLAISDELL, wood
DARREL BOWMAN, ceramics
AMY BROOKS, soap
CARLA BROWN, painting
CINDY BROWN, fiber
ENRIQUE BURGA, textiles
KAY CAMPBELL, ceramics
LINDA CARLSON, glass
TIM CONNORS, ceramics
JULIE CRABTREE, fiber
BRETT DEWALL, metalwork
CHAD DYKSTRA, ceramics
JOHN EBERHARDT, painting
PHILLIP ECHERT, mixed
DARLA ELLICKSON, jewelry
ERLING ELLISON, jewelry
BARBARA GEURINK, fiber
DALE GOETELMAN, jewelry
PATRICK GOODER, metal
JANE GREVSTAD, fiber
DENISE GRUNDLER, other
SUE HAMMES-KNOPF, jewelry
ROD HANSEN, wood
PAT HANSEN, fiber
PAUL HATLEM, photography
INGVILD HERFINDAHL, glass
EDDIE HESALROAD, glass
MIKE HOLLER, photography
SHARON KIRKLAND, jewelry
ANDRE KLINGENMEYER, fiber
SUSAN KOEHLER, ceramics
BECKY KORBEL, jewelry
SUZANNE KREDER GRIVNA, mixed media
LAURA LARABEE, painting
CHARLOTTE LAXEN, painting
LYNN LENTZ, jewelry
JILL LINDQUIST, wood
MICHELLE LUNDBORG, wood
ANN MADLAND, jewelry
PAM MANTHEI, other
CAROL MEYER, fiber
STEPHEN MINECK, glass
BRITTANY MOORE, jewelry
LISA NELSON, jewelry
JOHN NEWTON, jewelry
ANITA OTTESON, jewelry
CHRIS OVESON, ceramics
DAVID PERKINS, glass
CARLOS QUINCHE, flutes
KENYATTA RAY, mixed media
DAVE RECKHOUSE, sculpture
KIMBERLY REINARDY, metal
KATHY JO RODESTER, jewelry
SUSAN ROSKENS, jewelry
CARL SCHICK, ceramics
KRIS SCHRAGE, wood
LEE ANN SCHUTZ WAHI, fiber
CRAIG SEATH, ceramics
ANGELA SHANAHAN, jewelry
DAVE & JANE SMITH, glass/metal
PHILLIP SMITH, ceramics
SUE SOENEN, fiber
JEFF SOLBERG, wood
GREG SOUTHER, jewelry
LILA TAFT, photography
JOHN TERWILLIGER, pastels
JAMIE TESCH, other
PATTIE WELDON, jewelry
DAN WILSON, other
TOU & TRUE YANG, fiber
and more . . .