The Lanesboro Jerome Artist Residency Program offers two and four week residencies each year designed to provide emerging artists an entire rural community and its myriad assets as a catalytic vehicle for engagement and artistic experimentation.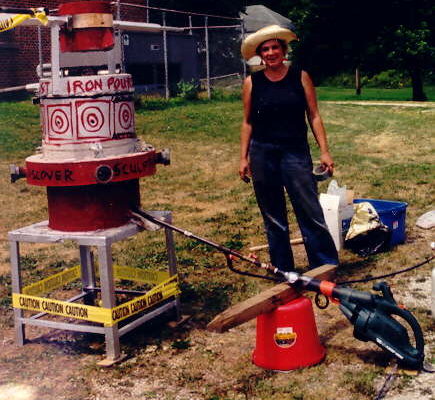 The Lanesboro Jerome Artist Residency Program, located in Lanesboro, MN (pop. 754), aims to provide an immersive, meaningful experience for emerging artists from Minnesota and the five boroughs of New York City. The program is unique in that it provides an entire rural community and its myriad assets as a catalytic vehicle for engagement and artistic experimentation, with staff working with each resident to create a fully-customized residency experience. Lanesboro Arts' goal is to be flexible and accommodating to the artists, allowing them access to local resources needed for conceptualizing and realizing their place-based work. Lanesboro Arts recognizes "place-based work" as work that is specifically inspired by and designed for the place in which the work takes place; it can be a new project, or an interpretation of the artist's current work tailored to engage the community of Lanesboro. The emerging artist residency program was designed to align with and amplify Lanesboro Arts' vision for communities–especially rural communities–to embrace artists as economic drivers, culture bearers, community builders, and problem solvers.
TO APPLY
The application deadline for residencies taking place in 2018 is July 31st, 2017 at noon. Jury review will take place in August and applicants will be notified by September 15, 2017 at the latest as to the status of their application. Selected artists residents and runners-up for 2018 will be notified by September 29, 2017.
Artists must be residents of Minnesota or the five boroughs of New York City to be eligible to apply. To be considered, eligible artists must submit their application through an online webform on Lanesboro Arts website. Complete program details are below. Please contact Adam Wiltgen at 507-467-2446 or adam@lanesboroarts.org with any questions.
ABOUT LANESBORO ARTS
Lanesboro Arts is a non-profit, multidisciplinary arts organization working to weave the arts into the social and municipal fabric of Lanesboro, MN. LA works closely with local government and cross-sector partners to activate the people and places of Lanesboro, making Lanesboro a national model for revitalizing and sustaining a small town. The community has been recognized by ArtPlace America, Americans for the Arts, and the National Endowment for the Arts, and in 2014 Lanesboro Arts was a recipient of a Bush Prize for Community Innovation.
ABOUT JEROME FOUNDATION
The Jerome Foundation, created by artist and philanthropist Jerome Hill (1905-1972), seeks to contribute to a dynamic and evolving culture by supporting the creation, development, and production of new works by emerging artists. The Foundation makes grants to not-for-profit arts organizations and artists in Minnesota and New York City. The Jerome Foundation is generously providing support for the Lanesboro Artist Residency Program in 2017 and 2018.
ABOUT LANESBORO
Lanesboro is a small town in southeast Minnesota's driftless region. The historic downtown is located in a serene valley surrounded by limestone bluffs and the Root River, with forest and farmlands stretching beyond the city limits and throughout the region. For decades, artists have been drawn to the community for its natural landscape, historic buildings, and vibrant community of residents.
LANESBORO ARTS SEEKS ARTISTS WHOSE WORK:
is inherently innovative and visionary
has a track record of success, and shows significant potential for growth
is informed by place and community
centers on public engagement; that is, the public's interaction with the work is part of the process and the product
is accessible to people with diverse backgrounds
DEFINITION OF EMERGING ARTIST
Lanesboro Arts defines "emerging artist" as an individual who has great potential in their artistic practice but has not yet received major recognition for their work. Each applicant's resume will be thoughtfully reviewed by the panelists, who will consider the significance, scope, geography, and timing of artists' previous exhibitions, critical reviews, commissions, performances, grant awards, residencies, fellowships, publications, and productions. (Generally, the best candidates are those who have no more than three of the major professional accomplishments noted above.) Current degree-seeking students are not eligible for the residency. Age is not a factor in determining an emerging artist.
ELIGIBILITY AND PROGRAM DETAILS
Artists of all disciplines are eligible to apply.
Artists must be residents of Minnesota or the five boroughs of New York City.
Artists are paid $1,000/week and are provided studio and lodging space.
Artists are eligible to apply for 2 or 4 week residencies, and residency dates can be flexible (and split between two visits if that best suits your practice). Lanesboro Arts Residencies can be scheduled any time in 2018 except for May, June, or July. Residencies scheduled in March or August are preferred and would be most optimal, however Lanesboro Arts staff is interested in considering proposals with flexible and dynamic artists for the months of January, February, September, October, November, and December. Residencies begin on the 1st or 16th of each month and end on the 15th or last day of each month for periods of 2 or 4 weeks.
Lanesboro Arts does not cover material or transportation costs; these expenses should be factored into the $1,000/week stipend.
Artist groups are eligible to apply, but the weekly stipend is the same and must then be split amongst the collective.
Artists are required to list their top three choices of dates for their residency, but finalists will work with Lanesboro Arts to determine the best dates for all parties.
Lanesboro Arts will work with each individual artist to customize their residency, aligning resources and connections to make their time in Lanesboro as fruitful as possible.
Artists must submit their application through the online webform on Lanesboro Arts website.
REVIEW AND SELECTION PROCESS
The application deadline for residencies taking place in 2018 will be July 31st, 2017 at noon. A panel of three arts professionals and one community liaison (who is also a professional artist) will review all applications to select 3-5 finalists. These finalists will be asked to participate in a phone interview with Lanesboro Arts staff to discuss dates of availability, further questions about the proposed project, and how the artist and the project would fit within the community. Staff will call references of these finalists, to discuss the artist's character traits of responsibility and reliability, and their ability to carry through on the proposed project. Lanesboro Arts staff will offer the residency to 2-3 artists. Review panel feedback is provided for all applicants.
TIMELINE for 2018 Residencies
July 31 (Noon) – Application deadline.
September 15 – Jury has selected finalists.
September 29 – Staff has followed up on finalist references and conducted phone interviews with finalists. All artists are notified of the status of their application.
October 1 – Notification has been sent to selected 2018 Artist Residents and the runners-up.
EXAMPLES OF COMMUNITY RESOURCES AND ASSETS AVAILABLE TO RESIDENTS*
St. Mane Theatre, a 126-seat Art Deco theater located in the heart of downtown
Poetry Parking Lot, a large municipal parking lot with haiku hung throughout the space
Gateway Park, a public green space adjacent to the Root River and connected to downtown via a 1892 walking bridge
historic downtown storefronts and building walls
local farms, farmers, and farmer's markets
community partnerships with local businesses, the Lanesboro Park Board, residents, schools, libraries, community organizations, and more
*The use of all community resources and assets are subject to approval from property owners and the Lanesboro City Council, as facilitated with each artist by Lanesboro Arts staff. Lanesboro Arts has a positive, collaborative relationship with these entities and will work with each resident to find the best venue for all parties.
SELECTION CRITERIA:
Artistic Excellence
Original voice, innovation, vision, imagination, unique/groundbreaking
Project shows significant artistic development / Risk and opportunity for artistic excellence
Artistically consistent body of work
Project Merit
Ability to integrate art into community / Value of project to the community / Project is a good fit for the community
Value of proposed project to artist's career / Potential for artistic growth as emerging artist
Feasibility of project / Ability to accomplish project in required time