For information about our BIPOC Artist Residency Program, which is currently in it's first public year in 2023-24, please click the link below. For information about our Emerging Artist Residency Program, read on below.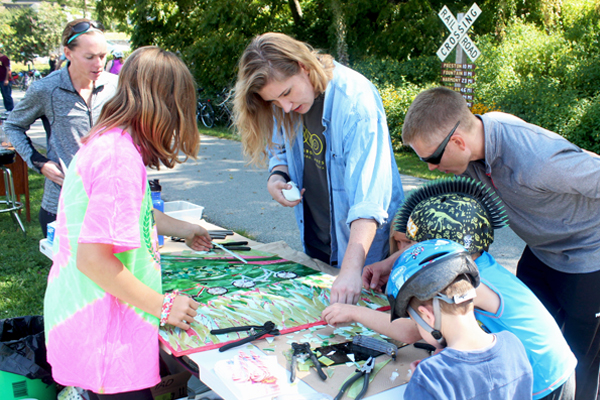 Information on the BIPOC Artist Residency Program.
Applications are now closed for the Lanesboro Artist Residency Program happening in 2024; the application deadline was July 28th at 12 p.m. (noon) CST.
Since 2001, the Lanesboro Artist Residency Program has welcomed emerging artists of all disciplines to live, work and create in the rural context of the greater Lanesboro community. Supported through 2024 by the Jerome Foundation, the Lanesboro Artist Residency Program awards two to three residencies per year to emerging artists with projects that activate the people & places of Lanesboro while instigating positive change. The program's place-based and community-engaged focus is geared toward emerging artists that are driven to explore ways in which their work can be applied to the community and how Lanesboro's rural community can inform their work. Artist Residents utilize a dynamic and compelling array of community assets as a catalytic vehicle for engagement and artistic experimentation, while benefiting from dedicated live/work space and ample time to create.
The application deadline for the 2024 Lanesboro Artist Residency Program was Friday, July 28, 2023 at 12 p.m. (noon) CST. The application is now closed.
Jury review process for 2024 residencies will take place in August 2023 and applicants will be notified by the end of September 2023 as to the status of their application. A phone interview process with finalists will take place in late September and selected artist residents and runners-up will be notified by early October 2023.
Please contact Program Director Melissa Wray at melissa@lanesboroarts.org with questions about the Residency Program, future project ideas, the community engagement component, etc.
Upcoming Residencies
September 17 – October 1, 2023: Sequoia Hauck (they/them) is a Native (Anishinaabe & Hupa) queer multidisciplinary artist based in the Twin Cities on the unceded and ancestral Dakota lands of the Wahpekute peoples. Sequoia's focus is on creating film, poetry, and performance art that decolonizes the process of art-making. They make art surrounding the narratives of continuation and resiliency among their communities. They are a graduate from the University of Minnesota-Twin Cities with a B.A. in American Indian Studies. Sequoia has worked on and offstage with a wide variety of organizations. Sequoia's film "Resiliency is Inherited" was in the 2022 North by North International Film Festival along with the dance film they created in collaboration with Taja Will, "LÍNEAS de SANGRE". During their residency, Sequoia plans to install a 225 foot cloth river installation that will invite the community to remember and reconnect with the ancestor water. They will offer opportunities to contemplate and explore the personal and collective meanings of water through both conversation and artistic elaboration on the installation. Learn more about Sequoia and their residency activities and project here. 
Past Residencies
July 16 – 30, 2023: Sophia Munic Sophia Munic (they/them) recontextualizes traditional sewing and quilting techniques through soft sculptures that consider the ideas of comfort, memory, and gender through a queer lens. As an emerging artist motivated by fiber arts and social practice, they are investigating how these two fields can facilitate community that uplifts LGBTQIA voices. With their work, they are exploring a visual language to abstract patterns to discuss gender beyond the binary. Based in Minneapolis, they have participated in shows and residencies throughout Minnesota and Washington State. Sophia is currently working on a series of quilts, Hankerin', exploring the intersection of cowboy aesthetics, queer desire, and stitching gender. During their residency from July 16th through July 27th, and again on August 26th (rescheduled date), Sophia Munic will explore improvisational quilting as a site to piece the body, and how this can materialize gender euphoria. Learn more about Sophia and their residency activities and project here. 
#55 Su Hwang – April – May 2023 Su Hwang (she/her) is a poet, activist, stargazer, and the author of Bodega (Milkweed Editions), which received the 2020 Minnesota Book Award in poetry and was named a finalist for the 2021 Kate Tufts Discovery Award. Born in Seoul, Korea, she was raised in New York and then called the Bay Area home before transplanting to the Midwest. A recipient of the inaugural Jerome Hill Fellowship in Literature, she is a teaching artist with the Minnesota Prison Writing Workshop and is the co-founder, with poet Sun Yung Shin, of Poetry Asylum. Su currently lives in Minneapolis. Su's residency invited Lanesboro to consider the ideas of belonging, identity, and invasion through the creation of a poetry portrait living chapbook. She gathered inspiration for the chapbook through interviews and poetry workshops, where community members were encouraged to create their own literary art. The residency culminated in a public reading from these works. Learn more about Su and her residency activities and project here. 
#54 Martha Bird – August-September 2022  Martha Bird is a Minneapolis-based interdisciplinary artist who specializes in traditional and sculptural basketry. Her education and experience as a public health nurse and board certified holistic RN weaves into her artistic practice. She exhibits her art both locally and nationally.
Martha's artist residency project primarily addressed the mental health of individuals and communities through art and art based interactions. This occurred through discussion groups, basketry weaving demos, willow preparation opportunities, a hands-on weaving class, and the installation of a temporary outdoor sculpture. Learn more about Martha and her residency project by clicking here.
#53 Akiko Ostlund – April-May 2022  Akiko Ostlund is a Twin Cities-based puppeteer, dancer, poet, performing artist, collage artist, curator, and activist. She often collaborates with puppeteers in various projects includes Barebones Halloween Extravaganza, Mayday Parade, and Puppet Cabaret as well as projects with individual puppeteers.
During her residency, Ostlund workshopped her work-in-progress toy theatre piece, Racist Hotline, centering on an imaginary live radio/podcast show. Through this comedic puppet piece, Ostlund examined how racism is normalized in daily life, and created a shared language with the audience in order to cultivate the culture that challenges the oppressive nature of the system we live in. Learn more about Akiko and her residency project by clicking here. 
#52 Wen-Li Chen – August 3-28, 2021 Saint Paul visual artist and designer Wen-Li Chen created an artist book and installation derived from Lanesboro as a place and community that explores generational exchange and tension. She also incorporated her own experiences as a Taiwanese national currently residing in a Western country. Wen-Li utilized a range of methods, including language, literature, photography, documentation and archival materials to explore "what is lost (unintentional) or omitted (intentional) during generational exchange."
During her residency, she hosted virtual skills building and exchange workshops, to gather voices and context for her artist book and installation. Her goal throughout the residency was to connect to and continue a similar dialogue between individual, family, community and generation. Learn more about Wen-Li and her project investigating rural intergenerational relationships by clicking here. 
#51 Mary Prescott – April 25 – May 22, 2021 During her residency, Twin-Cities based artist Mary Prescott further developed her interdisciplinary performance piece, "Mother Me," which explores motherhood through relationships, psychology, and sociology. Prescott brings the lens of a Thai-American woman whose mother raised a biracial and bicultural family as an immigrant in Minnesota.
During her residency, Prescott researched, interviewed, and held informal conversations with Lanesboro residents about their varying experiences of or about motherhood. She also filmed the Lanesboro countryside and Root River to integrate into live performance projections and choreography. Found objects from the area also became set pieces for the performance. The residency culminated in a capstone performance of "Mother Me" followed by an artist discussion and reflective conversation on the themes and ideas surrounding motherhood. Learn more about Mary, Mother Me, and how the community participated by clicking here.
#50 Cecilia Cornejo – September/October 2019 and February 2020 Northfield, MN based filmmaker Cecilia Cornejo traveled to Lanesboro with The Wandering House, a converted ice-fishing house that she retrofitted as a mobile audio-recording studio. Cornejo invited Lanesboro community members to record their oral testimonies as they reflect on the significance of home, a concept that some of us may take for granted but is in flux for displaced communities around the globe.
"I have this very amusing, very inviting little house, where people can come and speak their minds and express themselves and not be judged," Cecilia shared. "Lanesboro interests me for its resilience and remarkable capacity to reinvent itself, and in so doing, defying these worn out yet persistent portrayals of Midwestern small towns. In providing opportunities for reflection and discussion, I hope to engage Lanesboro community members in the creation of collective knowledge and mutual understanding while amplifying more nuanced narratives of rural life." Learn more about Cecilia, The Wandering House, and how the community participated by clicking here.
#49 Eric Carranza – August 2019 "What does Lanesboro sound like?" Saint Paul based composer, multi-instrumentalist and teacher Eric Carranza believes that a given environment can deeply influence a piece of music or a story. With a location-based focus and a mobile rig of music making tools, Carranza invited community members of all backgrounds and musical abilities to create "Root River Vibes," a series of musical vignettes inspired by the people, landscape and energy of Lanesboro.
Enamored with the concept of location-based composing and creating, Carranza's mobile rig of devices and instruments allowed him, and participants, to create and record ideas no matter where they are. He feels this allows for a certain level of creativity that always being confined to a studio or other formal space can often stifle. Captivated with Lanesboro since stumbling upon it by chance a few years ago, Carranza was incredibly excited about to spend time creating, interacting, and engaging with the community members. "Root River Vibes" uses stories and music to explore the places we inhabit and the different versions of ourselves that are realized as a result. Click here to listen to the completed album. Learn more about Eric, his project and how the community participated by clicking here.
#48 Erin Lavelle – April/May 2018 & August 2018 Minneapolis performance artist Erin Lavelle led the Lanesboro area community in 'Something Good,' a public art exchange project that engaged community members in conversations about value, commodities, sustainability, and the power of the stories embedded in an object's history. This project was an experiment based on the Buddhist concept of dana (generosity) where both the specific gift and the recipient were considered when giving.
Lavelle joined the Lanesboro community for two residencies, the first took place in April/May and second was happened August 6 – 20. Over 45 goods and stories were contributed to 'Something Good' in April & May through a donation and storytelling event series. The future of those goods and stories were revealed August 15 – 18 when Lavelle completed the project, and again, residents and visitors had an opportunity to participate. Learn more about Erin, her project 'Something Good' and how the community participated by clicking here.
#47 Rini Keagy – March/April 2018 Saint Paul filmmaker Rini Keagy edited several sequences from her work-in-progress film "North/Central" while inviting the Lanesboro community to shape and inform her work through intentional outreach and personal interviews, especially with people engaged in farming, cattle ranching and auctioneering. During the week of March 19, Rini participated in a potluck at the Lanesboro American Legion, the P.L.A.Y.Y. group at the Lanesboro Community Center, SEMCAC Senior Dining at Kenilworth Apartments, and the Journalism class at Lanesboro Public School. Her project explores her father's experiences as a Guatemalan-American farmer and cow herder who raises and sells cattle in rural Costilla County in southern Colorado, while raising the question of what it means to be an ethnic or cultural minority in agrarian and small-town America.
With the many parallels between Costilla and Fillmore counties, Rini — who spent much of her childhood on cattle farms in rural areas — engaged the Lanesboro area arts, farming and cattle-raising communities with her experimental film sequences in order to promote dialogue on difficult issues of racial difference and historical trauma. A capstone film screening of "North/Central" and a moderated discussion with Rini, took place at the St. Mane Theatre on Friday, April 6, 2018. Learn more about Rini, her project "North/Central" and how the community participated by clicking here.
#46 Bailey Aaland – September 2017 By bringing mosaic art to underutilized spaces, Saint Paul artist Bailey Aaland believes communities can become more welcoming and accessible places for everyone. As an artist in residence September 6 through 20, 2017 at Lanesboro Arts, Bailey lead the collaborative community creation of a glass mosaic mural installed on the Coffee Street side of the Pedal Pushers Cafe building in downtown Lanesboro. Her community project aimed to enhance the pedestrian experience by activating and strengthening the connection between Parkway Avenue and the Coffee Street Walking Bridge. Bailey is an early career artist with experience teaching hands-on mosaic courses for participants of all ages. With mosaic making sessions that took place in a variety of spaces in Lanesboro, Bailey found it rewarding to work directly with area residents & visitors create a community-produced mosaic mural that encourages walkability and teaches creative problem solving, inter-generational learning, and community service through hands-on art-making. Learn more about Bailey, her project, and how the community participated by clicking here.
#45 Annie Hejny – August 2017  Saint Paul painter Annie Hejny draws more than just inspiration from rivers and lakes — combining water, soil, and ceremony to create her acrylic abstractions. Hejny believes that spending time with our waters and building a sense of ownership creates a deep care for the human impact on the wild ecology. She collaborated with community members to create 4-5 large scale paintings using water and sediment from the Root River here in Lanesboro at a Water Harvest & Painting event in Gateway Park on August 12, 2017. Participants were invited to write intentional words of gratitude to water on several large blank canvases. Together, they worked with Annie to pour earth, water and paint over these words, in a process that she has developed through years of paintings with river water. Time was also made for reflection and storytelling, which further informed Annie's work. Annie completed the paintings separately, working in the studio above the St. Mane Theatre to create a new Root River Series.
The final paintings were shown at a Capstone Art & Poetry Presentation with music by Ben Weaver on the Lanesboro Museum porch on Saturday, August 28, 2017. The finished paintings were then installed and put on display for six weeks after the residency at the Root River Rod Co. Community members that were interested in creating their own work of art using water and sediment from the Root River (and/or diving deeper into the water conversation) participated in Workshop: The Spirit of the Root River in Words and Color on Thursday, August 17, 2017. Annie's work emulates the changing current, the luminosity of reflection, and the foreboding shift in our relationship to these waters. Learn more about Annie, her project, and how the community participated by clicking here.
#44 Tatiana Pandiani and Jacinta Clusellas – April 2017 Based in New York City and originally from Buenos Aires, Argentina, Tatiana Pandiani is a creator of theatrical performances and director of plays and musicals, while Jacinta Clusellas is a guitarist, vocalist, composer, and arranger. Pandiani and Clusellas collaborated for the creation of an original documentary theatre piece, NORA. Using Ibsen's A Doll's House as the starting point, the project explored gender roles in contemporary United States. The project included the creation of original music inspired by American Folk women artists. Pandiani and Clusellas hope to develop NORA in collaboration with women from various cities across the country. Their primary focus is public engagement, connecting artists and community members, preferably those with little to no formal artistic training, while developing new material inclusive of the local social and cultural tapestry. Learn more about Jacinta & Tatiana, NORA and how the community participated by clicking here.
#43 Heather Clark Hilliard – September 2016 From Norman, Oklahoma, Heather Clark Hilliard is a multi-disciplinary artist with a focus on conceptual fiber and site specific installations. Heather believes having an understanding of Place is integral to designing and sustaining resilient communities. By utilizing a variety of material processes and substrates, Heather created a map-quilt imbued with time, place, memory and history by the incorporation of maps and place-based stories contributed by local residents. She had two Open Studio Potluck events for people to participate in the work and ask questions about the process of the piece.  Her goal was for the map-quilt to reveal and conceal information much more complex than the material's originally designated function. Heather sought a deeper understanding of the cultural and geographical significance of the area—especially the Root River—in order to inform and influence the construction and final look of her map-quilt. Her final piece was titled 'Root of the Driftless' and was on display in the Lanesboro Coffee Street Fitness Center for the month of October. It will also be on display during Water/Ways 2017 for January and February. Learn more about Heather, 'The Root of the Driftless', and how the community participated by clicking here.
#42 Glendaliz Camacho – February 2016 From New York, NY, Glendaliz Camacho is a writer. "Through fiction, I explore what drives people to overcome their fear of the unknown, of failure, ridicule or punishment and what it means when our attempts to do so are futile or only temporarily successful." In Lanesboro, Glendaliz worked on a short story collection, fantasy novel, essay collection, and musical. Her current short story collection devles into the struggle to define and pursue personal freedom through three sets of characters: one coming-of-age in the Dominican Republic; another navigating adulthood and immigration to the US; and the last, the first generation in a new land. She also offered two sessions of a fiction writing workshop for adults and young adults, teaching and leading a discussion about the elements in short fiction that – when done well – make for a great short story. In a public reading held at the St. Mane Theatre, Glendaliz read selections of work written while in Lanesboro.
#41 Caitlin Warner – April/May 2015 From Minneapolis, Minnesota, Caitlin Warner is a book artist whose primary interest is making art accessible to all people. She pursues this interest by making large editions of little handmade art books that are approachable, fun, and affordable. She dispenses them in her small fleet of Art Unvending Machines — one of which was loaded up with chapbooks and installed in the lobby of the St. Mane Theatre. "Spending time here has been a chance to have some uninterrupted time to think and make, and has been a chance to recharge my creative batteries." Warner taught two public art classes during her residency: "Make Your Own Hardcover Book" for ages 15+ that was focused on how to assemble & stitch together multi-section book blocks & attach a hard cover and "Make Your Own Books!" for ages 9+ that had young artists creating three different types of books filled with their own stories & drawings.
#40 Michael Lee – January 2015 Norwegian-American poet and educator Michael Lee worked on the manuscript for his own work, "Heaven Face," while also conducting several workshops with seventh-grade students from Rushford-Peterson Middle School that guided them in writing poetry. A free Open Mic / Poetry Slam was held at the St. Mane Theatre showcasing the work Mr. Lee & the students from R-P Middle school completed during his time in residency.
#39 Adam Manley – May 2014 From Portland, Maine, mixed media sculpture artist Adam Manley's work is about how we interact with & understand our surroundings. During his time in Lanesboro, Manely constructed a public participation art project, the SKY SILO, on the sidewalk in front the AcenTek building. "I gained some insight into a new place and its people/landscape/history. I accomplished a great deal of creative growth and documentation, as well as an expanded network of friends and acquaintances from a town full of interesting people." Made entirely from wood from a local turn of the century barn, this mobile object created a space, free from peripheral distraction, from which to view the big, open, mid-western sky. Passersby entered and heard this soundtrack looping from a small speaker and were photographed looking at the sky.
#38 Cecilia Balli – March 2014 From Brownsville Texas, creative nonfiction writer Cecilia Balli is a college professor that took a semester off to work on her first book about the drawing and re-drawing of the U.S.-Mexican borderline and the building of a 700-mile border "wall". Excited to step away from the border and view it from deep within the American heartland & the people here, Cecilia led a rich roundtable discussion on both metaphorical and geographical borders with community members at the Lanesboro American Legion. A social hour and Mexican themed potluck proceeded the discussion.
#37 Inkfish – April/May 2013 Puppet theater group from Jackson Heights, NY, Inkfish worked on developing its production of "Digger", exploring character designs and a storyboard. This project began when Inkfish considered the narrative possibilities of holes and the man who digs them in conjunction with Dante's Inferno – perhaps the ultimate descent into a hole. Inkfish conducted a presentation to 4th, 5th & 6th grade students at the Lanesboro School, taught a puppet building rapid prototyping & manipulation workshop to local kids and adults, and talked about their residency in a shadow puppet demonstration at the St. Mane Theatre.
#36 Matt Duckett – February 2013 From LaCrosse, WI and most recently Chicago, IL, portrait painter Matt Duckett is a talented painter and a musician; he plays old-time Irish folk music on tenor banjo & guitar. While in residence, he worked on developing sketches for and painting for 5-6 portraits while in Lanesboro. LAC hosted an acoustic music jam session with Matt Duckett at the St. Mane Theatre with local and regional musicians, gathering together community members to make music as well as gathering together community members to make music as well as to make connections for Matt with some potential portrait subjects.
#35 Christopher Robinson – November/December 2012 Poet Christopher Robinson completed a manuscript of his work 'Air Become Sinewed', finished a first draft of a new manuscript of sonnets, presented a public poetry reading, and led a 4-part poetry workshop with 5th and 6th grade students at the Lanesboro School: "I think I got the kids excited about poetry as a form of expression and left them with many tools in their poetry toolbox. They also taught me a lot; they reminded me to think in ways I'd forgotten as an adult." Chris is from Federal Way, Washington.
#34 Tucker Hollingsworth – April/May 2012 "I photograph at night," says photographer Tucker Hollingsworth, from Minneapolis. His residency dates were strategically planned to include the full moon on May 5 and maximize lighting potential. "In this setting, light acts differently, imposing order on the landscape and becoming a palpable painterly force," he explains. During the residency, Tucker developed three bodies of work: 'noise' prints, panoramas, and night images utilizing moonlight and vehicle headlights. He also worked with music and art students in 3rd – 12th grade at the Lanesboro School, delving into the connections between music and art.
#33 Dave Beck – January 2012 Focusing on both the art of rosemaling in the Midwest, and more specifically on Per Lysne's influence and work, Dave Beck's 2-week Residency in Lanesboro took him to the Vesterheim Museum in Decorah, Iowa, and to visits with area Lanesboro residents. He used this historical research to create a contemporary digital 3D animation that is inspired by a specific Lysne plate in the Vesterheim collection, and presented an Artist Talk about his work for community members.
#32 Gwendolyn Rouse – April 2011 During her 2-week residency, Wendy painted a 'Lanesboro Still Life,' incorporating objects representing Lanesboro lent by community members.   She also hosted class tours with the 4th grade and the high school painting class from the Lanesboro School, and researched regional flora and fauna for another painting.
#31 Katherine Schaefer – March 2011 During her two-week residency, writer Katherine Schaefer worked on pre-publication revisions to her memoir—about tragedy in the life of a Minnesota farm family in the 1970s, as well as a novel-in-progress about the love, lust, and loss of land in three generations of a family farm from the Depression to the 1980s farm mortgage crisis. She led a memoir writing workshop for teens through octogenarians.
#30 Julie Johnson – January 2011 Flutist and composer Julie Johnson was in Lanesboro for a 4-week residency, working on research and writing for a new album based on Minnesota folk music.  She worked with various community members on gathering songs, and performed both at the Lanesboro School and at the St. Mane Theatre in a concert with her band "Julie Johnson & the No-Accounts".  The concert, "The Banks of the Auplaine," featured new compositions and roots/folk blues music of Minnesota, with Julie Johnson on flute and bass flute; Doug Otto on vocals and guitar; and Andrew Druckrey on vocals, mandolin, and resonator guitar.  From Minneapolis, Julie Johnson has performed classical, jazz, folk, blues, and world music in concert halls, Italian cathedrals, Texas juke joints, horse barns, and jazz clubs.
#29 Elisa Korenne – March 2010 In Lanesboro for a 2-week residency, Elisa Korenne worked on developing southeastern-Minnesota focused material for the Minnesota's Ordinarily Unsung Concert – three songs and four stories from subjects that are otherwise lost to the historical canon.  She also presented a workshop with Lanesboro's own Rhubarb Sisters in a song- and lyrics- sharing format.  "Elisa helped us explore our musical possibilities and create ideas to enhance our program and musicianship," says Rhubarb Sister & local school music teacher Robin Scheu.
#28 Sarah Stonich – January/February 2010 During her 4-week residency, Sarah worked on finishing a volume of essays about northern Minnesota entitled Shelter: Places Lost and Found.  She also  met with a local book club to discuss her most recent novel, The Ice Chorus, and presented a Reading and Writer's Round-table Discussion in the gallery.  Internationally-acclaimed author Sarah Stonich is well-known for her fiction novels These Granite Islands and The Ice Chorus.  Shelter is Sarah's first full-length volume of non-fiction, an autobiographical collection of essays.
#27 Kate Lynn Hibbard – February/March 2009 During her three-week Residency in Lanesboro, Kate Lynn worked on researching and writing poems for a poetry manuscript focusing on the experience of women on the homestead frontier of the Great Plains.  She toured Historic Forestville and the Lanesboro History Museum, gathering data for new poems.  She also presented a community workshop on creative writing using historical artifacts. Kate Lynn Hibbard is a writer from St. Paul, Minn.; she has received the Astraea Lesbian Writers Finalist Award (2006), a Hedgebrook Writing Residency (2005), a Gerald Cable Book Award (2004), and a Jerome Foundation Travel and Study Grant (2003)
#26 Katt Lissard – April 2008 During her two-weeks in Lanesboro, Katt worked on an Interactive Community Performance/Installation Project for Earth Day, with the culminating celebration taking place on a cold, windy day in Sylvan Park in conjunction with the Root River Valley Earth Day Celebration.  The project addressed issues of mankind's most precious resource, water (including the water that went astray in our local flood of August 2007), and what we as a community value and hold dear. Katt lives in New York City and also travels to Lesotho, Africa with the Winter/Summer Institute where she helps to create collaborative community theater pieces about issues connected to water, poverty and HIV/AIDS.
#25 Morgan Grayce Willow – January 2008 Morgan worked on poems for her collection entitled Barn during her two-week Residency in Lanesboro.  She was inspired by local farmers in a round-table discussion, where folks shared stories about their history with barns and farming.  From Minneapolis, Morgan's poems have been featured in a number of collaborations, including Poetry in Motion
#24 Ed Bok Lee – December 2007 During his two-week Residency in Lanesboro, Ed worked on writing stories to complete the collection for his manuscript of travel-based prose. He also led a writing workshop for high school students, and gave a spoken word poetry performance with three of the students, held at the St. Mane Theater. Ed lives and writes in Minneapolis, Minn.
#23 Stephen Ausherman – October 2007 Coming to Lanesboro from Albuquerque, New Mexico, Stephen worked in and around Lanesboro on a series of short experimental videos in collaboration with community members, including Kim Westphal and Mike Zawislak. The films were screened publicly at both the American Legion and Lanesboro Arts' Gallery.
#22 Cheryl LeClair-Sommer – September 2007 A soft pastel painter from Little Canada, Minn., Cheryl painted outdoor sketches of cityscapes of Lanesboro, working on night scenes with contrasting indoor/outdoor lighting. She also taught a class with local 3rd grade students.
#21 Käthe Oien  – February 2007 Coming to Lanesboro from Norway, Käthe worked with local residents of varying ages, looking at culture and heritage. She continued to correspond with them from Norway via the Internet for the next few months, created a body of work for exhibit at Cornucopia during the 2008 Ibsen Festival. An acrylic painter, Käthe also uses photographs and digital manipulation to create her work.
#20 Jun'ichirö Ishida – April 2006 Jun is visual artist specializing in environmental art and spiritually driven two dimensional works that is originally from Japan, but is now based in New Jersey. Jun presented two public programs in Lanesboro as part of his residency: an artist talk and slide lecture at the gallery and a mandala installation and meditation exercise in the green space between Amish Experience and Crown Trout Jewelers that currently houses the Spud Boy Lunch dining car. His major project while in Lanesboro was a series of large format Lotus paintings.
#19 Phaedra Robinson – January 2006 A painter, sculptor, and mixed-media artist from Detroit, Phaedra created a temporary installation in a then unused store front at 102 E Coffee St in Lanesboro that was shown in tandem with Jeffery Eisenberg's open house. Phaedra's installation explored personal communication and the paradoxes we each must live with as human beings.
#18 Jeffery Eisenberg  – January 2006 A painter and sound artist from San Francisco, Jeffery creates recorded soundscapes to accompany his paintings on mylar. During his stay in Lanesboro, he collaborated with 4th graders from Lanesboro Elementary School to create the soundscapes for his new work. Each student kept a "sound diary" for a week — capturing then sound of dishes being done or cows lowing in a field — and also used their own voices to interpret those sounds for the recording. Jeffery's paintings, like his soundscapes, are multi-layered — reminiscent of nature, science, and fantasy. The public got a chance to experience the work during an open house at a then unused storefront at 102 E. Coffee Street in Lanesboro.
#17 Anat Fort – July 2005 Anat Fort, born in Israel, is a jazz composer and pianist living in Brooklyn, NY. Commissioned to write "Tzohar" for string orchestra and improvising piano, and "Ktanot" for chamber group, Anat has had her music premiered at the Tel-Aviv Biennial for Contemporary Music. As part of her residency in Lanesboro, Fort performed two short concerts in Lanesboro and Winona.
#16 Tiffany Besonen – July 2005 As a mixed media sculptor and storyteller, Tiffany Besonen recycles historical and found materials into stories about identity, motherhood and family. Her metaphoric forms represent the layers of expectations, history and reality in building family and identity today. During her residency, Tiffany created new mixed media work, including a collaborative sculpture created with Lanesboro community members.
#15 Rachael Hanel – June 2005 Rachael Hanel grew up in southern Minnesota as the daughter of a "Digger O'Dell, a small-town gravedigger. A writer and journalist, Rachael spent two weeks revising her first novel – a memoir of her father and her childhood. During her stay, her book proposal was accepted by the Minnesota Historical Society Press. Rachael's outreach activites included a free writing workshop at the Chatfield Library.
#14 Paul Mihas – June 2005 Paul Mihas is originally from Minnesota. A writer now living in Carrboro, North Carolina, he the son of Greek immigrants and a cancer survivor. Paul spent two weeks working on new short stories and revising his novel, The Groom's Dowry, which tells the story of two Greek-American children growing up in small town Wyoming . As part of his outreach, Paul led writing exercises with cancer survivors at the Mayo Clinic and in Lanesboro.
#13 Dominic Orlando – September 2004 A playwright originally from New York city and most recently from Minneapolis, MN, Dominic Orlando drafted his play, "Heart of Earth," while in Lanesboro for 4 weeks.  A longtime Chekhov fan, this play is inspired by "The Three Sisters."  Characters in the play explore three questions–which are the same questions for Americans, for Russians, for everyone, really–Where will I live?  How will I live?  Who will love me? During his stay, Dominic visited area farms with the goal of getting farm life in his blood and thus into the characters of "Heart of Earth."
#12 Elaine Romero – August 2004 A playwright from Tucson, AZ, Elaine Romero drafted and held a reading of her new full-length play, LIKE HEAVEN.  With four female characters, the play develops the friendship of two women as they cross paths while one is arriving to and one is departing from a small town.  While in Lanesboro, Elaine also led a "Quick New Play" workshop, involving community members in writing and performing 5-minute plays.
#11 Quiara Alegria Hudes – July 2004 A playwright from Providence, RI, Quiara Alegria Hudes has expanded her play "Coconut Therapy" from a 45-minute piece to a full-length piece, with the goal of touring it nationally upon completion. The play explores immigration and assimilation in Puerto Rico and Philadelphia, and how it affects the characters' lives. Ranging in age from 12 to 93, the characters are based on interviews with the women in Quiara's family.
#10 Camille Gage – June 2004 Lanesboro residents and visitors were engaged in an interactive reflection on citizenship and the American community through Camille Gage's residency project, entitled "American Visions." Camille is a mixed-media artist from Minneapolis, MN.
#9 Aaron Bommarito – May 2004 Aaron photographically recorded pinhole projections by creating camera obscurae inside historic Fillmore County buildings and structures. Aaron also worked with 5th and 6th grade students at the Lanesboro School, demonstrating the pinhole technique and helping them to create pinhole cameras. Aaron is a pinhole photographer from Eagan, MN.
#8 Whitney Tuthill – January 2004 A ceramic artist from Minneapolis, MN, Whitney worked with high school art students at the Lanesboro School to create a ceramic relief map, showing the Lanesboro area landscape. As a result of his residency, CAC's kiln has been installed at the school for use by students and for CAC classes. Whitney also produced new round ceramic relief sculptures during his residency.
#7 Mary Eischen – September 2002 Mary created a banner for public display in Lanesboro, involving members of the community and celebrating Lanesboro's commitment to community and to the arts. Mary is a fiber artist from Winona, MN.
#6 Mary Bergs – August 2002 – a 2D/3D visual artist from Minneapolis, MN, Mary created an impermanent visual dialogue regarding perceptions of beauty amongst the residents of Lanesboro (installation of objects).
#5 Coral Lambert – July 2002 – Coral, a cast iron sculptor from New Orleans, LA, conducted a public cast iron event and outdoor sculpture exhibition, including work made through public sculpture workshops.
#4 Maremi Hooff – June 2002 – A painter from Arlington, VA, Maremi created a painting that recognized a regional dish or recipe through the aid of community participation.
#3 Keith Holmes – May 2002 – Keith worked on making a series of photographic portraits of Lanesboro community members. He plans to work these images into a public art piece using bricks or other suitable building material. Keith is a photo-sculpture artist from Alexandria, MN.
#2 Laine Cunningham – November 2001 A writer from Asheboro, NC, Laine completed a draft of her novel "The Message Stick," the story of a bi-racial Australian Aborigine. She also taught children and adults in a writing / "dot-dot dream painting" workshop, and presented a new chapter of her novel at a community reading.
#1 Erik Pearson – October 2001 An oil painter from Superior, WI, Erik painted the first five paintings in a series based on a song he composed. He also taught adult drawing classes and visited school classrooms, educating students about his work.