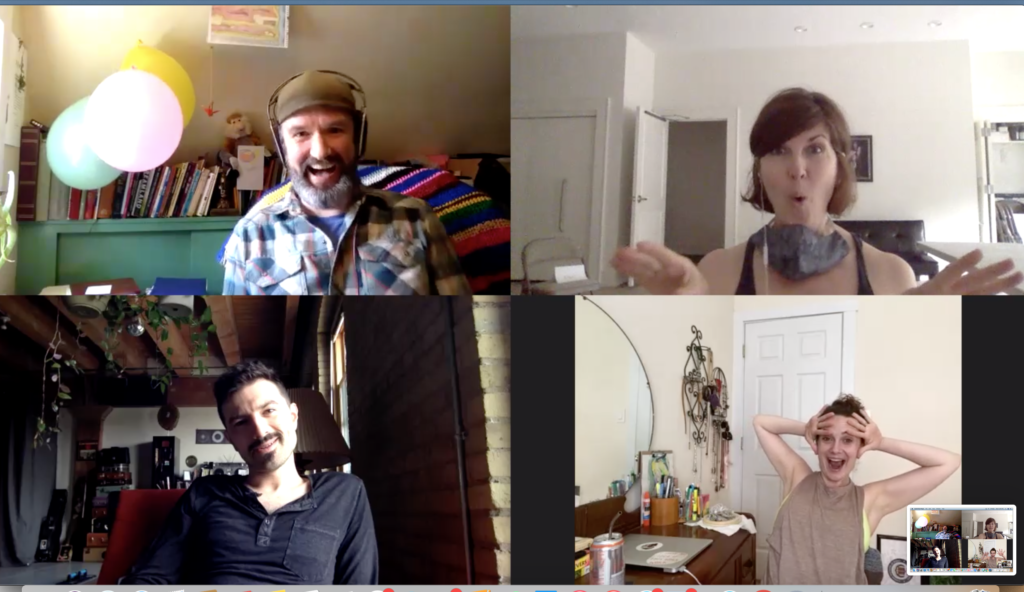 Catherine Glynn's A.R.T. (Audacious Raw Theater), Lanesboro Arts will present a series of virtual classes called "The ARTists are Present" from June 6th through June 30th. Inspired by Performance Artist Marina Abramovic's "The Artist is Present" from 2010, the ARTists from this year's Audacious Re-Imagined Theater project will hold one on one sessions with participants to create a phone booth monologue in the style of Glynn's play The Root River Anthology (which was co-produced with the Commonweal Theatre Company and is available to listen to online). This master class series will focus on generative time spent with each ARTist exploring the creative process and developing new solo work.
Offered as a package for $240, each class will be 1 hour long sessions with artist including:
Catherine (Catie) Glynn, Lanesboro-based Performing Artist and founder of A.R.T.
Jerome Yorke, Jr. from Cincinnati, devised theater-maker and educator.
Hilary Williams, an actor, filmmaker, and educator from Chicago.
Eric Carranza, St. Paul-based teacher, composer, performer, as well as one of Lanesboro Art's 2019 Artists in Residence.
Patrons are invited to take a series of four one hour classes, one with each ARTist.
Session 1: Catie will put her coaching skills to use listening and helping devise a THEME and SCRIPT
Session 2: Hilary will hone the SCRIPT and give you follow materials for developing your writing
Session 3: Jerome: Interpret the SCRIPT and coach you on MOVEMENT and owning the space you are in
Session 4: Eric will then guide you in how to UNDERSCORE the work either using a track from his Root River Vibes Collection or by helping you create a new or devised soundtrack
If you are interested in participating but only in select sessions, then an ARtist or Resident Ensemble Member from the Commonweal Theatre Company will fill in and craft the remaining parts of the video. The fees would then be reallocated to pay the participating performer for their portion of time put into it.
If you are interested in working with the ARTists one on one their information will be posted and you can set up that work directly with them. ($60 per hour). The classes will be available through Lanesboro Arts Facebook pages and lanesboroarts.org
Because we believe in making the Arts accessible to all of our patrons, we also invite listeners simply to submit a written version of the phone booth monologue, which will then be edited by Catherine Glynn and will be performed by one of the ARTists or a Commonweal Theatre Resident Ensemble member and posted on our website. These contributions will serve as inspiration for The Root River Anthology Part 3!
"In today's climate in our country, which is sickened with the pollution of pollution, threatened with the prominence of AIDS, riddled with burgeoning racism, rife with growing huddles of homeless, we need art and we need art in all forms. We need all methods of art to be present, everywhere present, and all the time present."
— Maya Angelou
We invite you to be PRESENT with us, through sharing your words, your story. In Part 3 of The Root River Anthology, We deeply desire Lanesboro to be a place of inclusion, diversity, and compassion.
We, ourselves, are learning more and more each day how to do this.
We look forward to growing together with you, honoring you, representing you, and creating an ARTistic HOME for you.