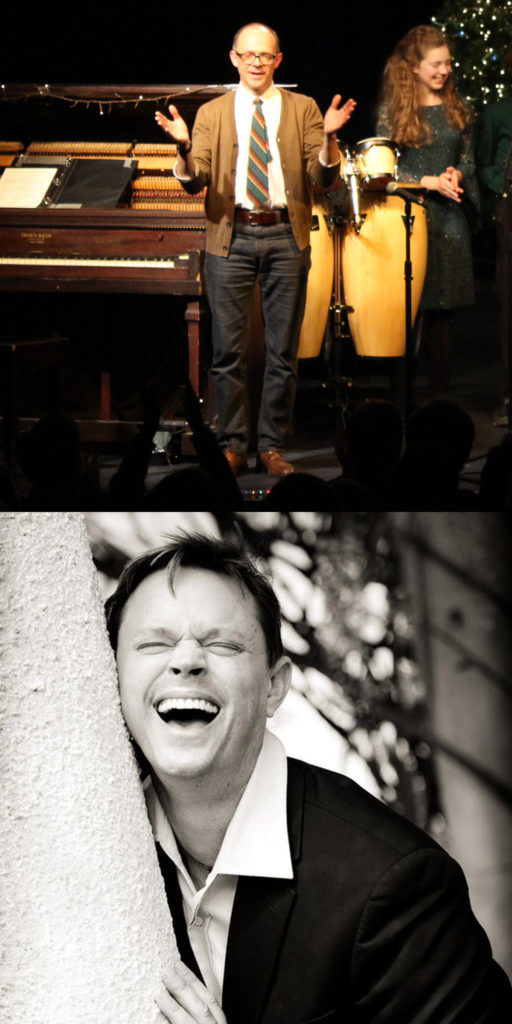 The Sing Along is currently SOLD OUT. A wait list for any tickets that happen to become available will begin in the lobby of the St. Mane Theatre at 6:30 p.m. the evening of the event.
Twin Cities-based accompanist, writer and vocalist Dan Chouinard is leading the 13th annual Old-Fashioned Holiday Sing Along on Friday, December 20, 2019 at 7:30 p.m. at the St. Mane Theatre in downtown Lanesboro. Dan will host the evening, an annual Lanesboro institution, with his fantastic piano and accordion playing, gentle spirit and genuine appreciation for sharing stories and songs with the audience. As a treat for the audience, Dan has invited special guest Dane Stauffer, a laugh out loud musical theatre star, to perform on stage as well. The pair started working and performing together nearly 30 years ago and have logged some miles since then, with shows together across the country and as far afield as Hawaii and Edinburgh, Scotland.
With a career spanning cabaret, theater, film, television, radio, and flat bed trucks, Dane Stauffer is triple threat actor, singer and writer making his debut on the St. Mane stage. Based in Minnapolis, Dane recently sang in Brand New Day: Breaking Barriers/ A Cabaret at the Ordway, where he also recently starred as Scrooge in Dolly Parton's Smokey Mountain Christmas Carol. Dane has starred as Roger Caldwell in the IVEY award winning musical Glensheen at the History Theatre. In Los Angeles, he became a staple singing at Sunset Strip's House of Blues, at the Cafe Was with Jeff Goldblum on the keys, and Yoshi's with Estaire Godinez. He sings regularly at Crooners Lounge in the Twin Cities, and recently performed in an indie short based on Lorna Landvik's Oh My Stars. He is currently directing Annie Jr. at Steppingstone Theatre for Youth, and he continues to teach empowerment through the arts to children and adults in all settings.
As Chouinard told the Star Tribune in 2017, "Among the things that give me joy is the element of participation." As such, Chouinard will welcome local talent to the stage during the Holiday Sing-Along! The 2018 show featured Tom Schramm and Walter Bradley, Bertram Boyum, Damon and Peighton Prestemon, Julie Kiehne and Carolyn Freese, the Ekstrom Trio, and Bebe Keith, Laura Nelson, Peter Sholtz & Bill Swanson. Interested in participating on stage? Contact Program Director Adam Wiltgen via e-mail at adam@lanesboroarts.org or by phone at 507-467-2446.
The Holiday Sing Along is presented by Lanesboro Arts and sponsored by the Wisconsin Public Radio, Commonweal Theatre, Inspire(d) Magazine, High Court Pub and Granny's Liquors.
Please note:
The St. Mane Theatre box office will open at 6:30 p.m. the day of the concert. A wait list for any tickets that happen to become available will begin at that time.
New in 2019: Each ticket purchased with a bank card will be charged an additional processing fee of $0.99. Patrons can avoid this processing fee by paying via cash or check in the Lanesboro Arts Gallery, or before the show in the St. Mane Theatre lobby.
If you are unable to purchase tickets online or need additional assistance, you may try calling 507-467-2446 to purchase a ticket over the phone during business hours. Tickets are also sold in-person during business hours at Lanesboro Arts Gallery.
We will have a list of the names of tickets buyers at the box office beginning at 6:30 p.m. If the buyer and their guests arrive together, no physical receipt or proof of purchase is needed in order to be admitted to the event–we will have a list!
Alternatively, attendees can present a printed copy of the ticket PDF the ticket buyer was e-mailed or simply pull it up and present it on a smart device.
Lanesboro Arts is committed to accessibility for all people. Learn more about our access services.