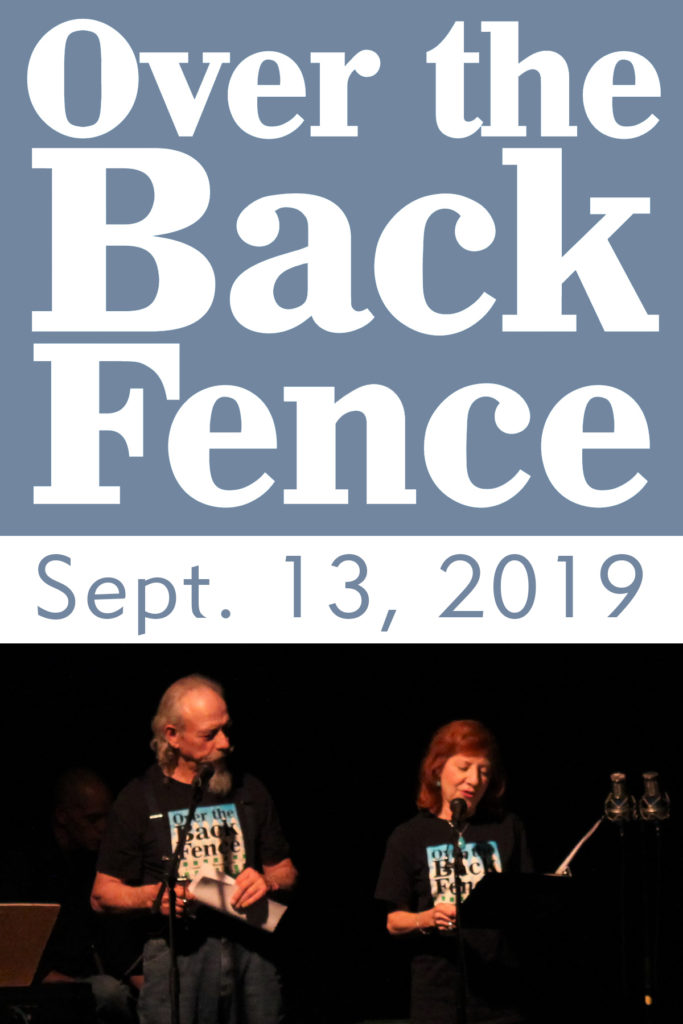 "Fifty Nifty States" is the theme of the next "Over the Back Fence" Community Variety Show presented by Lanesboro Arts on Friday, September 13th at 7:30 p.m. at the historic St. Mane Theatre in downtown Lanesboro. Songs like "I've Been Everywhere," "Georgia on my Mind" and "Aloha ʻOe" will each be part of a place-based evening that also includes jokes, stories, and sing-alongs.
September's show features musical guest Eggen & Hippen from Decorah, Iowa. Singer Kristen Eggen's golden voice captures audiences with its depth and tells the story of pianist Ben Hippen's compositions – soulful songs that leave listeners pondering love, loss, climate change, pirates and more. The duo is an indie act that draws inspiration for their original songs from a wide array of music genres including soul, pop, jazz, blues and punk.
Host Damon Prestemon continues to propel the 25th season forward with his rapid-fire wit and keen improvisational instincts that keep the show fresh and fun. Music educator Regina Noel-Downing of Decorah will serve as this month's musical director, accompanying the all-volunteer cast on keyboard throughout the show. Doors open for seating at 7 p.m. with Joshua Vorvick, a singer-songwriter also from Decorah, providing pre-show musical entertainment beginning at 7:10 p.m.
The shows are held monthly on the 2nd Fridays of March-November.
Interested in participating on stage? Contact Kara at Lanesboro Arts: kara@lanesboroarts.org or 507-467-2446 x3
Over the Back Fence airs on KQAL 89.5 FM at 6pm on the Wednesday following the 2nd Friday show. Over the Back Fence is also published online as a podcast. Click here to download or stream Over the Back Fence.
Please note:
The St. Mane Theatre box office will open at 6:30 p.m. the day of the show. Tickets will also be sold in-person beginning at that time.
New in 2019: Each ticket purchased with a bank card will be charged an additional processing fee of $0.99. Patrons can avoid this processing fee by paying via cash or check in the Lanesboro Arts Gallery, or before the show in the St. Mane Theatre lobby.
If you are unable to purchase tickets online or need additional assistance, you may try calling 507-467-2446 to purchase a ticket over the phone during business hours. Tickets are also sold in-person during business hours at Lanesboro Arts Gallery.
We will have a list of the names of tickets buyers at the box office beginning at 6:30 p.m. If the buyer and their guests arrive together, no physical receipt or proof of purchase is needed in order to be admitted to the event–we will have a list!
Alternatively, attendees can present a printed copy of the ticket PDF the ticket buyer was e-mailed or simply pull it up and present it on a smart device.
Lanesboro Arts is committed to accessibility for all people. Learn more about our access services.
Special thanks to our 2019 sponsors:
Batstone CPA, The Bite Restaurant, Bluff Country Computer Works, Cedar Valley Resort, E2 Boutique, Estelle's Eatery & Bar, F & M Community Bank, Granny's Liquor, Great River Shakespeare Festival, Green Gables Inn, High Court Pub, Lanesboro Area Community Foundation, Lanesboro Arts, Lanesboro Public Library, Manion Law Office, Merchants Bank, Niagara Cave, Nutrien Ag Solutions, Old Barn Resort, Pedal Pushers Café, Randy Schultz Drywall, Rushford – Preston – Harmony Foods IGA, SMG Web Design and Thrivent Financial – Walter Bradley