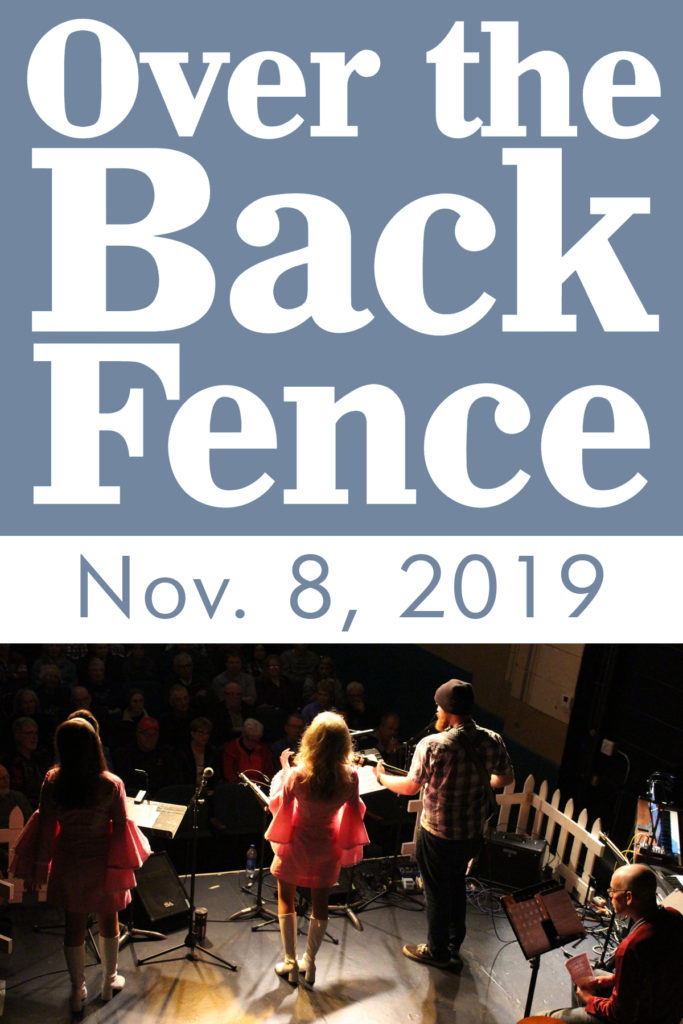 The 25th anniversary season of the "Over the Back Fence" Community Variety Show presented by Lanesboro Arts wraps up with a "Blue" themed show on Friday, November 8th at 7:30 p.m. at the St. Mane Theatre in downtown Lanesboro. Songs like "Blueberry Hill," "Blue Suede Shoes" and "Blue Moon," along with a preview of the Commonweal Theatre's "Sanders Family Christmas" and a skit by the Lanesboro Innkeepers about the upcoming Lanesboro Holiday Inn Tour, will each be part of a colorful evening that also includes jokes, stories and sing-alongs.
November's show features musical guest The Rutabaga Brothers, upbeat combo whose steamy blues-guitar licks, soulful vocals, and wailing harmonica solos are backed by a driving rhythm section. With selections by such artists as Wilson Picket, Muddy Waters, Eric Clapton, Huey Lewis, Charlie Musselwhite, Eddie Floyd, Etta James, B.B. King, Jimmy Reed and many others, The Rutabaga Brothers will rock audience's blues away. For them, that's the secret to the blues: Listening to it makes you feel happy.
Host Damon Prestemon will sunset the 25th season forward with his rapid-fire wit and keen improvisational instincts that keep the show fresh and fun.  The Rutabaga Brothers, featuring Prestemon on lead vocals, will also serve as this month's house band, accompanying the cast throughout the show. Doors open for seating at 7 p.m. with Norwegian fiddler Dave Swenson of Boone, Iowa also providing pre-show musical entertainment beginning at 7:10 p.m.
A celebratory End of Season Potluck and Planning Meeting for the future of the all-volunteer show will take place on Tuesday, November 19th at 5:30 p.m. in the upper level studio space of the St. Mane Theatre. Both patrons and cast members are invited to bring a dish to pass and participate in helping shape what comes next for "Over the Back Fence."
Interested in participating on stage? Contact Kara at Lanesboro Arts: kara@lanesboroarts.org or 507-467-2446 x3
Over the Back Fence airs on KQAL 89.5 FM at 6pm on the Wednesday following the 2nd Friday show. Over the Back Fence is also published online as a podcast. Click here to download or stream Over the Back Fence.
Please note:
The St. Mane Theatre box office will open at 6:30 p.m. the day of the show. Tickets will also be sold in-person beginning at that time.
New in 2019: Each ticket purchased with a bank card will be charged an additional processing fee of $0.99. Patrons can avoid this processing fee by paying via cash or check in the Lanesboro Arts Gallery, or before the show in the St. Mane Theatre lobby.
If you are unable to purchase tickets online or need additional assistance, you may try calling 507-467-2446 to purchase a ticket over the phone during business hours. Tickets are also sold in-person during business hours at Lanesboro Arts Gallery.
We will have a list of the names of tickets buyers at the box office beginning at 6:30 p.m. If the buyer and their guests arrive together, no physical receipt or proof of purchase is needed in order to be admitted to the event–we will have a list!
Alternatively, attendees can present a printed copy of the ticket PDF the ticket buyer was e-mailed or simply pull it up and present it on a smart device.
Lanesboro Arts is committed to accessibility for all people. Learn more about our access services.
Special thanks to our 2019 sponsors:
Batstone CPA, The Bite Restaurant, Bluff Country Computer Works, Cedar Valley Resort, E2 Boutique, Estelle's Eatery & Bar, F & M Community Bank, Granny's Liquor, Great River Shakespeare Festival, Green Gables Inn, High Court Pub, Lanesboro Area Community Foundation, Lanesboro Arts, Lanesboro Public Library, Manion Law Office, Merchants Bank, Niagara Cave, Nutrien Ag Solutions, Old Barn Resort, Pedal Pushers Café, Randy Schultz Drywall, Rushford – Preston – Harmony Foods IGA, SMG Web Design and Thrivent Financial – Walter Bradley