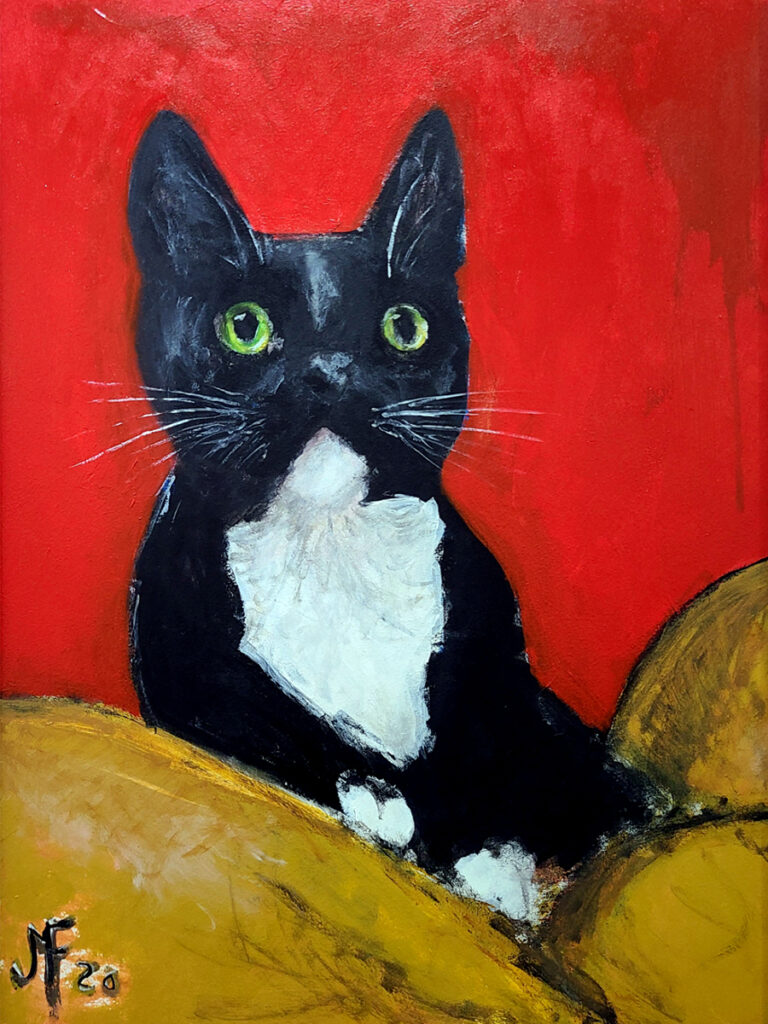 Lanesboro Arts presents Fur and Feathers: Domestic Animal Portraits by painter Julie Fakler.
Julie Fakler paints vibrant one of a kind domestic animal portraits by applying many thin layers of acrylic paint. "Fur and Feathers" will feature more than twenty of these portraits. Her love for animals began in 1994 when she visited her biological father's hobby farm with her sister. She found joy in spending time with chickens, donkeys, and the other animals on the farm.  Since then, Julie has been sharing her love for animals through her artwork and is dedicated to capturing the essence of every animal she paints.
Julie studied at the Minneapolis College of Art and Design and received her Bachelor of Fine Arts degree in painting and drawing. She is the current Visual Arts and Education Director at the Paradise Center for the Arts in downtown Faribault.
The artist's reception will open the show on Saturday, August 19, from 6:00 to 8:00 p.m. It will feature live music by Ann and Andy Lowe and light refreshments.
Julie will demonstrate her painting technique in the gallery from 2:00 to 5:00 on Saturday, August 19, before the reception at 6:00 that evening.
Fur and Feathers will run from August 19th to October 15th.
This exhibit is sponsored by Inspire(d) Media and made possible by the voters of Minnesota through a Minnesota State Arts Board Operating Support grant, thanks to a legislative appropriation from the arts and cultural heritage fund. For more information visit www.lanesboroarts.org, call 507-467-2446 or email gallery@lanesboroarts.org. Handicapped accessible and free to the public, the exhibition gallery is located at 103 Parkway Avenue North in Lanesboro, MN.