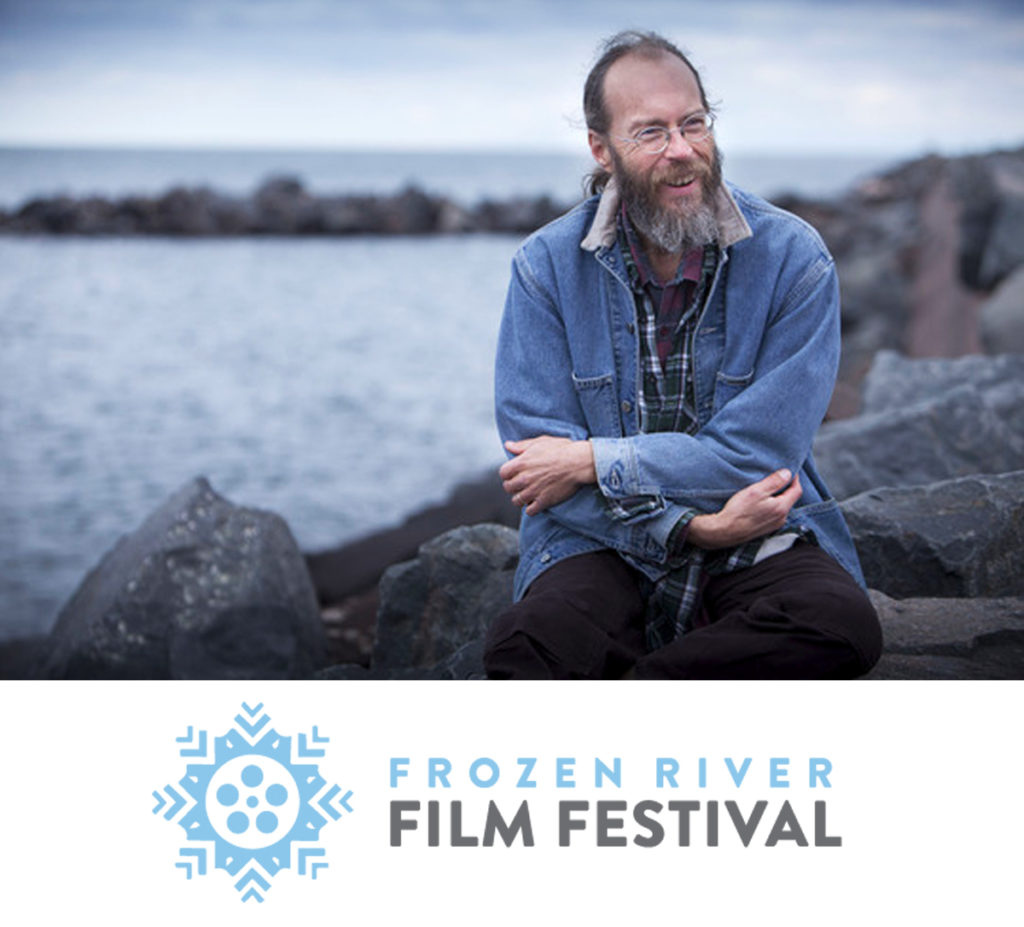 Lanesboro Arts presents a screening of the 2013 documentary film "Meeting Charlie Parr," directed by François-xavier Dubois & Charles Dubois, at the St. Mane Theatre in downtown Lanesboro on Friday, January 24th, 2020 at 5:30 p.m. The film's run-time is 60 minutes. Admission to the film screening is free-will donation, but advance registration is recommended. The screening of "Meeting Charlie Parr" is happening in conjunction with the 9th annual Frozen River Film Festival Lanesboro Preview Event. Frozen River's 'Donor Premiere' and 'Big Muddy' passes will be honored for all screenings in Lanesboro, however advance registration is still encouraged. The 2020 Frozen River Film Festival (FRFF) takes place February 5 – 9 in Winona, MN.
The documentary film screening at 5:30 p.m. and the Charlie Parr concert at 8:00 p.m. are separate events. Tickets to one event does not include admission to the other.
Produced by a French filmmaking team,"Meeting Charlie Parr" is a musical journey through the Midwest to meet one of it's most emblematic folk musicians. From the Minnesota's Great Lakes to the plains, from the stage or at home, viewers get to know Charlie Parr, an endearing and unique artist. Interview after interview, the people in his life tell us about Charlie's authentic music and what it says about America.
The film is a compilation of moments spent with Charlie at home, in his daily life, on the road and during concerts in Duluth, Northfield and Minneapolis. Through his music, audiences also get to know the Midwest and its inhabitants. Charlie's work is creative and also emphasizes the social side of music by gathering around common stories from a region and its inhabitants. 
As British poet Will Burns says about the documentary, "By slowly bringing out elements in both the human-geographical history of Parr's native Austin, Minnesota and the nature of his own day-to-day existence as a musician, the film reveals the humanity of his work, while reinforcing its correlation with Parr's environment. Through his relationship with fellow musicians, his insistence on recording in garages or churches or communal spaces rather than expensive studios, driving himself to shows, singing on his porch with his wife, we are brought to an understanding of art-as-way-of-life, as an extension of a working-class sensibility. And this is not the working class as mythologized by Springsteen, this is the real thing, someone working day in, day out. A craftsman."
This event is presented by Lanesboro Arts and sponsored by the Wisconsin Public Radio, Commonweal Theatre, Inspire(d) Magazine, High Court Pub and Granny's Liquors.
Please note:
This is a free-will donation event, but advance registration is still encouraged. Admission to this film screening does not include admission to the Charlie Parr concert.
The St. Mane Theatre box office will open for business at 4:30 p.m. on the day of the event. Attendees may register for remaining tickets in-person beginning at that time.
If you are unable to register online or need additional assistance, you may try calling 507-467-2446, on weekdays before 5pm, to register over the phone.
We will have a list of the names of those who registered at the box office beginning at 5:30 p.m. If the registered attendee and their guests arrive together, no receipt or proof of registration is needed in order to be admitted to the event–we will have a list!
Alternatively, attendees can also present a printed copy of the ticket PDF the registered attendee was sent or simply pull it up and present it on a smart phone.