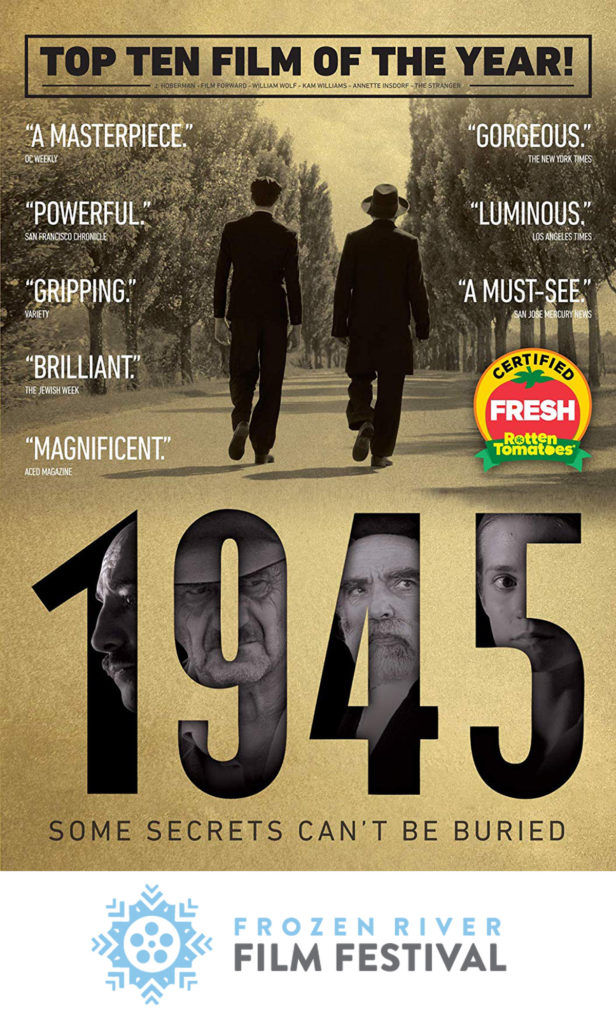 Lanesboro Arts proudly presents a screening of the acclaimed 2017 Hungarian drama film "1945," directed by Ferenc Török, at the St. Mane Theatre in downtown Lanesboro on Saturday, January 25th, 2020 at 1:00 p.m. "Certified Fresh" by Rotten Tomatoes and the winner of numerous film festival awards, 1945 is a gripping period drama that sifts through the aftermath of the Holocaust to offer a sober, well-crafted look at a variety of weighty themes. A deliberate pace, subtle acting, black and white cinematography and English subtitles over Hungarian dialog, give 1945 all the hallmarks of a foreign art house film. With a haunting and immersive atmosphere reminiscent of an old western, the film's compelling narrative slow burns into a profound wildfire of a conclusion that has a long lasting impact for viewers.
The film's runtime is 91 minutes and the screening is happening in conjunction with the 9th annual Frozen River Film Festival Lanesboro Preview Weekend. Frozen River's 'Donor Premiere' and 'Big Muddy' passes will be honored for all film events in Lanesboro, however advance registration via email, over the phone or in the Lanesboro Arts Gallery is still encouraged. A $15 Lanesboro Day Pass is also available, which will grant admission to all three film events happening on Saturday, January 25. The 2020 Frozen River Film Festival takes place February 5 – 9 in Winona, MN.
On a summer day in 1945, an Orthodox Jewish man and his grown son return to a village in Hungary while the villagers prepare for the wedding of the town clerk's son. The townspeople – suspicious, remorseful, fearful, and cunning – expect the worst and behave accordingly. The town clerk fears the men may be heirs of the village's deported Jews and expects them to demand their illegally acquired property back.
Director Ferenc Török paints a complex picture of a society trying to come to terms with the recent horrors they've experienced, perpetrated, or just tolerated for personal gain. A superb ensemble cast, lustrous black and white cinematography, and historically detailed art direction contribute to an eloquent drama that reiterates Thomas Wolfe's famed sentiment: you can't go home again.
"I think this is one of the best films produced in the last 25 years and have seen it several times. You will not forget it and it is highly relevant in these times." – Al Nettles, Lanesboro Arts board member
This event is presented by Lanesboro Arts and sponsored by the Wisconsin Public Radio, Commonweal Theatre, Inspire(d) Magazine, High Court Pub and Granny's Liquors.
Please note:
FRFF 'Donor Premiere' and 'Big Muddy' pass holders may claim their free tickets at the door (as available) or in advance by calling 507-467-2446 or stopping into the Lanesboro Arts Gallery during business hours.
The St. Mane Theatre box office will open at 12:00 p.m. the day of the event. Tickets will also be sold in-person beginning at that time.
Each ticket purchased with a bank card will be charged an additional processing fee of $0.99. Patrons can avoid this processing fee by paying via cash or check in the Lanesboro Arts Gallery, or before the event in the St. Mane Theatre lobby.
If you are unable to purchase tickets online or need additional assistance, you may try calling 507-467-2446 to purchase a ticket over the phone during business hours. Tickets are also sold in-person during business hours at Lanesboro Arts Gallery.
We will have a list of the ticket buyer names at the box office beginning at 12:00 p.m. If the buyer and their guests arrive together, no physical receipt or proof of purchase is needed in order to be admitted to the event–we will have a list!
Alternatively, attendees can present a printed copy of the ticket PDF the ticket buyer was e-mailed or simply pull it up and present it on a smart device.
Lanesboro Arts is committed to accessibility for all people. Learn more about our access services.