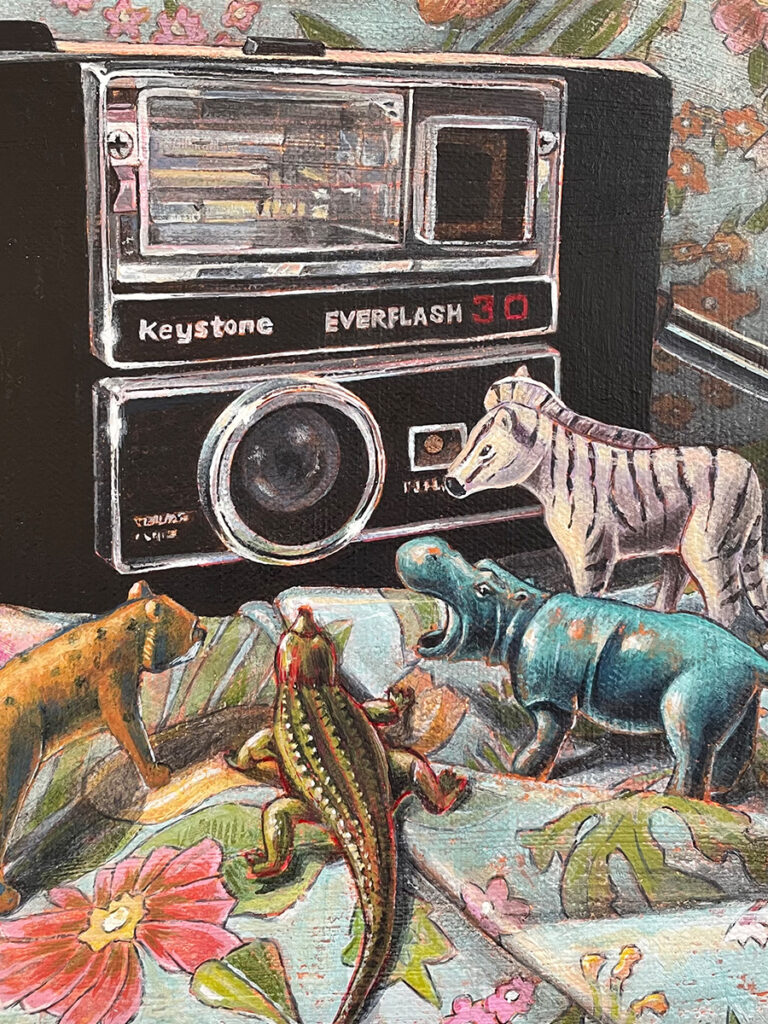 Lanesboro Arts proudly presents "End Table Ecosystem," an exhibition of paintings by Anna Segner. This collection of paintings depict domestic scenes featuring animal imagery. They portray the popularity of animal depictions in toys and home decor – despite the reality that consumerism plays a role in displacing animal populations habits. Through her whimsical compositions, Segner invites people to question how their adoration for nature is expressed and passed on to children.
The show opens on April 15th with a gallery reception from 6 – 8 pm. Always free and open to the public, gallery hours are Tuesday – Saturday, 10 a.m. – 5 p.m. "End Table Ecosystem" will be on view until June 11th.
Anna Segner is a studio artist focused on painting, mixed media, and assemblage. In her practice, Anna incorporates critical animal studies and other research to question the human act of "toying" with animals and nature. Anna earned her MFA from Iowa State University in the Spring of 2019 and a Bachelor of Arts in Literature with Writing Emphasis and Studio Art from Saint Mary's University of Minnesota in 2015. A native of Minnesota, Anna currently lives in Iowa and teaches drawing at Iowa State University.
"After exhibiting in an emerging artist exhibition a few years back, it is exciting to be returning to Lanesboro with a solo show," says Segner. "All galleries that I visited as an emerging artist have a special place in my heart, as these opportunities gave me the confidence to mature my art practice."
Featured image is a detail from Human Gaze by Anna Segner.
This exhibit is sponsored by the Commonweal Theatre and made possible by the voters of Minnesota through a Minnesota State Arts Board Operating Support grant, thanks to a legislative appropriation from the arts and cultural heritage fund. For more information visit www.lanesboroarts.org, call 507-467-2446 or email gallery@lanesboroarts.org. Handicapped accessible and free to the public, the exhibition gallery is located at 103 Parkway Avenue North in Lanesboro, MN.