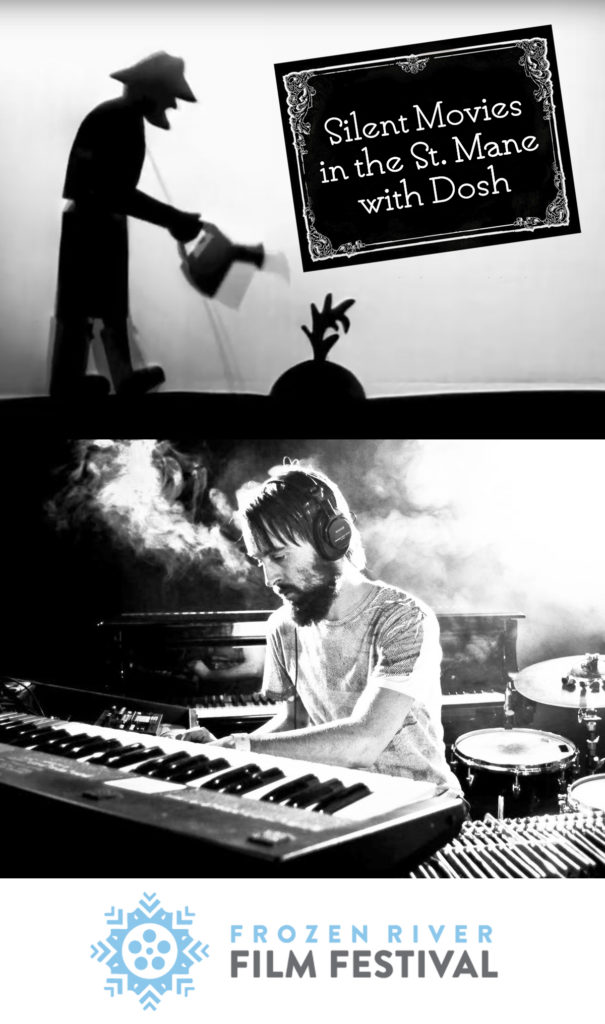 Lanesboro Arts, in cooperation with Lanesboro Community Theater, presents "Silent Movies in the St. Mane with Dosh," an evening of original new music and locally produced silent films, at the St. Mane Theatre in downtown Lanesboro on Saturday, January 25 at 7:30 p.m. For this special commission supported by the Southeastern Minnesota Arts Council as part of the Performing Artist Engagement Program, electronic virtuoso and one-man band Martin Dosh will perform intriguing and new live cinematic scores set to silent films produced over the years by community members as part of Lanesboro Community Theater's beloved "Silent Movies in the Park After Dark" series.
This curated set of a dozen or so films runs approximately 45-55 minutes and is happening in conjunction with the 9th annual Frozen River Film Festival Lanesboro Preview Weekend. Frozen River's 'Donor Premiere' and 'Big Muddy' passes will be honored for all film events in Lanesboro, however advance registration via email, over the phone or in the Lanesboro Arts Gallery is still encouraged. A $15 Lanesboro Day Pass is also available, which will grant admission to all three film events happening on Saturday, January 25. The 2020 Frozen River Film Festival takes place February 5 – 9 in Winona, MN.
Dosh aims to honor and showcase the Lanesboro area's culture and creativity by working with community members to breathe new life into their silent films, some created as early as 2012, with original soundscapes that enhance the unique stories being told by creating an atmosphere of dignity and reverence for the source material. A brief Q&A with Dosh and local movie makers will take place following the performance and screening.
Martin Dosh of Minneapolis, MN is a renowned multi-instrumentalist that loops and combines electronics with analogue instrumentation. He has spent 30 years producing his own distinct sound, as well as collaborating with an international who's who list of rock, jazz, and electronic musicians. His primary record label is the Los Angeles-based indie Anticon, but he has also released much music on his own label, Dosh Family, since 2005. Perhaps most widely known as the percussionist for Andrew Bird, Dosh has recorded with just about any Twin Cities band with a collective ear for good taste and experimentation. In 2018 he assembled a band to collaborate with the Walker Art Center on similar project called "Sounds for Silents," performing a live score for silent works from the Walker's Ruben/Bentson collection.
Reflecting on his experience live scoring films at the Walker, Dosh said "It's a one-time installation/concert. There's elements of improvisation built into the structure, so if I were to do it again it would be different. And depending on the viewer, either I'm soundtracking the films or the films are 'soundtracking' me, so to speak."
"Silent Movies in the St. Mane with Dosh" will serve as the capstone event of a mini-residency with Martin Dosh, who will be participating in various music and outreach events on January 23 and 24 with Lanesboro area residents as part of the Performing Artist Engagement Program supported by the Southeastern Minnesota Arts Council.
Thanks to support from SEMAC, a limited number of complimentary tickets to this event are available to be used by participants in the engagement and outreach events with Dosh listed here. For questions or more information, contact Adam Wiltgen at adam@lanesboroarts.org.
This event is presented by Lanesboro Arts and sponsored by the Wisconsin Public Radio, Commonweal Theatre, Inspire(d) Magazine, High Court Pub and Granny's Liquors.
Please note:
FRFF 'Donor Premiere' and 'Big Muddy' pass holders may claim their free tickets at the door (as available) or in advance by calling 507-467-2446 or stopping into the Lanesboro Arts Gallery during business hours.
The St. Mane Theatre box office will open at 12:00 p.m. the day of the event. Tickets will also be sold in-person beginning at that time.
Each ticket purchased with a bank card will be charged an additional processing fee of $0.99. Patrons can avoid this processing fee by paying via cash or check in the Lanesboro Arts Gallery, or before the event in the St. Mane Theatre lobby.
If you are unable to purchase tickets online or need additional assistance, you may try calling 507-467-2446 to purchase a ticket over the phone during business hours. Tickets are also sold in-person during business hours at Lanesboro Arts Gallery.
We will have a list of the ticket buyer names at the box office beginning at 6:30 p.m. If the buyer and their guests arrive together, no physical receipt or proof of purchase is needed in order to be admitted to the event–we will have a list!
Alternatively, attendees can present a printed copy of the ticket PDF the ticket buyer was e-mailed or simply pull it up and present it on a smart device.
Lanesboro Arts is committed to accessibility for all people. Learn more about our access services.
The Performing Artist Engagement Program is made possible by a grant from the Southeastern Minnesota Arts Council, thanks to a legislative appropriation from the arts and cultural heritage fund.