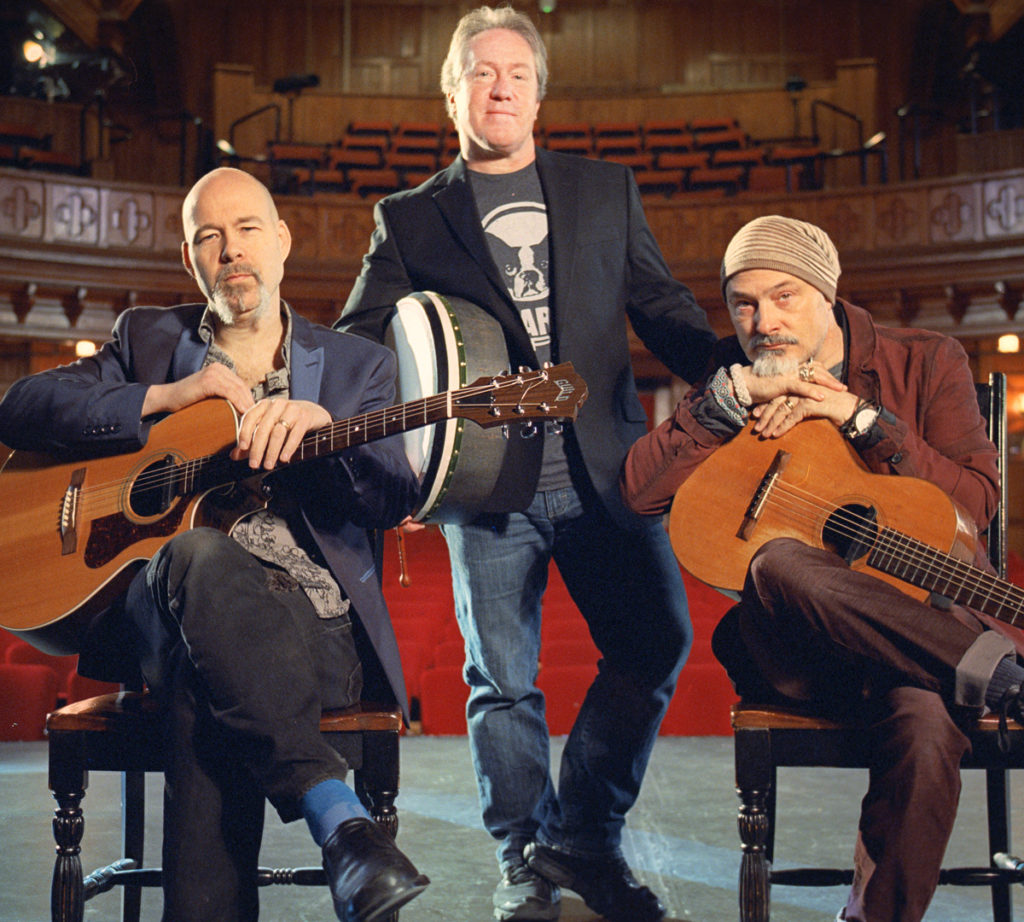 Lanesboro Arts presents an evening with the folk-rock trio Lehto & Wright at the historic St. Mane Theatre in downtown Lanesboro on Friday, October 18th at 7:30 p.m. Singer-Songwriter Steven J. Schmidt of Rochester will also be performing an opening set of original Folk-Americana music. Fusing Celtic folk traditions with American progressive-rock, Lehto & Wright take a fresh approach to time-honored songs with a sound that's larger than life. Based in Minneapolis, the group performed their first live concert in 1999 and is thrilled to be returning to the St. Mane Theatre for the first time since 2008. By taking cues from the British Isles and American folk traditions and interpreting them with contemporary guitar-based arrangements, Lehto & Wright bring a unique and fresh approach to the world of folk music.
Lehto & Wright was born from John Wright's recording sessions for his solo album, Just Left of Center.  The three musicians – Wright, Steve Lehto and Matt Jacobs – had worked together in many different musical environments from Indie Pop to Latin Jazz to Irish Triad. It was in the solo album recording sessions that the band discovered its shared love of electrified folk music and progressive rock along with a common admiration for bands that perform those styles so well – Jethro Tull, Fairport Convention, Steeleye Span and King Crimson, to name a few.
This led to the recording of their debut album, Ye Mariners All, and its subsequent release in 2000. Six more studio albums and one live release followed to rave reviews. Lehto & Wright has performed at many different concert series and festivals including the MN State Fair, Syracuse Irish Festival, MN Irish Festival, The Ark, The Focal Point and many other venues of note.
For their concert in Lanesboro, Lehto & Wright will perform both acoustic and electric arrangements, with the addition of Matt Jacobs on drums and percussion. As a trio, Lehto & Wright push the boundaries of Celtic and Progressive rock, utilizing all the tools of a rock band to achieve the effect of a six-piece band with three musicians.
THE PLAYERS
JOHN WRIGHT: Acoustic Guitar, Bass Guitar, Bass Pedals and Vocals – With a long-standing dedication to traditional music, Wright's background spans many different musical styles including blues, fusion, pop Latin and rock. By incorporating all these influences, Wright has his own unique approach to the folk and folk rock genres. This is evident in his tasteful acoustic guitar and bass work. Other recent music endeavors include The Galactic Cowboy Orchestra and his work as a producer, arranger and engineer at The Villa Studio in Savage, MN.
STEVE LEHTO: Acoustic and Electric Guitars, Mandolin and Vocals – With influences ranging from Miles Davis to Martin Carthy, from King Crimson to Richard Thompson, Steve Lehto's impressive versatility and range on the guitar is matched only by the emotion he puts into his playing. Equally at home playing an Irish jig or a jazz standard, he brings a unique and accomplished style to the folk and folk rock world.
MATT JACOBS: Drums and Assorted Percussion – Matt Jacobs' resume reflects his many talents as a percussionist. From blues with Big Walter Smith, pop with The Auto Body Experience and gigs with Peter Noone of Herman's Hermits, Jacobs is a seasoned pro that understand the folk rock tradition and provides a solid foundation for Lehto & Wright.
Please note:
The St. Mane Theatre box office will open at 6:30 p.m. the day of the concert. Tickets will also be sold in-person beginning at that time.
New in 2019: Each ticket purchased with a bank card will be charged an additional processing fee of $0.99. Patrons can avoid this processing fee by paying via cash or check in the Lanesboro Arts Gallery, or before the show in the St. Mane Theatre lobby.
If you are unable to purchase tickets online or need additional assistance, you may try calling 507-467-2446 to purchase a ticket over the phone during business hours. Tickets are also sold in-person during business hours at Lanesboro Arts Gallery.
We will have a list of the names of tickets buyers at the box office beginning at 6:30 p.m. If the buyer and their guests arrive together, no physical receipt or proof of purchase is needed in order to be admitted to the event–we will have a list!
Alternatively, attendees can also present a printed copy of the ticket PDF the ticket buyer was e-mailed or simply pull it up and present it on a smart device.
Lanesboro Arts is committed to accessibility for all people. Learn more about our access services.