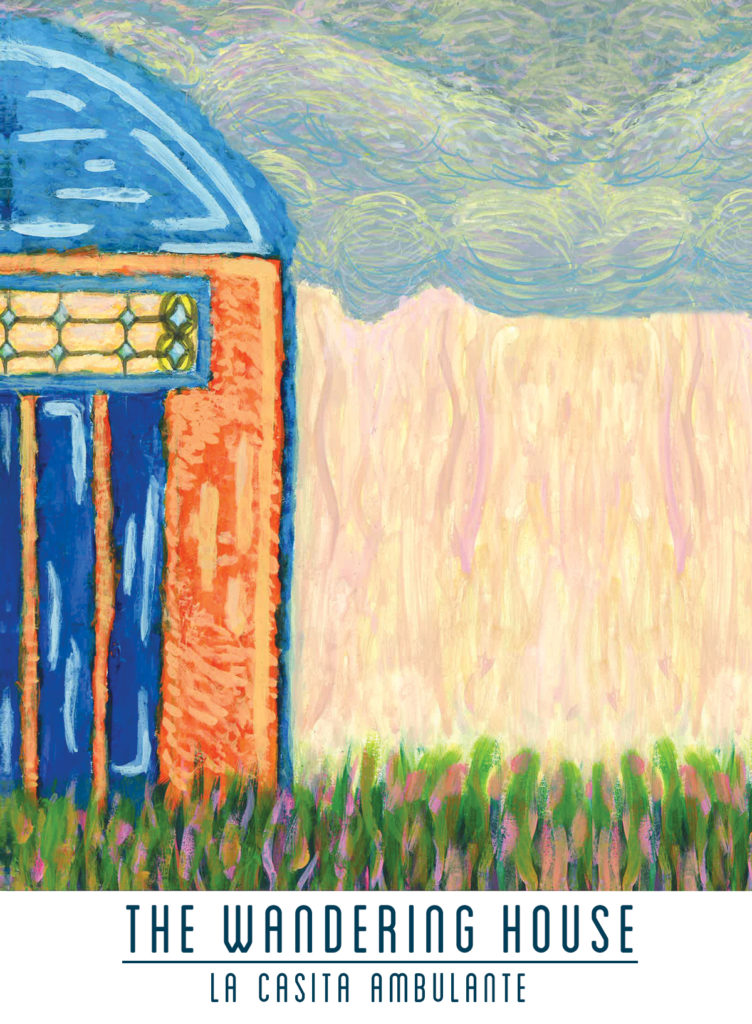 Join artist in residence and Northfield filmmaker Cecilia Cornejo for a Presentation and Discussion for The Wandering House, a documentary project exploring notions of home and belonging, at the St. Mane Theatre in Lanesboro on Friday, February 7 at 7:00 p.m. This event will serve as the capstone to an artist residency began in September 2019 in which Cecilia brought The Wandering House, a former ice-fishing house retrofitted as an audio recording studio, to various locations including Kenilworth Apartments, the Lanesboro School, the Farmers Market and Parkway Place in downtown, in order to collect stories and oral testimonies from community members willing to share their vision of "home and belonging
The Wandering House is space that was especially conceived to invite introspection and reflection. After days of direct contact with many different people, Cecilia was able to collect 32 recordings amounting to 6 hours of recorded audio. She also collected 21 written responses from people who did not want to record, but still wanted to participate somehow, and had many more informal conversations and exchanges.
Cecilia's work is known for placing community members at the center of the creative process, engaging them as active participants, co-creators of meaning, and architects of their representation. During the event community members will have the opportunity to watch, listen to and discuss the project's findings and collectively decide how to best use and share the material in the future.
Cecilia will lead a presentation that will consist of the following:
The Wandering House ~ Background and Project Phases (15 min.)
Listening Session ~ Sound collage with a selection from the oral testimonies collected (26 min.)
Q&A and conversation (30 min. approximately)
"I am elated and inspired by the range and the depth of people's testimonies and by their willingness to share these through The Wandering House project," shares Cecila. "On February 7, we will listen to a selection of these responses, learn from one another, and continue on, finding home one voice at a time."
Capstone presentation and discussion events will also take place with project participants on Wednesday, February 5 in the Lanesboro Public Schools classroom of art teacher Stena Lieb and on Thursday, February 6 in Kenilworth Apartments following SEMCAC Senior Dining.
Cecilia explores notions of home and belonging in collaboration with the Lanesboro community through The Wandering House, an ice-fishing house she retrofitted as a mobile audio-recording studio, as an artist in residence at Lanesboro Arts September 16 – October 7, 2019 and February 1 – 8, 2020. As an immigrant woman of color who has lived in the Midwest for the past twenty years, Cecilia recorded the oral testimonies of Lanesboro community members, especially seniors and youth, reflecting on the significance of home, a concept that some of us may take for granted but is in flux for displaced communities around the globe. The Wandering House was intentionally designed to encourage curiosity and reflection, engaging participants in the production of collective knowledge and mutual understanding, while amplifying more nuanced narratives of rural life.
For more on Cecilia's residency in Lanesboro, visit: lanesboroarts.org/cecilia-cornejo.

Cecilia Cornejo is a Chilean-born documentary filmmaker, artist, and teacher based in Northfield, Minnesota. She holds a Bachelor's degree in Communications Studies from The University of Iowa and a Master of Fine Arts in Film, Video, and New Media from the School of the Art Institute of Chicago. With ties to both the American Midwest and the central coast of Chile, Cecilia's work explores notions of displacement and belonging and is rooted in the experience of living in-between cultures. She uses a range of approaches and production methodologies—from the very personal and essayistic to the expansive and collaborative—to create works that move fluidly from the local to the global, and from the intimate to the openly political. Cecilia is invested in developing methods of collaboration with the people who take part in her work by transforming documentary subjects into active participants, co-creators of meaning, and architects of their representation. She teaches in the Cinema and Media Studies Department at Carleton College.