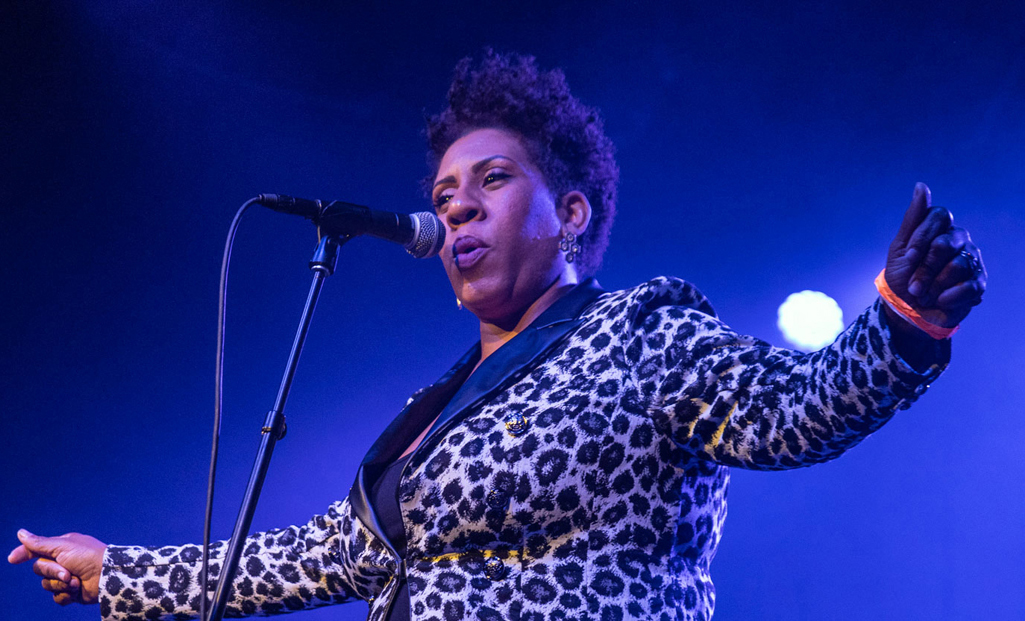 Lanesboro Arts presents an evening of dynamic music and storytelling with charismatic performer Annie Mack via Facebook Live on Saturday, March 27th at 7:00 p.m. on the Lanesboro Arts' Facebook page. (The event will remain up for a week for continued viewing.) Returning after a remarkable performance at Art in the Park 2018, Annie rounds out the virtual Performing Artist Engagement Program with this capstone concert.  This virtual Facebook Live event is open to the public and is free to attend, although free-will ticket donations are welcomed (link below).
Annie Mack of Rochester, MN is a prolific performer and celebrated blues and gospel vocalist who performs with soul and conviction. She believes in the importance of inspiring others by sharing her story of perseverance, purpose and ultimately joy through music and outreach. Mack will cultivate opportunities for exchange and mutual understanding through songwriting, music making and storytelling activities that engage a broad range of people at the school and spaces throughout town in order to help mitigate barriers to participation March 22-27, 2021 as part of the Performing Artist Engagement Program.
Annie Mack is a soulful singer and unflinching songwriter who writes from the gut and demands your attention. Raised in North Minneapolis and currently living in Rochester, MN, Annie Mack grew up in the 80s, influenced by the rich Twin Cities music scene. "I think it was just by environment," she says. "Music was such a big part of my youth–just the soundtrack really. I think about The Gap Band, of course, Prince, all the funk and the soul."
Inspired by her mother's love of music, she started singing and performing locally. " After my mother passed away, the thing that really stood out to me was to do something that you like before you leave this life." Although never intending it to be a career, it quickly became one. Working her way through the Midwest bar scene, Mack built a reputation as a powerhouse blues singer getting national recognition at some of North America's top festivals, including The John Coltrane Jazz Festival, Thunder Bay Music Festival, Twin Cities Jazz Festival and the Bayfront Blues Festival for 6 years running. In addition to playing some of the top blues and jazz clubs like Buddy Guy's Legends (Chicago) and The Dakota (Minneapolis), Mack has recently garnered the attention of indie rock tastemakers like The Current, landing her gigs at prestigious performing arts centers and rock venues like First Avenue –the iconic club where Prince filmed Purple Rain. She has shared the bill with such wide-ranging artists as Dessa (hip hop), Ondara (folk), Cloud Cult (indie rock) and blues legend Robert Cray. She is featured in the book 50 Women in the Blues , alongside Bessie Smith, Bonnie Raitt, Mavis Staples, Sister Rosetta Tharpe, Ruthie Foster and Janis Joplin.
n 2013, Mack released her debut album "Baptized in the Blues" which put her on the blues map and established her as a powerhouse performer and singer. After keeping up a rigorous touring schedule, she took time off to record her 2017 EP "Tell It Like It Is"–a more personal collection of songs about recovery and healing that showcased her serious songwriting chops. Now, with the release of her new recording "Testify" (2021) she solidifies her position as a top-tier singer, songwriter and producer who has found her musical home, performing her own unique blend of blues, country, rock and soul. The release finds her confident and comfortable, owning her place as a rising star in the roots music scene. When not busy making music or rearing her three children, Annie Mack works as a death doula, accompanying people who are dying and supporting their families.
The Performing Artist Engagement Program develops knowledge, critical thinking skills, understanding, and appreciation of the arts through artist-driven, interactive community events. By supporting highly-qualified artists in furthering their own artwork while educating and invigorating community members in accessible spaces, the project also increases access for diverse audiences and advances Lanesboro Arts' mission.