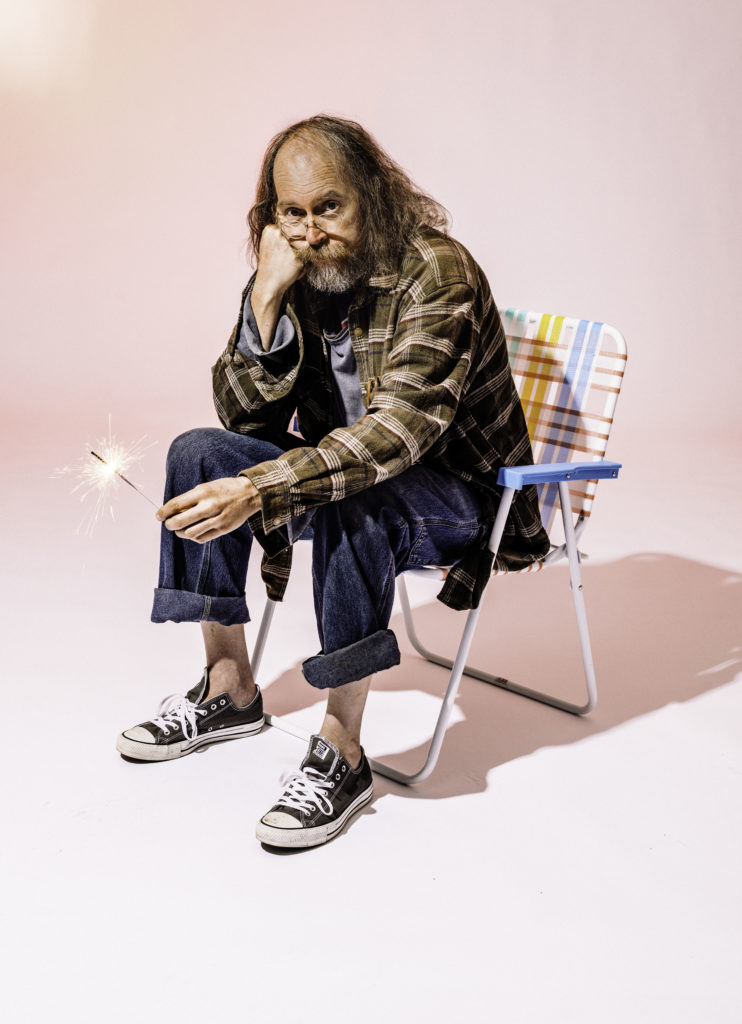 This event is currently SOLD OUT. A wait list for any tickets that happen to become available will begin in the lobby of the St. Mane Theatre at 7:00 p.m. the evening of the event.
Lanesboro Arts presents an evening with Charlie Parr at the historic St. Mane Theatre in downtown Lanesboro on Friday, January 24th at 8 p.m. Following a sold-out 2018 performance, Charlie returns to Lanesboro with new music from his recently released self-titled album.
An easily confused and very shy individual, Charlie Parr has been traveling around singing his songs ever since leaving Austin Minnesota in the 1980's in search of Spider John Koerner, whom he found about 100 miles north at the Viking Bar one Sunday night. The experience changed his life, made him more or less unemployable, and brings us to now: 13 recordings, 250 shows a year or more, 200,000 miles on a well broke in Kia, and a nasty fear of heights, creating resonator fueled folk songs from Duluth Minnesota.
CHARLIE PARR is the eponymous new album by the Minnesota-based folk blues artist the same name. The album is a collection of new songs and new studio versions of classics/audience favorites from throughout Parr's career. Recorded at Pachyderm Studio in Canon Falls, MN, CHARLIE PARR features Charlie's trademark resonator guitar and 12-string with co-producer Liz Draper on bass, longtime collaborator Mikkel Beckmen on percussion, Jeff Mitchell on electric guitar, accordion, organ, backing vocals, and Dave Hundrieser on harmonica. The album is an honest and raw recording of Parr reflecting on himself and his career up to this point. It's a musical reckoning that came after a freak accident less than a year ago that forced him to relearn how to play guitar, causing him to take stock of the songs he's written over his lifetime. CHARLIE PARR is a stunning folk record that will surely stand the test of time, just like the man himself.
The accident on August 3, 2018 could have put an end to Parr's career. While skateboarding with his daughter along Lake Superior, he hit pavement. His right shoulder was busted into pieces and his ability to play guitar on stage again was suddenly in question. But, when playing the guitar is intertwined with who you are, not playing really isn't an option. He underwent surgery that left him with a metal plate and eight pins holding his reconstructed shoulder together. Within days, as soon as he could tabletop his guitar across his lap, Parr was playing again. Three weeks later he made a pain-filled return to the stage with an appearance on the Live from Big Top Chautauqua radio show.
"I'm not really that interested in careerism," Parr says. "Part of the effect of the accident was a reaffirming of what's really important to me. That's not a music career, it's just making music. That's what counts the most — having pure motives and loving intention."
By the time Parr hit the road again, he was reinvigorated to play music in a way he had not been for some time. He started digging out songs from early in his career. Parr had never really stopped playing those songs completely and, along the way, they had matured along with him. He wanted a chance to record them again to capture what they had become.
"Songs are a different kind of history though, they're not subject to the rules of time, they never died and they never will, and they grow and evolve right along with the rest of me."
By 2020, Parr is back on his grueling international tour schedule, mended and reinvigorated, covering the entire country alone in his car, occasionally cooking his vegan meals on his car manifold. It's a lonely existence that leaves a lot of time for reflection and reminiscing. Charlie Parr is the first album — and there are 13 others — that Parr he felt like putting his name on. It's a bit of the new, a bit of the old, and a bit of what's motivated and moved him. Most importantly, it's an audio tour of his life and career to date and a celebration of more songs and stories to come.
This event is presented by Lanesboro Arts and sponsored by the Wisconsin Public Radio, Commonweal Theatre, Inspire(d) Magazine, High Court Pub and Granny's Liquors.
Please note:
The St. Mane Theatre box office will open at 4:30 p.m. the day of the event. Tickets will also be sold in-person beginning at that time.
Each ticket purchased with a bank card will be charged an additional processing fee of $0.99. Patrons can avoid this processing fee by paying via cash or check in the Lanesboro Arts Gallery, or before the event in the St. Mane Theatre lobby.
If you are unable to purchase tickets online or need additional assistance, you may try calling 507-467-2446 to purchase a ticket over the phone during business hours. Tickets are also sold in-person during business hours at Lanesboro Arts Gallery.
We will have a list of the ticket buyer names at the box office beginning at 6:30 p.m. If the buyer and their guests arrive together, no physical receipt or proof of purchase is needed in order to be admitted to the event–we will have a list!
Alternatively, attendees can present a printed copy of the ticket PDF the ticket buyer was e-mailed or simply pull it up and present it on a smart device.
Lanesboro Arts is committed to accessibility for all people. Learn more about our access services.