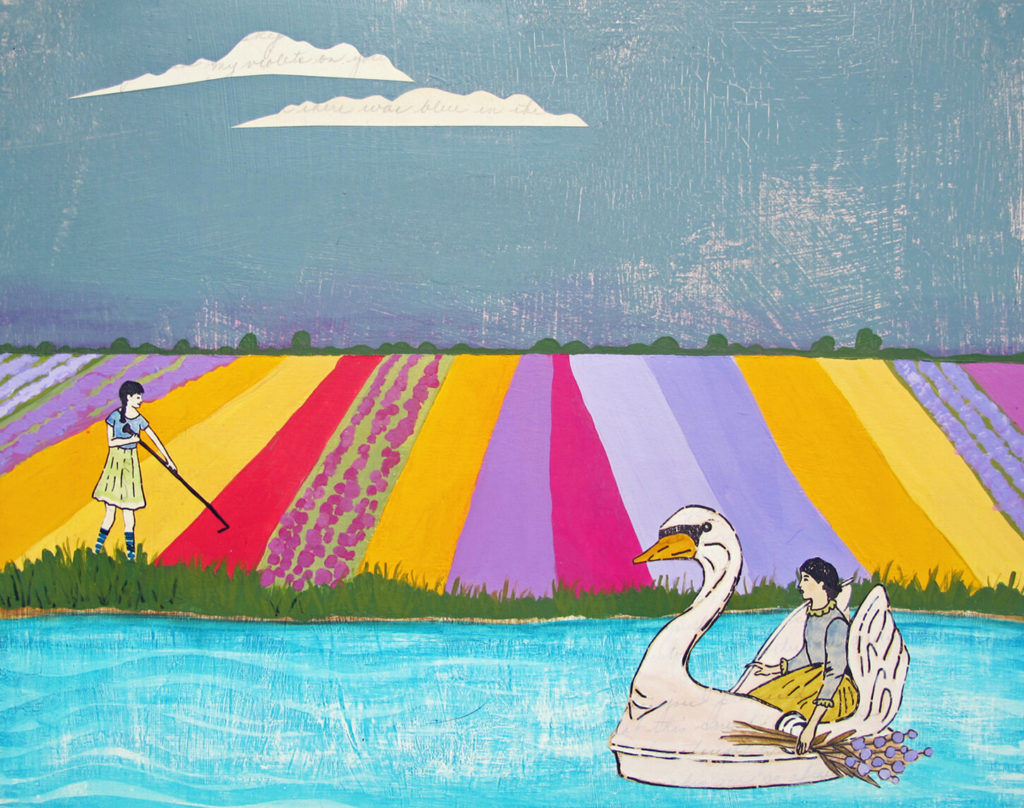 Lanesboro Arts presents "A Few Steps Ahead", an exhibition showcasing print-maker and painter Amy Rice. The show opens on Saturday, March 26th with an artist reception from 6:00 – 8:00 p.m.; the show runs through May 29th. Always free and open to the public, gallery hours are Tuesday – Saturday, 10 a.m. – 5 p.m.
In 2010, Amy Rice's art was featured on the Minnesota Public Television series Minnesota Original. In the interview she stated that she was making a creative shift from painting her present and past to painting what Rice wanted her future to look like, which at the time included having a cabin on a lake with a swan paddle boat and big gardens. It's been 10 years since that feature and Rice has the cabin. It's tiny and on a creek and not a lake, and she's still looking for that elusive swan paddle boat, but she does in fact have the big gardens.
Rice describes this approach as such: "Much of my current work is my to-do list and my stretch goals. I am a wanna-be-flower-farmer. I'm not satisfied anymore with a big garden; I want acres of stripes of living colors. I want my fields to be my canvas and flowers to be my paint. Slowly, year by hard working year it's happening. My paintings are just a few steps ahead of my reality."
Rice's work is deeply layered, often both literally and figuratively. Her imagery–nostalgic and wistful–is largely biographical and reflective of her pensive nature. The artist uses nontraditional print-making methods — including hand cut stencils and a 1980s Japanese screen printing toy called a Gocco printer — as a starting point for original mixed media pieces. Rice uses enamel spray paint, acrylics, gouache, and inks, and print on a variety of surfaces including wood, fabric and antique papers (preferring handwritten love letters, envelopes, journal pages, sheet music and maps). 
This exhibit is sponsored by Inspire(d) Media and is made possible by the voters of Minnesota through a Minnesota State Arts Board Operating Support grant, thanks to a legislative appropriation from the arts and cultural heritage fund. For more information visit www.lanesboroarts.org, call 507-467-2446 or email gallery@lanesboroarts.org. Handicapped accessible and free to the public, the exhibition gallery is located at 103 Parkway Avenue North in Lanesboro, MN.