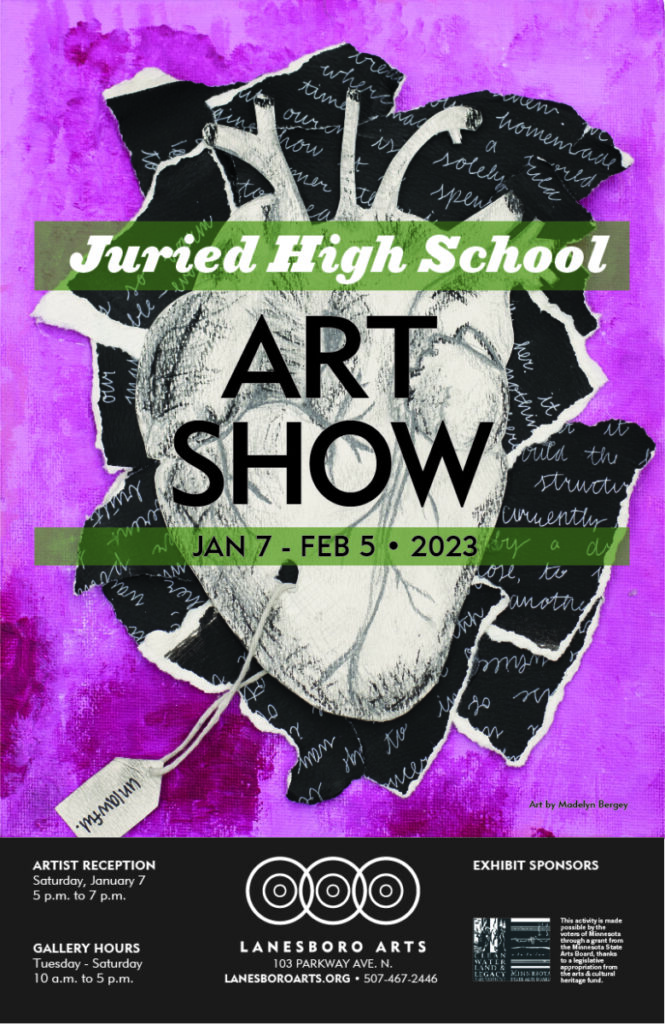 Lanesboro Arts is proud to present the Annual Juried High School Art Show from January 7th to February 5th. This exhibition celebrates the fantastic artwork created by 9th-12th grade students from Chatfield, Fillmore Central, Lanesboro, Mabel-Canton, and Rushford-Peterson High Schools. The show features a variety of art works, including ceramics, paintings, ink or pencil drawings, photography, collage, and mixed media sculpture.
The Juried High School show has played an important role in developing the confidence and experience of young artists, who have the unique opportunity to see their creative efforts presented in a public, professional gallery setting.
The show will open with an artist reception on January 7th from 5-7 p.m. Visitors will have the opportunity to see the art and chat with the artists, while enjoying hors d'oeurves and live music. Always free and open to the public, the Lanesboro Arts Exhibition Gallery is open Tuesday-Saturday, 10 a.m. – 5 p.m.
The exhibit is made possible by the voters of Minnesota through a Minnesota State Arts Board Operating Support grant, thanks to a legislative appropriation from the arts and cultural heritage fund. For more information visit www.lanesboroarts.org, call 507-467-2446 or email gallery@lanesboroarts.org. The exhibition gallery is located at 103 Parkway Avenue North in Lanesboro.