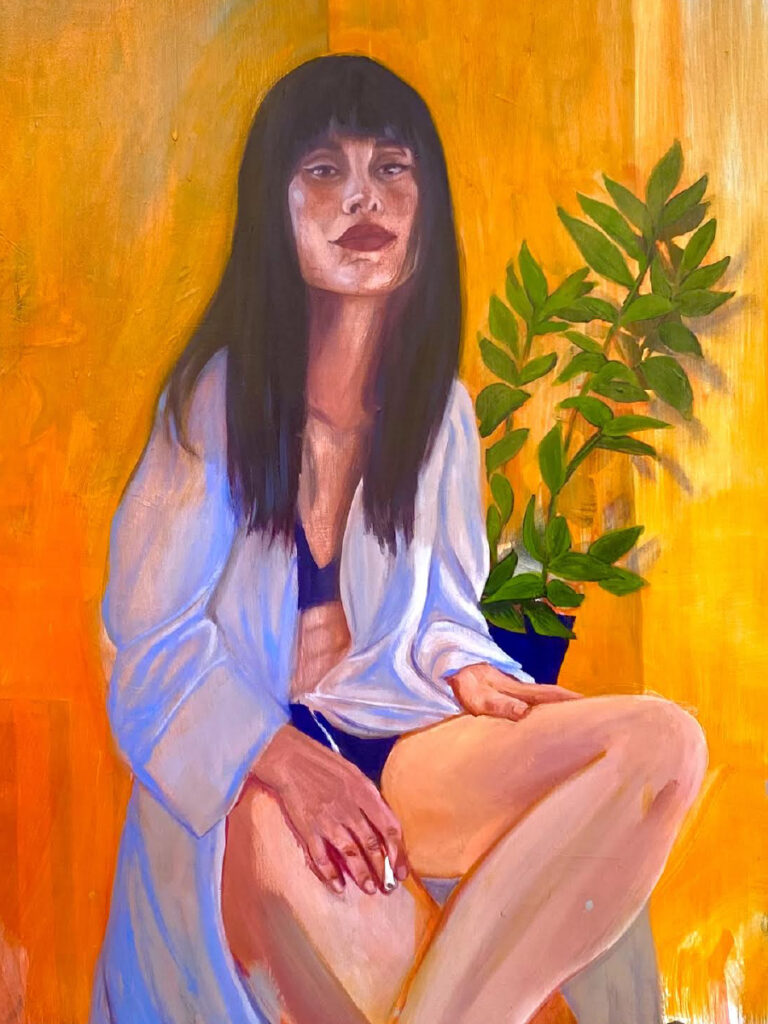 Lanesboro Arts is thrilled to present the 2023 Emerging Artist Exhibition. The show provides an opportunity for early-career artists to display work in a professional gallery setting. Visitors will experience fresh, energetic pieces from inspiring creators in several mediums. This year's show features the vibrant work of seven emerging visual artists from Minnesota and Wisconsin: Gabriel Berg, Samantha Bratland, Lindsey Cherek-Waller, Lindsey Jorgensen, David Susag, Jesus Genis Tlaseca, and Carol Weissenborn.
The 2023 Emerging Artist Exhibition will run from February 11th to April 9th.
Join us in celebrating the exhibition at the Opening Reception on Saturday, February 11th from 6-8 pm. Mingle with the artists and art appreciators, take in the artwork, and enjoy music and refreshments!
Lanesboro Arts is dedicated to supporting the growth of early-career artists as an important function of its mission to serve as a community arts catalyst. Lanesboro Arts Defines an "Emerging Artist" as an individual who has great potential in their artistic practice, but has not yet received major recognition, has not yet been substantially celebrated for their work, and/or has not yet established significant 'footing' within their field. All visual arts media were eligible for consideration, and we received dozens of high-caliber applications.
Gabriel Berg is a 3D fiber and mixed-media artist based in Viroqua, Wisconsin. As a disabled LGBTQ adult, Gabriel's art has been a stabilizing force that has given voice to an inner dialog and focus to face new challenges. His intricate mandala patterns incorporate layers of delicate and vibrant string atop wood panels. To him, mandalas are a symbol of our dream life and represent a search for completeness and unity. Gabriel seeks that unity through his work, striving to break down stereotypes and attitudes that marginalize individuals and communities, while engaging in a meditative art practice. Viewers will see an expression of calm, spiritual strength in the unified pattern that emerges from the carefully winding strings of his Mandalas.
Samantha Bratland believes that humanity's essential responsibility is to bear witness to the beauty of the world around us. For Samantha, this belief manifests as an interest in color, its perception, and its peculiarities. and a commitment to pursuing an art career. Bratland's work highlights and elevates the beauty of the natural world in an expressive range of saturated colors. Her goal is to capture the natural beauty that she feels would otherwise be taken for granted. She is based in Preston, Minnesota, where, in addition to making art, she also teaches High School art at Fillmore Central. Her position inspires her to continue creating and sharing her artwork.
Lindsey Cherek-Waller's work showcases queer joy through portraits and still-life paintings, envisioning a future beyond the binary. Her large scale figurative paintings tell a story of seeing, being seen, and the connections that are made when we take the time to truly be with one another. Lindsey's portraits invite questions about the painting process, the subject, and one's own self. Their still lifes honor the genre's historical interest in the preciousness of life, while archiving what is important to them and their community as a queer, non-binary artist. Her work shows us how we can take up space, embrace play and love even amidst obstacles, and utilize the time we have now to work towards a better future for all. They are based in Red Wing, Minnesota.
Lindsey Jorgensen has a long-term love of working with fibers and fabrics. She started exploring weaving last year as a way to surround herself with soft fluffy colors during the long winters in Bloomington, Minnesota. Along the way, she fell in love with the freedom of working without a plan. Lindsey chooses her colors and textures instinctively from natural plant and animal fibers, as well as from a box of wool and cotton yards inherited from her grandmother. While fibers are so often manipulated into a rigid form of perfection, Lindsey says the lucky ones get to celebrate their own dynamic personalities. Each of her pieces is woven from the bottom up, with only a small portion visible at any one time, making the final result a pleasant surprise!
David Susag is a Lanesboro, Minnesota–based artist who has been studying Norwegian folk art for over 20 years. He creates wooden bowls using a Norwegian pole Lathe. This technique is over a thousand years old; related artifacts have been found in the remains of early Viking settlements! David is a dedicated student of the art form, having taken his first spring pole lathe class in 2014 and built his first lathe in 2015. David demonstrates his bowl turning for the Vesterheim Norwegian-American Museum and Folk Art School's annual Nordic Fest. Recently, he has been making Norwegian ale bowls, along with lidded boxes, wooden flasks, and handled cups. His bowls are both beautifully decorated and food-safe, and a few carry a story or two in their shapes.
Jesus Genis Tlaseca, aka RiPTOE began making art at nine years old. What started with doodles of cartoon and video game characters has since developed into a serious passion. Based in Minneapolis, RiPTOE is a graphic design student by day and a self-described chaotic messy artist by night. RiPTOE seeks to create art that represents his roots in Mesoamerican culture. He also has worked on projects ranging from brand designs, cover art, and video production for local Minnesotan musicians. Whether working in digital or mixed media art, his punchy colors, dynamic compositions, and engagement with contemporary popular culture attract and reward attention.
Carol Weissenborn has returned to creative expression after three and a half decades working as a lawyer. In the courtroom, her creative sensibilities were expressed by using contrast and juxtaposition to disrupt cliched thinking,, and leaning into the dichotomy of intention and improvisation. On the canvas, Carol is drawn to what she calls the 'enigma of abstraction', where meaning is made in the spaces surrounding our actions. Having only begun painting in her 60s, the Minneapolis based artist finds that her work is preoccupied with time's paradoxes. Her combination of acrylic painting and collage on wood panels builds layers of material, where earlier additions lurk beneath the surface like something half-remembered. Carol brings her work to a place where hope and decay converge.
The exhibit is made possible by the voters of Minnesota through a Minnesota State Arts Board Operating Support grant, thanks to a legislative appropriation from the arts and cultural heritage fund. For more information visit www.lanesboroarts.org, call 507-467-2446 or email gallery@lanesboroarts.org. The exhibition gallery is located at 103 Parkway Avenue North in Lanesboro.