Weaver and Nurse Martha Bird engages with mental health and healing through basketry as artist in residence at Lanesboro Arts from August 16 - September 12 2022.

Lanesboro Arts is proud to feature weaver, sculptor, nurse, and mental health advocate Martha Bird as the Lanesboro Arts Artist in Residence from August 15th – September 12th, 2022.
During her residency, Bird will create and install a temporary outdoor sculpture made from fresh willow. Grounded in the potentiality for basketry to serve as a source of physical, mental, and communal healing, Bird intends to address the mental health of individuals and communities through art and art based interactions.
Community members can meet Martha and hear about her residency at a Welcome Potluck at the St. Mane Theatre on August 16th. Other engagement opportunities include group discussions, workshops, and demonstrations hosted by the artist. On August 20th there will be a community discussion about the health benefits of hands-on creative work, as well as a brief history of basketry taken from her longer presentation, "Reclaiming Basketry: Working Through Stigma to Reach Creative Potential." On August 23rd, community members have the chance to try their hand at a basketry technique. Bird will lead a class through the process of making a St. Brigid's Cross along with a conversation about the health benefits of hands-on creative work. On August 27th Bird will demonstrate a complicated French weaving technique at the Lanesboro Farmer's Market. Also on August 27th, Bird invites community members to join her at Eagle Bluff Environmental learning Center, where participants will have the opportunity to gather and prepare local willow. The willow harvested at this event will be used to create the outdoor sculpture that Bird will create during her residency. The residency will culminate in a potluck, group discussion and artistic show-and-tell, and sculpture reveal at the St. Mane Theatre on September 8th. All are welcome to join for any of these free public events.
Residency Events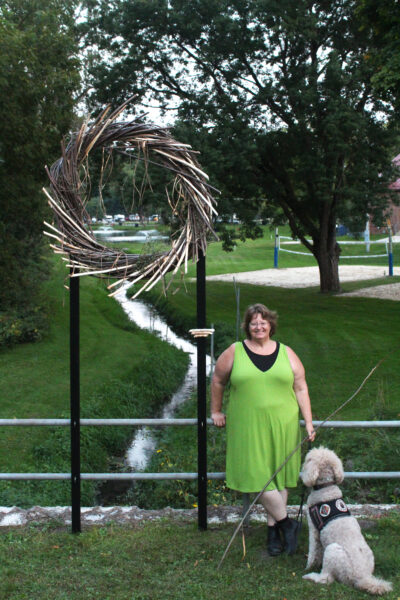 About Martha Bird
Educated as a Public Health and Board Certified Holistic RN, Martha's vision is to "use my own art and process to integrate community involvement and utilize my knowledge to empower people to follow their passion and include it in their life, so they can be as well and healthy as possible." Martha uses basketry techniques as a starting point to create expansive conceptual sculptures that both carry forward the traditional craft and challenge its utilitarian assumptions.  Her work draws from her own professional expertise and life experiences to explore the human body, manifestations of trauma, and concepts of resilience, energy and growth. Martha has brought her meditative practice and depth of knowledge to lecture audiences across the country, and her work has been featured in art exhibitions and collections across Minnesota and throughout the nation.
Martha welcomes any questions about her residency and work at martha@marthabirdart.com
The Lanesboro Artist Residency Program is supported by the Jerome Foundation.