Lanesboro's own monthly variety show!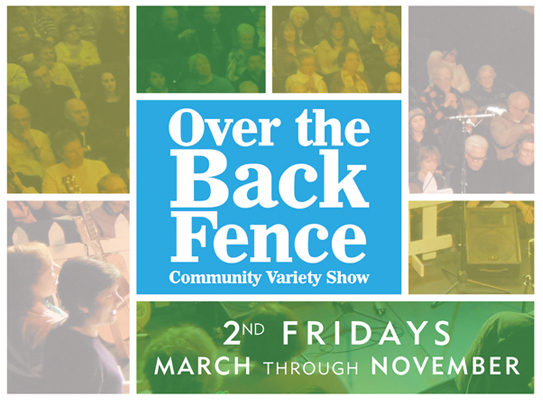 Showcasing a talented local cast, musicians and other guests, Over the Back Fence features a new theme and material each month with music, skits, jokes, comedy, poems, and more! Since 1994, lively host Damon Prestemon keeps the show rolling, managing the stage chaos of Back Fence cast members, sound effects, sponsor interviews, audience participation, spontaneous humor, and sing-along songs. Click here to download or stream the show.
Join us on Stage
Participation is encouraged! If you are interested in being a part of the show – either on stage or behind-the-scenes – contact Steph at sd275705@gmail.com.
2017 schedule
Shows are the second Friday of each month at 7:30 p.m, March through November. Box office opens at 6:30 p.m., and pre-show music begins at 7:10 p.m. Click the date for tickets!
March 10 –  Black & White
pre-show GrassRun Band | musical guest Chuck Lahr & The Purdy River Band
April 14 – Hats & Shoes
pre-show Tom Schramm & The LPs | musical guest Medicine Brothers
May 12 – Prom Night
pre-show Mista Clue | musical guest Sleeping Jesus
June 9 – 1930's
pre-show Dolly Rocker | musical guest Shen Teh
July 14 – Childhood
pre-show tba| musical guest Ginger Bones
August 11 – Wild West
pre-show Michelle Lynn & Adam Ptacek | musical guest Iowa Cowboy Orchestra
September 8 – Summer Love
pre-show Steven Schmidt| musical guest CBB Jazz Combo
October 13 – Spirits
pre-show tba | musical guest The Polka Dots
November 10 – Fun & Games
pre-show Michael Seiler | musical guest Rutabaga Brothers
Tickets
Tickets are $8 and available online (click the links above or check out our Calendar of Events), and at our gallery, 507-467-2446. Tickets are also available at the St. Mane Theatre beginning at 6:30 p.m. on show nights, as available.
2017 Sponsors
Heartfelt thanks to our community partners who sponsor our radio broadcasts, and ensure affordable ticket prices.
Batstone CPA
Bluff Country Computer Works
The Bite Restaurant
Cedar Valley Resort
Coffee Street Fitness Center
Eagle Bluff Skills School
F&M Community Bank
Granny's Liquor
Great River Shakespeare Festival
Green Gables Inn
High Court Pub
Lanesboro Arts
Lanesboro BP / S&A Petroleum
Lanesboro Public Library
Merchants Bank
Niagara Cave
Pedal Pushers Café
Preston Foods, Rushford Foods & Harmony Foods IGA Stores
Thomas Manion Law Office
Visit Bluff Country Magazine
Windy Mesa Jewelry & Art
Audio Archives
---
Over the Back Fence is made possible by the voters of Minnesota through a Minnesota State Arts Board Operating Support grant, thanks to a legislative appropriation from the arts and cultural heritage fund.